The EU's chief negotiator Michel Barnier has said it is currently not possible to find an agreement with the UK on the Withdrawal Agreement.
Speaking to the European Parliament, Mr Barnier said: "To put things very frankly and to try to be objective, at this particular point we are not really in a position where we are able to find an agreement."
Mr Barnier said the British proposals to replace the backstop tabled last week had three major problems: the prospect of customs checks on the island of Ireland, the lack of legal certainty and the suggestion that the Northern Ireland Assembly could block any new agreement.
Mr Barnier said the British proposals simply sought to avoid physical infrastructure or checks on the border.
He told MEPs in Brussels: "What we're being asked to accept in reality is a system that hasn't been properly developed, that hasn't been tested.
"There would be controls spread out across Ireland and it will largely be based on exemptions and derogations, on technology that has yet to be developed, changes to international law, to the Common Transit Convention, and a new combined system with none of the guarantees set out in the [Irish] Protocol."
Mr Barnier said the EU needed proper, rigorous checks all along its external border, as well as "credible" controls.
We are not there in #Brexit talks. EU unity confirmed in @Europarl_EN #EPlenary, alongside @JunckerEU. We will remain calm, constructive, respectful. We need real, credible solutions for the island of Ireland. Finding an agreement is difficult, but still possible. pic.twitter.com/bCIBYKwCt7

— Michel Barnier (@MichelBarnier) October 9, 2019
He said: "We're talking about the credibility of the Single Market here. It's credibility for consumers, for companies, and of course for third countries that we negotiate agreements with."
The UK proposals did not provide the same legal certainty as delivered by the backstop, he said.
Under the UK plan, the Withdrawal Agreement would be ratified first, without the backstop, and technological solutions as well as exemptions and derogations would then be worked out during a 14-month transition period by the Joint Committee of EU and UK officials, as established by the treaty.
However, Mr Barnier dismissed this idea.
"What would happen if the Joint Committee couldn't find a solution during the transition period?" he said.
In this scenario both sides would have to introduce "unilateral measures".
However, he said, the UK was also looking for a guarantee in that case that the EU would not insist on any checks whatsoever at the border.
This, he said, would put at risk the integrity of the single market. Mr Barnier also said the proposals to give Stormont a veto over the introduction of any new plan were not acceptable.
He said they would grant the Northern Ireland authorities the opportunity to unilaterally decide not to implement the solution on the first day after the treaty was ratified.
"The proposal of the British government is not something we can accept."
We need your consent to load this rte-player contentWe use rte-player to manage extra content that can set cookies on your device and collect data about your activity. Please review their details and accept them to load the content.Manage Preferences
Earlier, the President of the European Commission Jean-Claude Juncker said he did not exclude a deal before next week's European Council, but he did not accept what he called the "blame game" coming from the UK.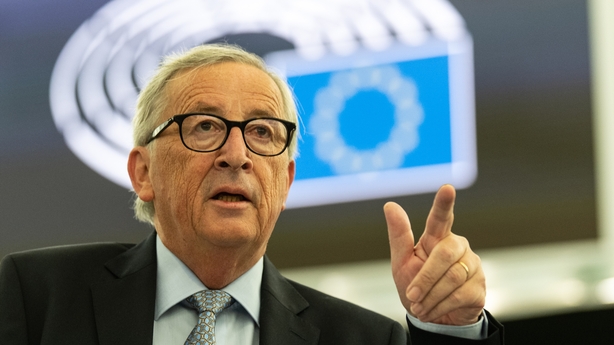 "There is not just a parliament in Westminster, there is a parliament here (ie: European Parliament), nothing will be agreed without its consent," he added.
It came as the European Union officials denied reports that Brussels was preparing a major concession to Britain to secure a Brexit deal.
The Times newspaper reported that the EU was ready to offer a mechanism for the Northern Irish assembly to leave a new backstop after a number of years.
The new idea, as reported by the Times, would be a modified version of the consent principle.
Citing diplomatic sources close to the talks, the Times said European governments were prepared to "concede a unilateral revocation of the withdrawal treaty by Stormont after a period of time. The date of 2025 has been mooted, as long as both communities agree to it.
A European source was quoted by the Times as saying: "A landing zone on consent could be a double majority within Stormont, to leave, not to continue with the arrangements after X years."
However, one EU official said: "Unfortunately, no bold new offer is coming from the EU side at this stage," while stressing that the bloc was not closing the door to more talks with Britain.
Another EU official dealing with Brexit said when asked if the EU was indeed ready to make such a step: "I did not hear that."
The officials said the bloc felt the gap was too big between both sides' stance on the customs arrangements after Brexit to offer any breakthroughs.
A senior EU diplomat in Brussels added on the Times report that as far as they knew, it was not true: "We don't know where that story came from."
A second diplomat dismissed the report as spin, saying that this has not been discussed in talks between Britain's Brexit negotiator David Frost and the EU's chief Brexit negotiator Michel Barnier.
---
Read More:
Judgment deferred in Scottish Brexit case
Taoiseach warns Brexit deal won't be secured at any cost
Latest Brexit stories
---
Commenting on twitter, the DUP's Jeffrey Donaldson said the reported plan "creates a customs border between Northern Ireland and our biggest market in Great Britain. Economic madness. DUP has been clear in opposition to this. It's the NI only Backstop reheated and represents no real compromise."
This creates a customs border between Northern Ireland & our biggest market in Great Britain. We do more business with GB than the rest of world. Economic madness. @duponline has been clear in opposition to this. It's the NI only Backstop reheated & represents no real compromise. https://t.co/ymYZqrYOb2

— Jeffrey Donaldson MP (@J_Donaldson_MP) October 9, 2019
British Prime Minister Boris Johnson is facing a fresh rebellion in his cabinet, with a group of ministers poised to resign due to concerns that he is leading the country towards a no-deal Brexit.
The Times reported that Culture Secretary Nicky Morgan, Northern Ireland Secretary Julian Smith, Justice Secretary Robert Buckland, Health Minister Matt Hancock and Attorney General Geoffrey Cox are all on a "resignation watch list".
An unnamed cabinet minister cited by the newspaper said that a "very large number" of Conservative members of parliament will quit if it comes to a no-deal Brexit.
The Times said that ministers had warned Mr Johnson in a cabinet meeting about the "grave" risk of the return of direct rule in Northern Ireland and raised concerns about Dominic Cummings, Mr Johnson's top adviser.
"Cabinet will set the strategy, not unelected officials. If this is an attempt to do that then it will fail", the report quoted another cabinet minister as saying.