EU Commissioner Phil Hogan expects the EU member states to grant an extension of the Brexit deadline past 31 October if the UK government asks for one.
He also did not rule out another referendum on Brexit taking place in the UK, but said much depends on the shape of the next government if an election is held in the coming months across the Irish Sea.
Speaking in Kilkenny, Mr Hogan said he does not know if there will be customs checks in or near the Irish border next year, with a lot riding on what happens in the UK between now and 31 October.
The agriculture and rural development commissioner, who will be the trade commissioner in the incoming EU Commission, said that the EU is likely to grant an extension.
"I think that if they ask it in the context of an election, then the 27 other members will grant that extension, but of course we have a bit to go yet because there is a possibility yet that Mr Johnson may wish to engage with the European Union and come forward with proposals to break this impasse.
"We're waiting for proposals from the United Kingdom," Mr Hogan said.
He added that "deadlines usually concentrate the mind and on all previous occasions there was always movement close to deadlines so I hope it will be the same on this occasion", but that "genuine proposals" are needed from the UK that are legally operable and meet the Withdrawal Agreement's principles.
---
Read more::
Foster denies DUP set to make concessions on Brexit
Taoiseach says gap between EU and UK on Brexit deal 'very wide'
---
Asked if the DUP's objections to a Northern Ireland-only backstop could scupper progress, Mr Hogan said: "We've heard that before but we didn't see any alternative arrangements, which is also part of the agreement, so hopefully people now will get off the hook of actually saying "no" all the time and come forward with positive proposals that we can look at."
The EU negotiators will give the UK and everyone else "a fair wind now" to try to make progress, without engaging in "a blame game," and are ready and willing to look at constructive proposals.
Asked if he foresees customs checks being in place on this island within a year, the commissioner said he does not know.
"The answer to that will be largely dependent on what will happen between now and the 31st of October.
"There's possibly going to be a general election in the UK in November, there may nor not be a different government and depending on the complexity and political hue of that government could determine that you could have a second referendum, for example, so it's very fluid."
On the likelihood of another referendum, he said: "You're asking me now for a hypothetical situation to emerge in the British political system which I'm not an expert on."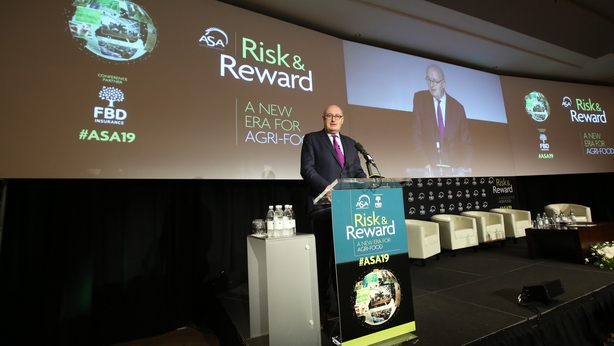 In a speech to the annual conference of the Agricultural Science Association, Mr Hogan said the actions of the "rebel alliance" in the House of Commons to block a no-deal scenario "have improved the likelihood of a further Brexit extension".
"There are still clear pathways to finding a sensible outcome to this unfortunate situation," Mr Hogan said.
"And in case it needs to be repeated, EU solidarity with Ireland remains absolute and unwavering. Whatever happens, pragmatic solutions will be found to support Ireland and in particular the agrifood economy on the island of Ireland."
He said that recognition by EU negotiators and heads of state of Ireland's "unique exposure" to Brexit will continue, whatever happens after 31 October.
Mr Hogan, who has spent the last five years as agriculture commissioner, referred to remarks he made in 2017 that the UK needs to accept that the onus is on them to find "a workable solution" to the Brexit issues.
"You could be forgiven for thinking that those words have a touch of Groundhog Day about them. But I want to be clear that recent events in London give us cause for some optimism."
He reflected on the ASA conference's theme - "Risk and Reward: a New Era for Agrifood" and added: "Unfortunately, when it comes to Brexit, there are plenty of risks and not many rewards that I can see".
He continued: "But with a small bit of give and take, we can still do a huge amount to mitigate the worst risks.
"And getting this done cannot happen soon enough: political uncertainty creates business uncertainty. There is a clear economic cost to further delay."
Mr Hogan pointed out that the next Irish budget has been modelled on a no-deal scenario, even though this may not come to pass, while Northern Ireland experienced its sixth successive month of falling output in August.
"New orders and export orders fell substantially for the seventh month running. We need to create the political conditions for businesses to do what they do best."