Tánaiste and Minister for Foreign Affairs Simon Coveney has told opposition parties this evening that Ireland and the European Commission have not yet finalised what form of checks there would be in the event of a disorderly Brexit.
Last week Taoiseach Leo Varadkar said that some checks on goods and live animals may need to take place close to the border with Northern Ireland.
Mr Coveney told opposition TDs that there is an acceptance that this planning work will have to be finalised very soon.
Amid speculation that the Northern Ireland only backstop has come back into the reckoning, the private briefing also addressed the possibility of a political breakthrough to reach a deal between the EU and the UK.
This was described as having potential.
However, it was stated that planning for a no-deal Brexit here would have to continue and intensify.
Earlier, Mr Coveney said "the government hasn't misled anybody."
He also insisted the Irish Government "can't agree to a Withdrawal Agreement without the backstop, unless the UK comes forward with realistic and comprehensive alternatives."
Mr Coveney said the Government has "always been open to a Northern Ireland specific solution" but he said Dublin "is not going to sign up to a deal that removes the guarantees to protect against border infrastructure re-emerging."
"Removing the backstop exposes fundamental problems, that don't have easy answers without the backstop being in place," he added.
The Tánaiste said "we have a Withdrawal Agreement today that responds to all of that complexity in a very comprehensive way.
If the UK government wants to change that, well then they have to provide comprehensive answers in terms of the alternative arrangements they are proposing to the backstop."
He said "otherwise we need to see a backstop, either UK wide or Northern Ireland specific" and he said "either, from our perspective, can represent a way forward."
Mr Coveney also said it's too early to say if a deal can be reached to avoid a hard Brexit following yesterday's comments from the British Prime Minister Boris Johnson, who said a no-deal would represent "a failure of statecraft."
---
---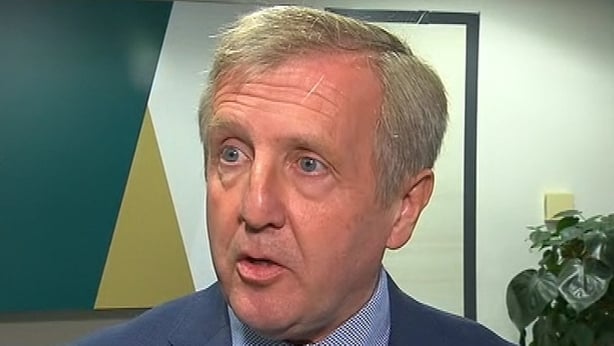 Govt 'significantly escalating' no-deal preparations - Creed
Minister for Agriculture Michael Creed has said the Government is "significantly escalating" its preparedness for a no-deal Brexit.
He was speaking at a conference to discuss how the agriculture industry will continue to operate following the UK's exit from the European Union.
Mr Creed said the seamless movement of product over the border works well for Irish industry, but that situation, "is in some jeopardy now".
He said his department was "in the thick" of discussions with the European Commission on what should happen should current arrangements on free movement fall.
Mr Creed described the situation as complex.
He said the road map to maintain a no hard border situation and maintain the integrity of the single market is being drawn.
He said the Government wants to achieve both and is involved in intensive efforts to make that happen.
Responding to claims from the Fianna Fáil leader Mícheal Martin, Tánaiste and Minister for Foreign Affairs has rejected that people were misled about the possible need for customs checks in the event of a no-deal Brexit.
Mr Martin said he "didn't think the government was telling the truth last year" when it said there would be no checks.
He made the comments after the Taoiseach Leo Varadkar said some checks on goods and live animals entering the Republic are likely to be required "near the Border" if there is a hard Brexit.
Meanwhile, former Taoiseach Bertie Ahern said any solution to the issue of the border following Brexit must include "the Unionist people".
He said Ireland should continue to negotiate around regulatory alignment on the island of Ireland.
Mr Ahern said to do a deal through EU, which creates a problem for Unionists, will be rejected by the House or Commons and is not an option.
He said it is not up to Irish to come up with a solution given that the back top proposal is already on the table.
Speaking in Dublin, Mr Ahern said opposition to border infrastructure needs to remain firm.
He said the idea "of checking a guy in Dundalk with four heads of cabbage heading to Newry would be stupid" and would likely lead to civil disobedience.
He said the backdrop is the solution and if that is not acceptable to the UK they need to discuss it.
He said restored institutions in Northern Ireland could have a role to play with regard to anything agreed.
Additional reporting Fran McNulty