Talks are under way to work out a date and time for a meeting between Taoiseach Leo Varadkar and British Prime Minister Boris Johnson, according to a Downing Street spokesperson.
Speaking to RTÉ News, the spokesperson reiterated that Mr Johnson has accepted the Taoiseach's invite to meet, even though there is no date scheduled for a meeting.
Yesterday, a spokesperson for the Taoiseach said that the meeting would give both sides a better understanding of their respective positions.
However, a statement reiterated that the backstop and the Withdrawal Agreement were not up for discussion.
It said any discussions on changes to the political declaration would occur between the European Union and the UK.
A spokesman for Mr Johnson said the Prime Minister had been clear he still wanted to get a Brexit deal but hoped the EU understood the British government's determination to leave the bloc on 31 October, "no ifs or buts".
Meanwhile, British Liberal Democrat leader Jo Swinson has said there is no "good Brexit" for Northern Ireland.
On her first visit to the border, Ms Swinson said it is still possible to stop the UK leaving the European Union.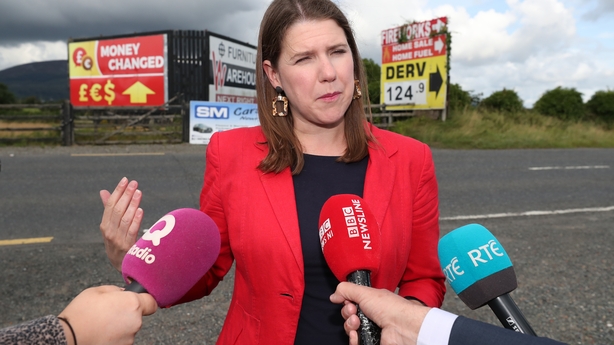 She said: "I felt it was important to come and listen to people and community groups about their experiences and about what the prospect of a hard border means to the communities. It's very powerful hearing from those individuals who live and work in this area.
"The Liberal Democrats have been very clear in our position, we think that Brexit is bad. There is no good Brexit for the UK and that includes Northern Ireland.
"We have been fighting for there to be no border here where I am standing and the way in which that has operated successfully for years now has been as members of the European Union and we are still members of the EU and it is still possible to stop Brexit.
"I recognise that for communities here the backstop is an important insurance policy but the best possible outcome is to have Northern Ireland and the Republic of Ireland both within the EU so that we can have a strong UK, in a strong EU so communities can live, work and go about their daily lives without the hassle of a hard border and without all of the downsides for our economic prosperity that will ensue if we do go ahead with Brexit."
Ms Swinson, who visited an old border post checkpoint at Ravensdale, also said she was "not surprised" Mr Johnson took almost a week to contact Mr Varadkar.
"He was perhaps our worst ever Foreign Secretary and does not possess the skills or diplomacy that was required for that role so we shouldn't be shocked that in the role of prime minister he is also not demonstrating that statesmanlike approach that ought to be needed," she added.
"At this time more than ever our country needs that.
"We are in the midst of this Brexit crisis, we have got countries around the world looking at us with confusion as to why we are conducting ourselves this way and so we absolutely need to be forming strong relationships with other countries to be able to have good will as we approach these incredibly difficult times.
"Of course Boris Johnson famously enjoys causing offence and doesn't mind when he makes a gaffe.
"It's further evidence he is not fit to be a prime minister."