Britain's finance minister Philip Hammond has said he would resign if Boris Johnson became Britain's new prime minister because he could not support a leader happy to take the country out of the European Union without a deal.
Mr Hammond said his fears over a no deal had forced him to vote against the government for the first time in his 22-year political career last week.
Mr Johnson has promised to leave the EU "do or die" by a 31 October deadline.
If elected prime minister that leaves him facing a tricky Brexit challenge straight away.
"I am sure I am not going to be sacked because I am going to resign before we get to that point," Mr Hammond told the BBC's Andrew Marr Show, adding he would resign to Mrs May before she tenders her own resignation to the Queen on Wednesday.
"Assuming that Boris Johnson becomes prime minister, I understand that his conditions for serving in his government would include accepting a no-deal (EU) exit on the 31st of October. That is not something I could ever sign up to."
Asked whether he would vote against the new prime minister in a vote of no confidence, Mr Hammond said: "I don't think it will get to that and, while many clever people have been scratching their heads, Parliamentary process is extraordinarily complex and sometimes arcane.
"I am confident that Parliament does have a way of preventing a no-deal exit on October 31 without parliamentary consent and I intend to work with others to ensure parliament uses its power to make sure that the new government can't do that.
"The point of that is not to inflict some defeat on the new government, it is to ensure that the new government focuses then on trying to achieve a sensible, negotiated settlement with the EU that protects our economy and allows us all to get on with our lives."
Mr Hammond said it would be "catastrophic" if Labour got hold of the "levers of power".
He said his focus will be on trying to persuade the new prime minister to work with colleagues opposed to no-deal to give himself more time and to use his power "as leader of the Brexiteers to get a sensible outcome".
Meanwhile, former Tory leader Iain Duncan Smith said he has not asked for a senior role in the next government if Johnson becomes prime minister.
On the same programme he said: "I have finished my role right now, which was to help him get elected, it's up to him what he does.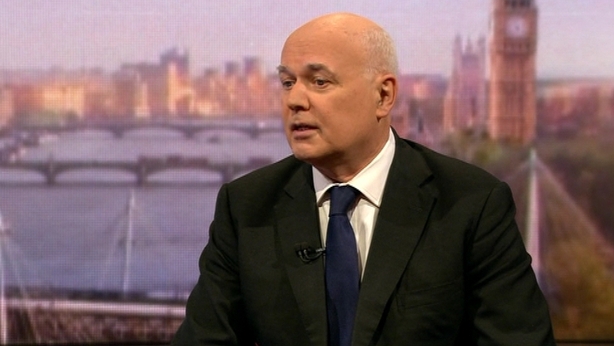 "I have had no discussions with him.
"I honestly have bid for nothing, I asked for nothing, and if I get absolutely nothing, you will see a happy man sitting here if you want to interview me again.
"I'm quite relaxed about that, I promise you."
Additional Reporting PA