The British Labour Party leader has said that any second Brexit referendum should not be a rerun of the vote on the UK's membership of the European Union but rather on a new negotiated deal.
Jeremy Corbyn, who was speaking in Dublin this evening, said he believes there should be "a public vote on a negotiated deal or an alternative to that."
He insisted it would not be a "rerun of 2016. It would be on the basis of whatever we have succeeded in negotiating."
Mr Corbyn said he wants to see a deal for a customs union with the EU and "a dynamic protection of all of the rights that have been obtained through EU membership."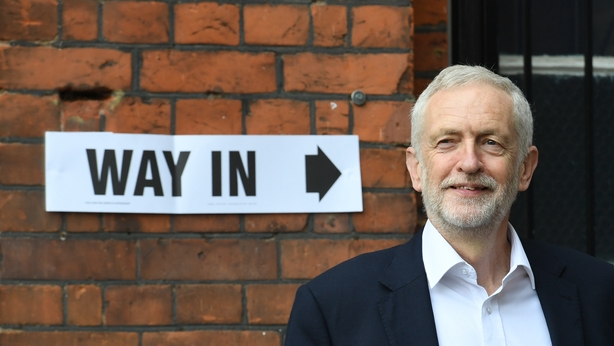 The British Labour Party leader also said he is "absolutely opposed to a no-deal Brexit."
"The British Government is imploding at the present time and we are very keen to ensure that there is a process that prevents a no-deal exit from the European Union," he added.
And Jeremy Corbyn said a no-deal departure "would be incredibly damaging to industry all across Britain and with that, trade with Ireland as well."
When asked how he proposed to renegotiate a deal with the EU, given that such a move had been ruled out by Brussels, Jeremy Corbyn said "we just had the EU elections and there will obviously be a new EU Commission" and he said he will be discussing that with the Taoiseach Leo Varadkar tomorrow.
Mr Corbyn is also due to hold a breakfast meeting with President Michael D Higgins in the morning.
Jeremy Corbyn said "the important thing is to get an agreement with the European Union that prevents a no-deal exit."