British cross-party Brexit talks have collapsed after Labour leader Jeremy Corbyn told Prime Minister Theresa May they had "gone as far as they can".
Mr Corbyn pulled the plug on the negotiations, telling Mrs May "we have been unable to bridge important policy gaps between us".
He also said the prospect of a change in Tory leadership meant the government was becoming "ever more unstable and its authority eroded" and Labour could not be confident in any cross-party agreement being delivered.
Mrs May will set out the timetable for her departure in early June after a crucial House of Commons vote on the Withdrawal Agreement Bill.
We need your consent to load this rte-player contentWe use rte-player to manage extra content that can set cookies on your device and collect data about your activity. Please review their details and accept them to load the content.Manage Preferences
The Taoiseach has said the Government needs to "upgrade" its no-deal Brexit planning after the talks failed to reach agreement.
Speaking in Galway, Leo Varadkar described the development is "a very serious and negative" one.
He said it is a reminder that "Brexit hasn't gone away" and that a "no-deal scenario remains a real possibility in October".
Mr Varadkar said the Government is reviewing the situation and that European Union heads of state will meet in Brussels after next week's European Parliament elections to review the outcome of the polls and to plot the next steps on Brexit.
The Taoiseach said it was still a possibility that the Withdrawal Agreement coud be ratified by Westminster "if they want to leave in an orderly fashion".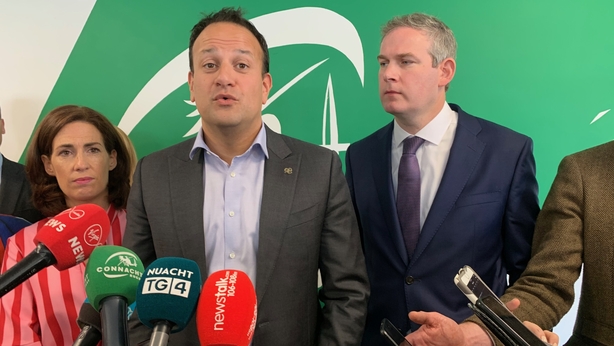 In a letter to Mrs May, Mr Corbyn said: "I believe the talks between us about finding a compromise agreement on leaving the European Union have now gone as far as they can."
He added: "While there are some areas where compromise has been possible, we have been unable to bridge important policy gaps between us.
"Even more crucially, the increasing weakness and instability of your government means there cannot be confidence in securing whatever might be agreed between us."
Mrs May's spokesman said it is clear we are not going to be able to reach a complete agreement with Labour and while real progress had been made there were "very challenging discussions" in particular on customs and a second referendum.
The spokesman also confirmed that no further talks are planned.
He added that Mrs May continues to believe that politicians have a duty to find a way to deliver on the result of the Brexit referendum and she continues to work hard on the passage of the Withdrawal Agreement Bill so we can leave the EU with a deal as soon as possible.
Speaking in North London, Mr Corbyn said: "I have just written a letter to the Prime Minister to say these talks have now reached what I believe to be a natural conclusion.
"The Prime Minister has announced the date she's leaving, there have been increasing noises off stage by Conservative Cabinet ministers and others who don't agree with much of the talks or any of the discussions we are holding, so we are concluding the talks."
Mr Corbyn also said: "We would not rule out a second referendum.
"But it wouldn't be a referendum on 2016 terms, it would be a referendum to prevent a no-deal, catastrophic exit from the European Union."
In response to the decision to call off the cross-party talks, former International Development Secretary Priti Patel tweeted: "Many of us did question the judgment of the Cabinet when they approved those talks..."
The post quote-tweeted a post from Brexit campaigner Darren Grimes who described the talks as "a complete waste of time from the outset".