Anti-Brexit campaigners have squatted on Nigel Farage's new party website, after he failed to register the domain name.
Mr Farage failed to register thebrexitparty.com domain name, so activists took it over as the No Brexit Party.
Campaigner group Led By Donkeys posted the takeover on Twitter with the message: "Big day ahead for Nigel Farage and his new Brexit Party as he launches his European election campaign.
"Shame he forgot to register the website."
The page has a banner message saying: "Nigel Farage doesn't Represent Britain" and a message blaming him for the Brexit crisis and urging people to register to vote against him.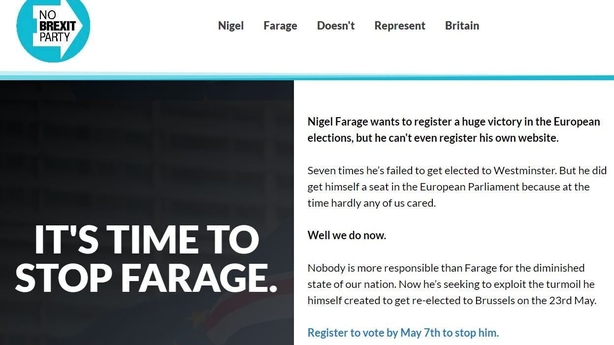 The page says: "Nigel Farage wants to register a huge victory in the European elections, but he can't even register his own website.
"Seven times he's failed to get elected to Westminster. But he did get himself a seat in the European Parliament because at the time hardly any of us cared. Well we do now.
"Nobody is more responsible than Farage for the diminished state of our nation.
"Now he's seeking to exploit the turmoil he himself created to get re-elected to Brussels on the 23rd May - Register to vote by May 7th to stop him."
The same group was previously responsible for a huge "SOS" signal which was beamed onto Britain's White Cliffs of Dover last week.
---
---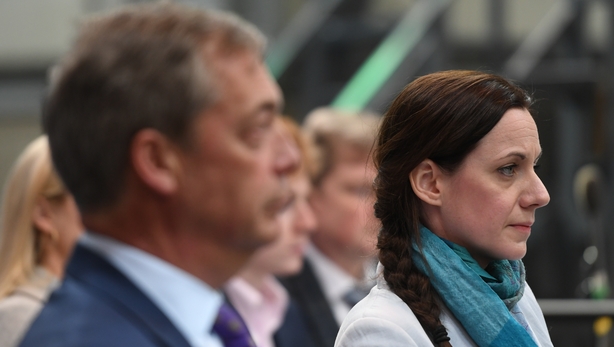 Rees-Mogg's sister joins Farage's new Brexit Party
Meanwhile, the sister of Tory Brexiteer Jacob Rees-Mogg is to stand as a candidate for Mr Farage's new party in the forthcoming European elections.
Annunziata Rees-Mogg was introduced by the former Ukip leader at the party's campaign launch at a factory in Coventry.
Ms Rees-Mogg said it was not a decision she had taken lightly after years loyally supporting the Tories.
"I joined the Conservative Party in 1984 and this is not a decision I have made lightly - to leave a party for which I have fought at every election since 1987, from Maggie Thatcher through to Theresa May.
"I know which one I'd rather have representing us now."
She added: "The point at which our Prime Minister will not listen, not only to her membership, but will not listen to the people of her country... I can't sit by and let her do it.
"We've got to rescue our democracy, we have got to show that the people of this country have a say in how we are run.
"That the politicians are not our masters - they are to do our bidding."
Launching the Brexit Party, Mr Farage said: "There's a demand for a new party is there?
"In some ways I can scarcely believe I'm doing this.
"I thought, well, we have won the referendum and then 448 of them said it was going to happen.
"I think what we have seen over the course of the last four weeks is the betrayal, the wilful betrayal of the greatest democratic exercise of this nation."
Speaking about how he believes the Brexit Party would fare in the European elections, Mr Farage said: "I went to the bookmakers this morning.
"This morning I have put £1,000 on the Brexit Party in the European elections at the odds of three to one."