Taoiseach Leo Varadkar has welcomed last night's EU deal to extend the date on which Britain leaves the EU until at least 12 April, with the possibility of a further extension until 22 May.
The extension is on condition that MPs approve British Prime Minister Theresa May's withdrawal deal next week and warned Britain it had a final opportunity to leave the bloc in an orderly fashion.
Speaking to reporters at the end of the European Council this afternoon, Mr Varadkar said it gives them [Britain] "a little bit of breathing space, to leave with no deal, adopt the Withdrawal Agreement or put forward alternative plans". 
We need your consent to load this rte-player contentWe use rte-player to manage extra content that can set cookies on your device and collect data about your activity. Please review their details and accept them to load the content.Manage Preferences
Such alternative plans could arise by running a series of "indicative votes" in the House of Commons to eliminate proposals one by one, until there is an idea which the House can agree on.
The Taoiseach said some media reports saying the German Chancellor had called for a fallback position to be formulated for dealing with the Irish border in the event of a no-deal Brexit as inaccurate.
He said there was no task force being set up "or anything of that nature" to look at the border situation.
But he said Ireland is fully aware that it has obligations to protect the single market, and prevent the border from becoming a back door into the Single Market.
He said we have some idea into what can be done because the UK government released its plans for managing the border in the event of a no-deal outcome.
Taoiseach @campaignforleo welcomes #Brexit 'breathing space' | https://t.co/ilXMn6nLUh pic.twitter.com/5gmAjRAIUc

— RTÉ News (@rtenews) March 22, 2019
"This would treat Northern Ireland differently to the rest of the UK, with different tariffs etc. The supreme irony is that many of those opposed the Withdrawal Agreement because it treats Northern Ireland differently. The only way you can deal with this is through the Withdrawal Agreement, and if you want to see how, it's called the backstop," said Mr Varadkar.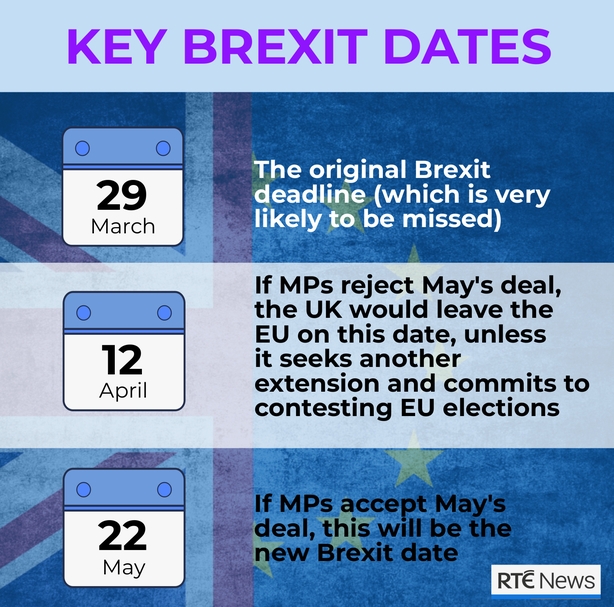 The Tánaiste has said that the European Commission and both the Irish and British Governments have thought about ways of preventing a hard border in Ireland in the event of a hard Brexit.
However, while there were conversations there had been no formal discussions and the backstop would form the basis of any such negotiations, he said.
Simon Convey insisted the focus would remain on regulatory alignment if this scenario were to emerge.
He said whether there is a deal or no deal the way to resolve these issues will involve some form of regulatory and customs alignment.
Mr Coveney also said he hopes to have some "quiet time" with the DUP's Jeffrey Donaldson to talk about Brexit when he attends the Fine Gael conference in Wexford tomorrow.
However, he said he knows the DUP well enough to know that they don't respond to "arm twisting."
Meanwhile, the Democratic Unionist Party's Nigel Dodds said in a statement that Mrs May had missed an opportunity to put forward proposals to EU leaders to improve the prospects of an acceptable deal, describing it as a "disappointing and inexcusable" failure. 
"Lectures by the prime minister putting the blame on others cannot disguise the responsibility her government bears for the current debacle and the fact that her agreement has been twice overwhelmingly rejected," Mr Dodds added in a statement ahead of a third vote where his party's stance will be vital.
French President Emmanuel Macron said Europe must not remain a hostage to the ongoing Brexit process, as British Prime Minister Theresa May struggles to persuade a deeply divided parliament to back her Brexit deal after an EU summit granted her more time.
"The European project must not remain a prisoner to Brexit," Mr Macron told reporters today.
This morning, Belgium's prime minister said he hoped for a "rational" decision by British MPs to back the withdrawal treaty that Mrs May concluded with Brussels. Preparations for a no-deal are still under way however, Charles Michel told reporters.
"This is perhaps the last chance for Britain to say what it wants for the future," Mr Michel said.
"More than ever, this is in the hands of the British parliament," he said, adding that the 27 EU leaders were not blind to the risks of a no-deal.
Following her return to the UK this morning, the Prime Minister briefed ministers on her talks with EU leaders in Brussels, her official spokesman said.
"There is now a clear point of decision. If we are able to have a successful vote next week then we can pass the necessary legislation for ratifying the agreement and we can, as a country, be outside the European Union two months today," the spokesman said.
"The Prime Minister is absolutely determined to try to end the uncertainty and deliver clarity for the country and for employers."
'Hell is still empty ... there are a lot of spaces' @eucopresident Donald Tusk #Brexit | https://t.co/Exx3CzDeCP pic.twitter.com/tuaGxYoAPJ

— RTÉ News (@rtenews) March 22, 2019
Mrs May said at a late-night press conference in Brussels that she would be bringing back her Brexit deal for a third "meaningful vote" next week.
No 10 has not said which day the vote will take place but her spokesman said it was important that there was a "realistic prospect of success".
Minister for European Affairs Helen McEntee has said avoiding a hard border in a no-deal scenario will be "very difficult".
Ms McEntee insisted Ireland was still not planning for such an eventuality.
She said the Government would only enter into negotiations with the UK and European Commission on how a future border would work when, or if, it becomes clear that a no-deal is the only option.
Speaking on RTÉ's Morning Ireland, she said: "If a no-deal scenario is the only option left and looking like that is going to happen then we need to sit down with the commission and with the UK and we need to understand and work with each other and essentially this is negotiation as to how we can avoid borders on the island of Ireland and, be under no illusion, it's very difficult without a deal.
"We are not planning for a hard border and we have always said that.
"When it gets to the point, and if it gets to the point, and we hope it does not, that if a no-deal scenario is the only likely and possible outcome then we need to engage with the UK and with the commission as to how we would do that, but until that happens we will not be planning for a border." 
---
---
Ms McEntee said the risk of no deal remained "very strong".
She said the prospect of the UK having to participate in European elections if the Withdrawal Agreement was not passed could "focus minds" at Westminster.
"I do believe that things are changing, I do believe the fact there is a very clear date of the European elections will focus people's minds," she said.
"I don't know if this will pass next week, I don't know if minds are focused enough on this, but I do believe that we now have a very specific timeline and I think we now need to give the Prime Minister the time to try and see what she is doing next, and obviously if the Withdrawal Agreement can be passed in the House of Commons."