British Prime Minister Theresa May has written to the European Union to delay Brexit until 30 June.
"I am... writing to inform the European Council that the UK is seeking an extension to the Article 50 period... until 30 June 2019," Mrs May said in a letter to European Council President Donald Tusk.
Mrs May said she wanted an orderly exit from the EU and that she intended to bring her twice-defeated divorce deal back to parliament, though she did not say when.
In the letter Mrs May writes: "You will be aware that before the House of Commons rejected the deal for a second time on 12 March, I warned in a speech in Grimsby that the consequences of failing to endorse the deal were unpredictable and potentially deeply unpalatable.
"The House of Commons did not vote in favour of the deal.
"The following day it voted against leaving the EU without a negotiated deal.
"The day after that it supported a Government motion that proposed a short extension to the Article 50 period if the House supported a meaningful vote before this week's European Council.
"The motion also made clear that if this had not happened, a longer extension would oblige the UK to call elections to the European Parliament.
"I do not believe that it would be in either of our interests for the UK to hold European Parliament elections".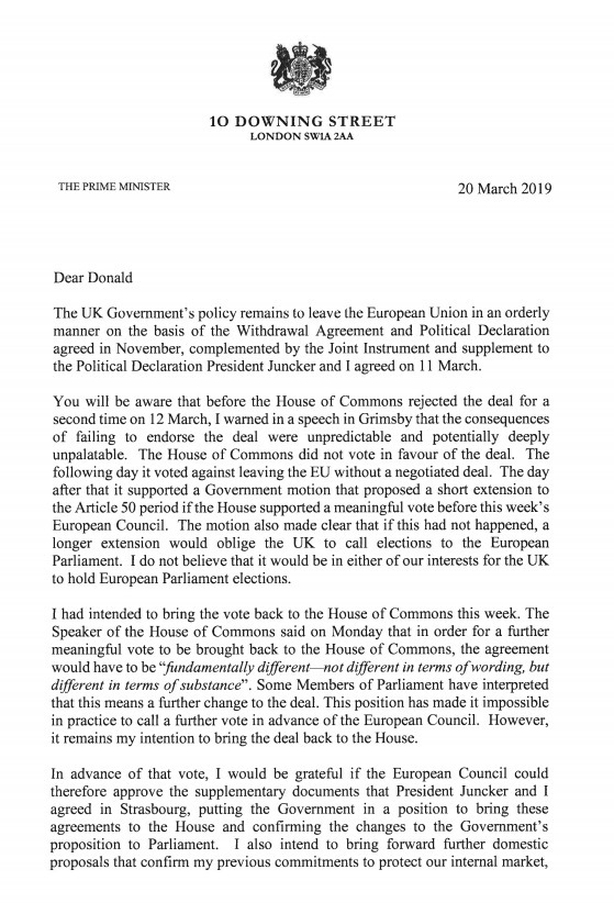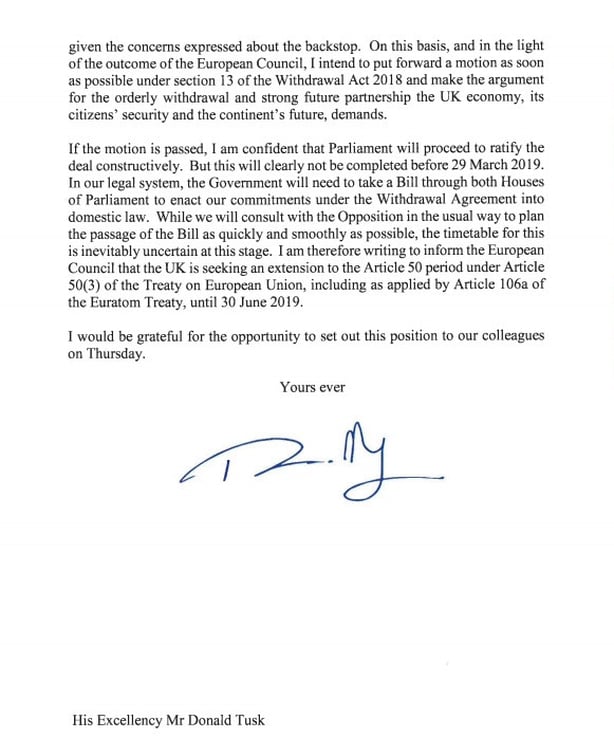 The Prime Minister said she intends "to bring forward further domestic proposals that confirm my previous commitments to protect our internal market, given the concerns expressed about the backstop".
She writes that she intends to "put forward a motion as soon as possible under section 13 of the Withdrawal Act 2018 and make the argument for the orderly withdrawal and strong future partnership the UK economy, its citizens' security and the continent's future, demands".
She says if the motion is passed she is confident that Parliament will ratify the deal, but warns that the timetable concerning the passage of the bill is "inevitably uncertain at this stage".
She concludes by seeking an extension until 30 June and "would be grateful for the opportunity to set out this position to our colleagues" tomorrow.
The Irish Government reacted to the extension request with a statement saying: "The Government will consider recent developments including the Prime Minister's letter at its Cabinet meeting this afternoon."