Minister for Justice Charlie Flanagan, said the British parliament seems to be reneging on the terms of the Withdrawal Agreement agreed with the European Union.
The House of Commons is to vote this week on British Prime Minister Theresa May's deal, with Eurosceptic MPs warning that without concessions on the backstop from Brussels, it will be defeated on Tuesday.
Speaking on RTÉ's The Week In Politics, Mr Flanagan said it is essential that the backstop remains in order to ensure that if there is a difficulty its assurances can be called upon.
Mr Flanagan said he is not holding his breath in relation to efforts by British Attorney General Geoffrey Cox, who said he is working on an alternative wording for the agreement.
Minister @CharlieFlanagan on extending Article 50. #brexit #rtetwip #rtepolitcs pic.twitter.com/KZVMSiuFmV

— The Week in Politics (@rtetwip) March 10, 2019
Mr Flanagan also said that the blame game is under way once again in the British media, but added that ultimately the responsibility lies with the UK.
"Ultimately this is the responsibility of the UK, they had agreed certain terms of the agreement," he said.
"They now seem to be reneging on that, residing from that I still think there's time."
Mr Flanagan said Mrs May needs to keep trying to ensure the only deal available is the Withdrawal Agreement which has already been agreed.
He said he would favour a short extension to Article 50, so long as the UK says what the intention behind the extension is.
"The Irish Government wouldn't stand in the way of the extension, but from an EU perspective they need to know what is going to be achieved during that extension," he said.
The European Union's chief Brexit negotiator has said he is not hopeful a deal can be reached before Tuesday's vote in Westminster.
In response to a question on whether he is optimistic that an agreement could be secured before the vote in the House of Commons, Michel Barnier said: "No, we are still working, we are still working."
He was speaking as he left the Ireland-France Six Nations match at the Aviva Stadium, which he attended with Taoiseach Leo Varadkar and Tánaiste and Minister for Foreign Affairs Simon Coveney.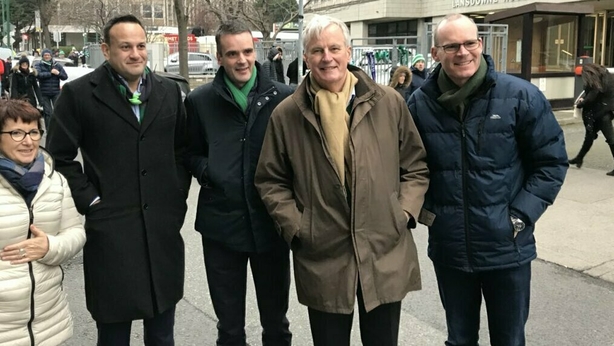 Meanwhile, Fianna Fáil's Brexit spokesperson Lisa Chambers has said Ireland do not get to take a no-deal Brexit off the table, the UK has to take no-deal off the table.
She said no-deal was always possible and she thinks talks will quickly turn to an extension, but added that she is concerned about how long that extension would be or what it would look like.
Ms Chambers said Denmark, Netherland, Germany and Poland, and possibly Ireland, are supportive of an extension.
However, she added that prospects of extending negotiations for two years are very alarming.
She said Fianna Fáil believes Ireland should support an extension if requested, and as friends of the UK, Ireland should give them that space to avoid crashing out.
A senior member of the DUP has said that Brussels is "denying an opportunity" to come to an agreement on Brexit that is acceptable to both sides.
Jeffrey Donaldson said that he is now appealing to the Taoiseach to recognise that the concerns around the backstop are "not just for the DUP, but are concerns right across the House of Commons".
He said the Commons voted by the largest ever majority against a sitting government, voting to reject the Withdrawal Agreement in its current form.
"This is not just a DUP issue, it's an issue for the UK as a whole, and we need to get this right. We want to get it right. We want to avoid a hard border. We want to avoid a no deal but we need Brussels to work with us to reach that accommodation."