Taoiseach Leo Varadkar has said it is certainly possible that Britain would ask for an extension of its 29 March deadline to exit the European Union, but not inevitable.
Speaking ahead of the All-Island Civic Dialogue on Brexit, he said: "I don't think it's inevitable. It's certainly possible. If there is going to be an extension, it needs to be with a purpose, it needs to be with a view to securing and ratifying an agreement.
"I don't think anyone would like to see this stalemate or impasse or period of purgatory continue for months and months and months."
'A no deal Brexit is not inevitable but it is possible' - Taoiseach Leo Varadkar @rtenews @rtepolitics pic.twitter.com/RT4HoMu1qW

— Aisling Kenny (@KennyAKE) February 15, 2019
Later, in his address to the fifth plenary session at Dublin Castle, Mr Varadkar said the Withdrawal Agreement was the best possible deal, and while it was not perfect, it was "a fair deal and guarantees no hard border on this island.
"I had hoped the UK would ratify the deal."
The Taoiseach said the solidarity of EU members with Ireland on Brexit had been remarkable and anyone who expects that to change was in for a "nasty surprise".
"One of the most striking things about what's unfolded since the UK's decision to leave has been the remarkable solidarity from the EU side, despite many attempts to bilateralise issues.
"The solidarity has been strong and resolute and those who think it will break at the last moment are in for a nasty surprise".
He also said that the common travel area will not be affected regardless of what happens over the coming weeks and said the customs union, which has been the cornerstone of the Irish economy for decades, must be protected.
"We cannot let anything develop that would dilute that in anyway."
The Taoiseach added that free movement will remain for citizens in Northern Ireland.
He said: "No matter what happens, we know that Northern Ireland citizens will have the right to travel anywhere in the EU from Athens to Athenry. It is regrettable for British citizens that will not be the case.
"What's been remarkable is the solidarity from the EU, despite attempts to divide the 27, it has remained resolute." 
Mr Varadkar said that no-deal planning is now preparing for a very real and possible outcome.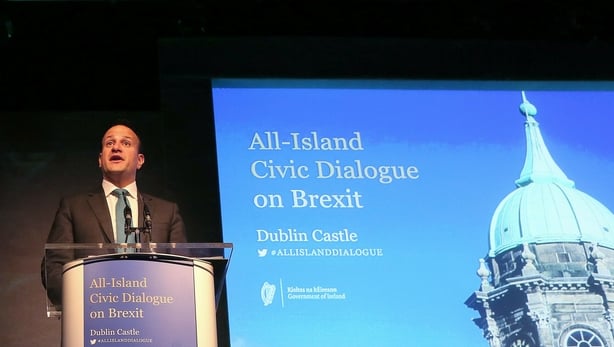 "I explained to [European Commission] President Junker the assistance Ireland will require in the event of a no-deal Brexit, for his part he emphasised that the EU stands ready to assist." 
He said that although he "has views" on whether British Labour leader Jeremy Corbyn could be more constructive, he thinks it would be better "if I did not intervene in British politics".
"I'd be happy to talk about it with him over a drink or something," Mr Varadkar.
Tánaiste and Minister for Foreign Affairs Simon Coveney, speaking at the same event, said any British request to extend Brexit talks would likely be met with a generous response from the EU provided it came with a plan, and a natural limit to such a request would be the end of June, he said.
He said: "If there is a request for an extension to Article 50 coming from London and there is a plan to go with that in terms of a strategy to try and conclude these discussions, I think there would be quite a generous response to that. 
"With the practicalities around European elections, the establishment of a new European Commission ... there is a natural extension date until the end of June perhaps but that is a matter for the British prime minister and British parliament."
Earlier, Mr Coveney said it is clear there is a small, influential minority in the British parliament that wanted a no-deal Brexit.
Speaking as he arrived at Dublin Castle, Mr Coveney said last night's defeat for Mrs May's government in the House of Commons on her approach to Brexit was a reminder that MPs were not clear on what they want.
Tanaiste Simon Coveney reacts to the vote in the House of Commons last night @rtenews @rtepolitics pic.twitter.com/gLPiFh89Kb

— Aisling Kenny (@KennyAKE) February 15, 2019
"I think we were reminded again last night of the reality that the House of Commons isn't clear in terms of what it wants; there doesn't seem to be a majority of MPs asking for anything specific," he said. 
Fianna Fáil leader Micheál Martin described Mrs May's approach as a "very risky one" adding that is why an extension may be on the agenda.
Sinn Féin leader Mary Lou McDonald said the Government must starting planning for a post-Brexit united Ireland.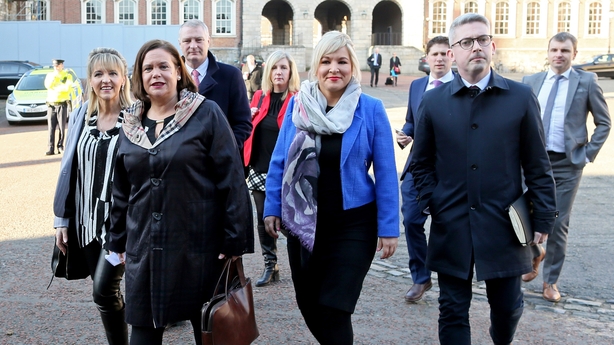 Minister for Transport Shane Ross said there were a number of challenges for his department in relation to Brexit.
He said: "Our ports and airports must be able to continue to facilitate imports from the UK as a third country.
"I'm also very concerned about any potential disruption to the land bridge.
"A study published last year said 300 tonnes travel through the land bridge every year. The total value is €21 million.
"Disruption or delays could impact on Irish businesses."