A no-deal Brexit can only be stopped if UK MPs come together around "a positive majority for another solution", the European Union's chief negotiator Michel Barnier has said.
Mr Barnier's comments appear to suggest that Brussels would resist extending the two-year negotiation process under Article 50 to allow the UK to continue debating its preferred outcome.
The prospect of the UK seeking to remain in the EU beyond the planned date of 29 March was increased after Labour's finance spokesman John McDonnell signalled the party could back plans for an Article 50 extension to stop no-deal.
But Conservative Party MP Jacob Rees-Mogg - a leading Brexiteer - suggested the British government could prevent an extension by shutting down parliament before MPs have a chance to vote on the plan, under a procedure known as prorogation.
Mr Rees-Mogg also played down suggestions that members of the European Research Group of Eurosceptic Tory backbenchers, which he chairs, might be giving up their rebellion against Mrs May's Withdrawal Agreement a week after consigning it to a 230-vote defeat in the House of Commons.
Restating his opposition to the proposed backstop arrangement to avoid a hard border on the island of Ireland, he said: "As long as the backstop is there I will not vote for this deal.
"Of course any deal would be better than not leaving at all, but this deal ... is not good enough. It needs fundamental change."
In the event of a no deal Brexit, Downing Street said tonight it believed there would be a need to advance discussions with the Irish Government on avoiding a hard border. 
The British government said it stood ready to do that, but added there was not any time-frame for such talks.
A spokesperson for Number 10 underlined that such a process does not represent a change in policy, but is a re-statement of their existing position.
They said the Irish Government believed the best way to avoid a hard border was through the Withdrawal Agreement, which took nearly two years to negotiate.
An Government spokesperson here said: 'In the event of a no-deal scenario, further detailed discussions may be required, but that would take place through the medium of the European Union and its [Brexit] Task Force."
Speaking to the European Economic and Social Committee in Brussels, Mr Barnier said there appeared to be a majority in the House of Commons opposed to crashing out without a deal.
But he warned: "Opposing no deal will not stop no-deal from happening at the end of March. To stop no-deal, a positive majority for another solution will need to emerge.
"This is the objective of the political consultations that Theresa May has started and we hope, sincerely, that this process will be successful."
Some leaders of the remaining 27 EU member states had questioned why they would agree to extending Article 50, he said.
"Some of them have said to me that if that question is raised, and they have actually spoken to the UK government, well why would we do that? What would be the purpose of that and for how long would that be required?"
Mr Barnier repeated his position that the EU was ready to pursue a more "ambitious" future relationship with the UK if Mrs May "modifies" her red lines, which include departure from the customs union and single market, an end to free movement and withdrawal from the jurisdiction of the European Court of Justice.
"If the UK red lines were to evolve in the next few weeks or months, the union would be ready immediately and open to other models of relationships which are more ambitious.
"Each of these models is founded on a balance between rights and obligations.
"We are open to reworking, if the UK were to modify its red lines, the content and the ambition of the Political Declaration," he said.
Earlier, Mrs May and Labour leader Jeremy Corbyn clashed over Brexit in the House of Commons, with Mr Corbyn repeating his call for Mrs May to rule out a no-deal outcome.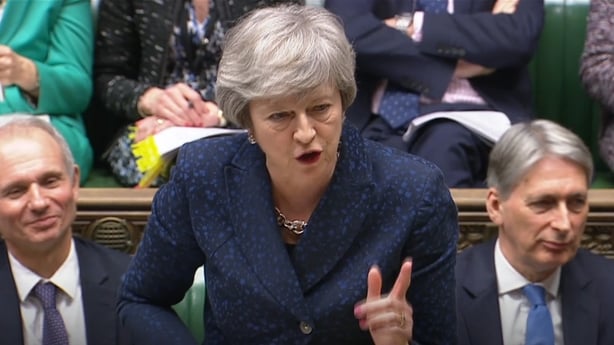 Mrs May denounced Mr Corbyn for refusing to meet her to discuss the way ahead, when he had previously been "willing to sit down with Hamas, Hezbollah and the IRA without preconditions".
Questioning whether Mr Corbyn understood the details of the customs union arrangement Labour is seeking, she told MPs that the opposition leader "hasn't got a clue".
But Mr Corbyn responded: "The door of her office might be open, but the minds are closed and the prime minister is clearly not listening."
Taoiseach gives update on Goverment's Brexit plans
Last night, Taoiseach Leo Varadkar met political party leaders to update them on the Government's plans to deal with the potential fallout from a no-deal Brexit.
The meeting followed comments yesterday by European Commission spokesperson Margaritis Schinas, who said there would be a hard border in Ireland in the event of the UK leaving the EU without an agreement.
It is understood Mr Varadkar warned party leaders that the absence of a single market border in Ireland could possibly result in checks being placed at ports in France or the Netherlands if there is a no-deal Brexit.
It was clear during the meeting that the proposal about customs checks in France or the Netherlands was not something the Government would table as an option.
However it did arise as one of the possible, although unlikely, outcomes of a hard Brexit.
Additional reporting Micheál Lehane, Fiona Mitchell, Paul Cunningham