British Prime Minister Theresa May is attempting to solve the Brexit deadlock by coming up with a solution to the backstop that the DUP and her own Conservative party can accept, according to reports in the British media.
After abandoning attempts to negotiate across-party deal, the Daily Telegraph reported late on Sunday that Mrs May's plan would seek to amend the Good Friday agreement.
It would see the UK and Ireland agree a separate set of principles, or add text to "support or reference" the 1998 peace deal, setting out how both sides would guarantee an open border after Brexit, the paper reported.
The Times' Deputy Political Editor earlier reported that the prime minister told her cabinet, during Sunday evening's conference call, that the plan is to "get something the Tories and DUP will support by changing or removing the backstop".
Earlier, German Foreign Minister Heiko Maas said it was unclear how any talks between Britain and Ireland on resolving the question of the backstop could help the European Union's deal with London on Brexit.
British Prime Minister Theresa May is to set out her plans for Brexit on Monday after MPs rejected her deal with the EU last week, throwing the process into disarray. The United Kingdom is due to leave on March 29.
Asked by ZDF television about earlier media reports on May's possible talks with the Irish Government, Maas said the idea seemed "creative", but it was unclear how it would work.
"We have to negotiate and also agree a withdrawal agreement with Britain. It is a bit of a mystery to me what the British government wants to negotiate with Dublin or what sort of an additional agreement it should be," he told German television.
"It won't have any effect on what was agreed with the (European) Commission."
Maas also said it would be "very difficult" to renegotiate Britain's withdrawal agreement with the EU.
"All 27 members must agree. In the last few days there have been relatively clear statements that there are many who are not ready to and there are some that are open to it. We have to wait to see what the Britons suggest," he said.
Earlier, Tánaiste and Minister for Foreign Affairs Simon Coveney reiterated his stance on Brexit in response to a claim from former UK Brexit secretary Dominic Raab - who said Mr Coveney did not rule out an exit mechanism from the backstop when they met.
In a tweet, Mr Coveney said he and Taoiseach Leo Varadkar have "always been on the same page" on Brexit and remain united and focused on protecting Ireland.
For the record, Taoiseach & I have always been on the same page on #Brexit & we remain united & focused on protecting Ireland. That includes continued support for the EU/UK agreed WA in full, including the Backstop as negotiated. @RTENewsNow https://t.co/ljmSBtvuNz

— Simon Coveney (@simoncoveney) January 20, 2019
Speaking on the BBC's Andrew Marr Show this morning, Mr Raab said Mr Coveney did not rule out an exit mechanism from the backstop when they met but it was ruled out by Taoiseach Leo Varadkar, who he described as "less moderate" than Mr Coveney.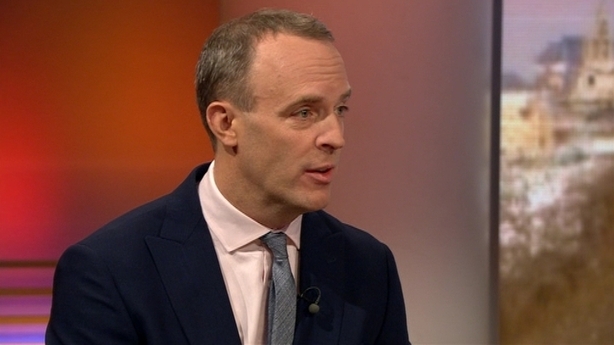 He added, "They have taken this deeply political view on the backstop, which has got nothing to do with the realities of solving a return to the hard border and now we need to make sure that there is a ladder for them to climb down."
Yesterday Mr Coveney restated the Government's commitment to the Withdrawal Agreement saying "as Brexit dominates news coverage, no surprise that some analysis today gets it wrong.
"I can reassure you the Irish Govt's commitment to the entire WA is absolute - including the backstop to ensure, no matter what, an open border between Ire + NI and the #GFA are protected".
Meanwhile Minister for Business, Enterprise and Innovation Heather Humphreys said the Withdrawal Agreement could be looked at again if Britain decides to remain in a customs union with the EU.
Answering a question at an event in Dublin, Ms Humphreys said: "In terms of the future relationship, if that is going to change, you know if the UK decide that maybe they want to stay in the customs union ... then we can have a look at exactly what happens on the Withdrawal Agreement, but as far I'm concerned we cannot have a border between us and Northern Ireland"
Ms Humphreys said she lived during the times when there was a border when people stopped you every time you crossed and she did not want to go back those days.
Sinn Féin leader Mary Lou McDonald has said there cannot be any "watering down" of the backstop.
Speaking to RTÉ News this morning, she said the backstop is the "bare minimum" in terms of protection that Ireland needs.
Ms McDonald called on the Government to "hold firm", irrespective of what she described as "unworkable" solutions coming from London.
Mrs May returns to parliament tomorrow to make a statement on how she will proceed with Britain's departure from the European Union after her deal was defeated by politicians last week.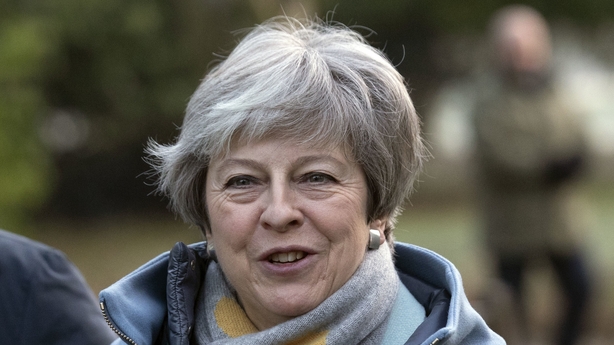 It comes as Downing Street hit out at moves by rebel MPs to rewrite the Commons rule book in an attempt to derail Britain's withdrawal from the EU.
The two groups of MPs are said to be planning to table amendments to enable backbench MPs to take control of the business of the House to frustrate Theresa May's Brexit plans.
One group led by Tory former minister Nick Boles and the senior Labour MP Yvette Cooper is attempting to block a no-deal Brexit - something Mrs May strongly opposes.
However The Sunday Times reported that a second group led by the former attorney general Dominic Grieve wants to go further and suspend the Article 50 withdrawal process.
Downing Street described the moves as "extremely concerning" and said they underlined the need for MPs who supported Brexit to vote for it in the House.
"The British public voted to leave the European Union and it is vital that elected politicians deliver upon that verdict," a Number 10 spokeswoman said.
"Any attempt to remove the Government's power to meet the legal conditions of an orderly exit at this moment of historic significance is extremely concerning.
"This news should serve as a reminder to those MPs who want to deliver Brexit that they need to vote for it - otherwise there is a danger that Parliament could stop Brexit."
The reports comes as Mrs May prepares to brief Cabinet ministers on her talks with other party leaders and senior MPs following the crushing defeat of her Brexit deal last week in the Commons.
The Sunday Times said it had obtained leaked emails showing that Mr Grieve had been in secret communication with a Commons clerk of bills Colin Lee to discuss how it could be possible suspend Article 50.
---
Brexit: A grim process of elimination
Brexit: What might happen next
More Brexit stories
---
In one email sent on Wednesday, Mr Lee was said to have made clear that the aim of the plan was to delay Brexit.
"What follows is just for you and you will understand the terms," he said.
"We have been thinking that legislation is needed, but it occurs to me the substantive motion, say calling for Article 50 extension, could be made."
In a statement, a House of Commons spokesman said: "It is common practice for clerks to provide advice to Members on the drafting of many items of parliamentary business, such as bills, motions and amendments.
"This advice is provided on a rigorously impartial basis. We do not comment on individual cases".
Mrs May is due to make a statement to MPs tomorrow setting out how she intends to proceed with Brexit after the tumultuous events of last week.
She will also table a "neutral" motion - which is expected to attract a flurry of amendments from MPs - which will be debated and voted on on 29 January.
With feelings running high, the pro-Brexit International Trade Secretary Liam Fox warned of a "political tsunami" if the Government fails to deliver on the 2016 referendum vote.
He also hit out at ministers calling for Mrs May to rule out a no-deal Brexit, saying the "most stupid thing possible" in a negotiation is to "give away your strongest card".
Writing in The Sunday Telegraph, Dr Fox said: "Failure to deliver Brexit would produce a yawning gap between Parliament and the people, a schism in our political system with unknowable consequences.
"The reaction of the Question Time audience could become a political tsunami. It is time for MPs to deliver on the promises they made. It is a matter of honour and a matter of duty."
In a letter to the Telegraph, 50 Tory association chairmen and other senior grassroots figures said the party's 2017 manifesto stated "no deal was better than a bad deal", and failing to honour that pledge would be a "breach of trust with with voters and party members".
Labour former minister Hilary Benn has dismissed reports that MPs and Commons clerks are "plotting" to block Brexit.
Mr Benn, who chairs the Commons Brexit committee, said: "MPs doing their job are not plotters, they are trying to sort out the mess the Prime Minister has created.
"We are facing a national crisis and there are many MPs in the House of Commons whose first priority is to ensure that we do not leave without a deal and therefore finding ways when we come to table amendments this week and debate on the 29th January how we stop that.
"To attack House of Commons clerks and suggest they're part of a conspiracy is a disgrace, our clerks are resolutely impartial", he added.
Mr Benn, appearing on BBC One's The Andrew Marr Show, said Mrs May's "mind appears to be completely closed" to compromising on her deal.
He said: "These talks will get nowhere in those circumstances, so if the Prime Minister's not prepared to move on that basic question, should we remain in a customs union which is an essential precondition to keeping an open border in Northern Ireland and keeping friction-free trade which businesses rely on, that is a starting point." 
Additional reporting: PA