Motorists may soon be obliged to carry 'proof of insurance' Green Cards for travel in the UK and Northern Ireland in the event of a no-deal Brexit.
The Motor Insurers' Bureau of Ireland has advised that insurers and insurance brokers will provide 'Green Cards' to motor insurance policyholders who travel to the UK, including to Northern Ireland.
Green Cards will demonstrate to Northern Ireland and British authorities the vehicle has valid motor insurance cover if there is a no-deal Brexit.
There will be no requirement for Green Cards if an agreement is reached between the UK and the EU on Brexit, or if a transitional arrangement is implemented.
A Green Card is an internationally recognised insurance document that provides proof of the minimum compulsory motor insurance cover required by the country visited.
Green Cards provide a guarantee of insurance for a minimum of 15 days and can remain valid until the expiry date of the motor insurance policy, providing cover for multiple trips.
In line with the current expected Brexit date of 29 March 2019, insurers and insurance brokers will begin issuing Green Cards to policyholders from March.
This is on the basis that no agreement has been reached between the UK and the European Union on Brexit or that the process has not been further delayed.
At that point anyone who plans on driving their Irish-registered vehicle in Northern Ireland or the rest of the UK should contact their insurer or insurance broker one month in advance of their expected travel date.
This is to ensure they receive their Green Card in sufficient time.
MIBI Chief Executive David Fitzgerald said: "Our hope is that a deal will be agreed between the UK and the EU, meaning there will be no disruption to the motor insurance status quo for those travelling between the Republic of Ireland and Northern Ireland/ UK."
He added that if there is a transitional Brexit arrangement put in place between the EU and the UK then Green Cards will not be required.
We need your consent to load this rte-player contentWe use rte-player to manage extra content that can set cookies on your device and collect data about your activity. Please review their details and accept them to load the content.Manage Preferences
Currently, all motor vehicles with a valid Irish registration travelling within the EU are covered by the terms of the EU Motor Insurance Directive (MID).
This allows motor vehicles to travel freely between the Republic of Ireland and Northern Ireland/UK, as well as within other EU countries, without requiring supplementary insurance documentation.
Should a no-deal Brexit occur, the UK (including Northern Ireland) will no longer be party to the MID, meaning a Green Card will be required to demonstrate to the authorities in Northern Ireland and the rest of the UK that valid motor insurance cover is in place for those vehicles.
The rules will also apply to any Northern Ireland or British drivers crossing the border.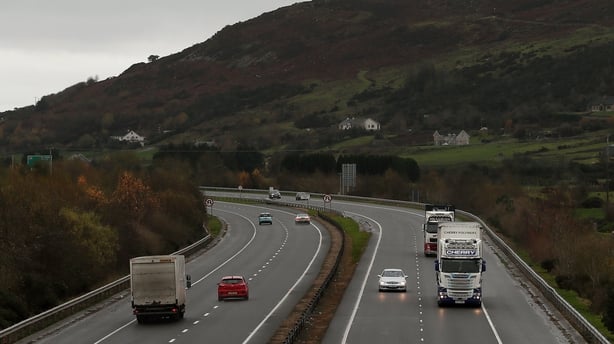 Huw Evans, director general of the Association of British Insurers (ABI), said: "As it looks increasingly possible that a 'no-deal' Brexit may happen, we want all insurance customers to know the facts about what this means for them.
"If you live in Northern Ireland and drive to the Republic of Ireland, or if you plan to drive your vehicle to mainland Europe after a no-deal Brexit, you will need a Green Card to prove you are insured.
"You should contact your insurer before you travel in order to get one. This advice applies to businesses as well as individuals."
An agreement between UK and European insurance authorities was struck in May 2018 to waive the need for Green Cards in the event of a no-deal Brexit.
However, the agreement has not yet been ratified by the European Commission.
There is currently a Green Card-free circulation area covering the EEA and Andorra, Serbia and Switzerland.
Systematic border checks of the document as proof of third-party motor insurance have been abolished in the area.
However, in the event of no-deal this would cease to apply for UK drivers.