The British Conservative Party will be stuck with Theresa May as leader for the next general election unless it moves to get rid of her now, Jacob Rees-Mogg has warned.
Amid signs the attempt by Brexiteers to force a vote of confidence in the British prime minister has stalled, Mr Rees-Mogg acknowledged they were struggling to get the support they needed.
The comment comes as the DUP's Brexit spokesperson said his party would vote against Mrs May's draft Brexit deal.
However, the leader of the pro-Brexit European Research Group (ERG) insisted there was little enthusiasm among Tory MPs for Mrs May to take them into the next election, due in 2022.
"I think it is now or the prime minister will lead the Conservatives into the next election," he told reporters at a Westminster news conference.
"You find MPs privately who will say to you they think that is a really good idea in any number and I would be quite surprised."
His warning came as Downing Street confirmed Mrs May will meet European Commission president Jean-Claude Juncker for talks in Brussels tomorrow ahead of a special European Union Brexit summit on Sunday.
In a move likely to be welcomed by Brexiteers, Downing Street also confirmed that the British government would look at potential technological solutions to keep the Irish border open.
Mrs May's official spokesman confirmed that references in last week's draft agreement to "alternative arrangements" for the border could involve technical measures of the kind previously promoted as the "maximum facilitation" solution, or Max Fac.
Last week, senior ERG figures were confidently predicting they would get the 48 letters of no confidence from MPs needed to trigger a vote in Mrs May's leadership.
But with Brexiteers apparently divided over whether it was the right time to mount a challenge, the prospect of them achieving their target appeared to be dwindling.
However, Mr Rees-Mogg warned they needed to consider whether they really wanted to carry on with her at the helm.
While party rules would permit a fresh challenge in a year's time if there was a failed attempt now, he said that in practice it was doubtful that would happen.
"Basically, if there is a vote of confidence it is not just for a year," he said.
"Getting the 48 letters has shown to be quite difficult, so the idea that in a year you just repeat the process and then she would go at that point, I don't think that is realistic."
Senior ministers sought to rally round Mrs May, with Justice Secretary David Gauke warning that any move to oust her would be "dangerous for the country".
He told BBC Breakfast: "The idea that at this point, in the middle of a very delicate negotiation, that is hugely important to the future of this country, that we should remove the Prime Minister, essentially leave us leaderless, for certainly several weeks, possibly months, would be hugely irresponsible.
"I don't think people should be talking about removing her at this point. I think that would be self-indulgent and dangerous for the country."
DUP says Brexit deal will remove North from UK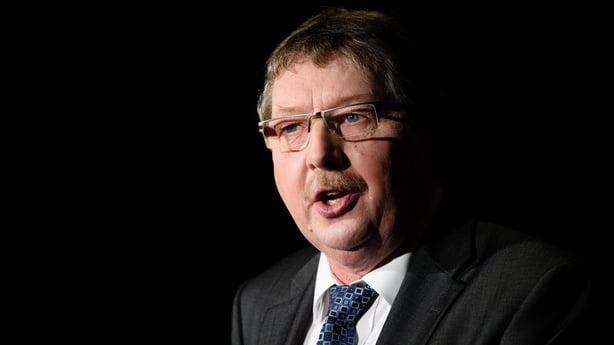 Meanwhile both Brexiteer Boris Johnson and Chancellor Philip Hammond are due to attend the DUP's conference at the weekend, according to Co Fermanagh newspaper the Impartial Reporter.
The DUP's Brexit spokesperson Sammy Wilson has said his party believes that in the long term the deal will remove Northern Ireland from the United Kingdom.
Last night the party, which props up Mrs May's minority Conservative government in a "confidence and supply" arrangement, joined with Labour to cut the government's majority to just five in a Commons budget vote.
They also abstained on a series of other amendments to a finance bill last night in a move intended to send a "political message" to Mrs May.
Under the terms of the "confidence and supply" deal, agreed after Mrs May lost her Commons majority in last year's general election, the DUP is supposed to back the government on budget matters and on confidence votes.
Mr Wilson said Mrs May's deal with Brussels breached a "fundamental" assurance that Northern Ireland would not be separated constitutionally or economically from the rest of the UK.
"We had to do something to show our displeasure," he told BBC2's Newsnight.
"All of them were designed to send a message to the government: 'Look, we have got an agreement with you but you have got to keep your side of the bargain otherwise we don't feel obliged to keep ours'.
"She has broken all of those promises - to the people of the United Kingdom, to her own party and to the people of Northern Ireland."
---
---
Mr Wilson said this morning that the party's decision in the Commons did not mean the arrangement was over, but "what we did last night was send a warning to the government".
He said: "All of our efforts are directed along with a large number of Conservative MPs from both the remain camp and the leave camp as well as opposition parties to defeat this deal and force a rethink".
When asked by Sky News about a possible vote of confidence in the Prime Minister he said: "We will make our decision at that stage whether by backing a vote of no confidence leads to a change in policy or by abstaining it keeps the government in position and allows the government to look at alternatives".
The stakes are far too high, he added, and "we are looking at the long-term future of Northern Ireland".
Mr Wilson accused Mrs May of breaking her promises.
"Last December when she gave us the draft of the withdrawal agreement we made it clear that it was unacceptable and she made promises then that there would be provisions made that would ensure that NI was not separated from the rest of the UK and was not separated from the rest of the GB market" and she has broken that promise, he said.
---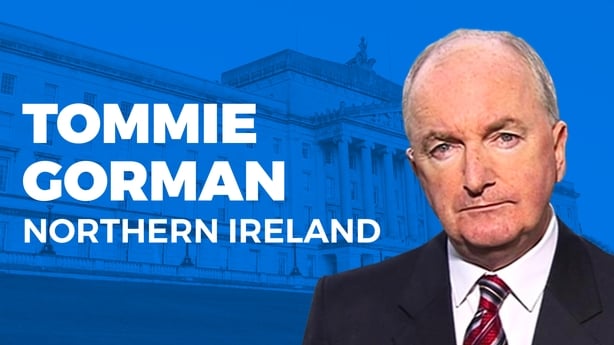 At a time when the mechanics of divorce are relevant to politics, this amounts to a tiff, a sign of ongoing tension rather than irretrievable breakdown.
Theresa May's minority government depends on ten MPs to keep her in power.
In turn the DUP gets all sorts of privileged access in Westminster and sweeteners for Northern Ireland.
The decision to not support a number of measures in the government's budget related finance bill was a warning shot to Theresa May. The reason for the action is the DUP's ongoing discontent over the Brexit withdrawal bill.
But the DUP pointed out the measures opposed are cost neutral and it was keen to state the confidence and supply arrangement with the government has not broken down.
The tension will remain as Theresa May continues her manoeuvring for Brexit flexibility in Brussels.
But the DUP know if they brought the House of Commons roof down on Theresa May, their special arrangement would be over.
---