British Prime Minister Theresa May has said that there are still considerable unresolved issues with the European Union over Brexit as the two sides approached the "endgame" in negotiations for departure from the bloc.
Mrs May's compromise plan, which seeks to maintain close trade ties with the EU in the future, is facing opposition from Brexiteers, pro-Europeans, the DUP, and even some of her own ministers.
"The negotiations for our departure are now in the endgame," Mrs May said in a speech at the Guildhall in London's financial district.
"We are working extremely hard, through the night, to make progress on the remaining issues in the Withdrawal Agreement, which are significant."
With less than five months until Britain leaves the EU talks have stalled over a disagreement on the backstop, which would ensure there will be no return to a hard border on the island of Ireland if a future trading relationship is not agreed in time.
Mrs May's attempt to unblock the talks by considering an extension to a status-quo transition period beyond the current proposed end date of December 2021 has angered both eurosceptics and EU supporters in her party.
Fears that the proposals would mean keeping Britain inside the EU's customs union indefinitely or that Northern Ireland would have to accept different rules and regulations to the rest of the United Kingdom have focused opposition to Mrs May's deal.
Negotiations are continuing this week, but officials are warning unless there is dramatic progress by the end of Wednesday there is unlikely to be a summit this month to approve a Brexit deal.
Brexit talks with the EU ran through Sunday night until nearly 3am, and resumed on Monday morning.
Mrs May told the audience in her annual speech at the Lord Mayor's Banquet that she would not agree a Brexit deal "at any cost".
"Both sides want to reach an agreement. But what we are negotiating is immensely difficult," Mrs May said. "This will not be an agreement at any cost."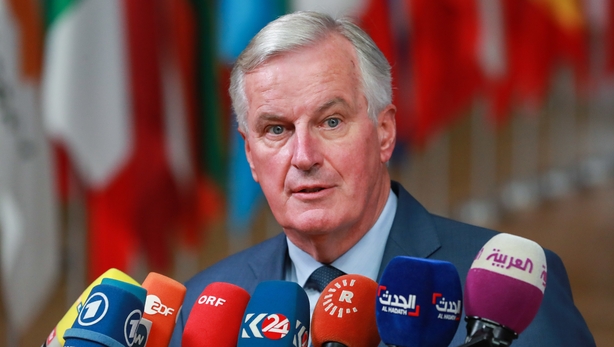 No Brexit agreement sealed yet - Barnier
Earlier, the European Union's chief Brexit negotiator has warned ministers from the other 27 member states that no deal has been sealed on Britain's departure from the EU.
Mr Barnier had addressed ministers from the 27 remaining EU nations at a meeting in Brussels this morning.
"Michel Barnier explained that intense negotiating efforts continue, but an agreement has not been reached yet," the European Council, which represents the member states, said in a statement.
"Some key issues remain under discussion, in particular a solution to avoid a hard border between Ireland and Northern Ireland.
"During the meeting, ministers however also recalled the need to continue the work at all levels on preparations for every possible scenario."
Gernot Blumel, the Europe minister of Austria, which currently holds the council's rotating presidency, said: "In these final stages of the negotiations, ministers showed again today that we are determined to keep the unity of the EU27.
"We have reconfirmed our trust in the negotiator. And we support his efforts to continue working towards a deal."
A spokesman for British Prime Minister Theresa May said he expected cabinet ministers to keep backing her on Brexit and that they would be called to a meeting to discuss an EU exit deal as and when there was something to talk about.
He also told reporters that negotiations with the European Union were ongoing, with negotiators working into the early hours, but that substantial issues relating to Northern Ireland remain.
Tánaiste and Minister for Foreign Affairs Simon Coveney told reporters that it was clear from the meeting that "the support and the solidarity for Michel Barnier and his negotiating team is stronger now than it has ever been".
He added: "Clearly this is a very important week for Brexit negotiations. The two negotiating teams have really intensified their engagement and the support and solidarity for that work is very, very strong.
"We will have to wait and see where that goes but the issues aren't new. There is still clearly work to do between the two negotiating teams and I think we need to give them the time and space now to finish that job.
"The sooner that can be done the better for everybody."
The talks come after DUP leader Arlene Foster said on Friday that she would not support Mrs May's decision to have a Northern Ireland-specific backstop that would see a border down the Irish Sea.
She added that the DUP would not support that and would not be able to support the move in the British Parliament.
Party leaders from Sinn Féin, the SDLP, Alliance Party and Green Party, which all supported Remain in the EU referendum, were in London today for a series of engagements.
Additional reporting: Reuters