Former British Foreign Secretary Boris Johnson has denounced Theresa May's Chequers plan for EU withdrawal as a "constitutional outrage" that would leave the UK humiliated and unable to reap the economic benefits from Brexit.
In an explosive intervention at the Conservative conference in Birmingham, Mr Johnson warned that voters would not forgive the party for "bottling Brexit".
Mr Johnson was given a standing ovation as he urged Tories to persuade Mrs May to "chuck Chequers" and return to the hard Brexit blueprint she set out at Lancaster House in 2017, when she said she would take the UK out of the customs union, single market and jurisdiction of the European Court of Justice.
The former foreign secretary - who quit Mrs May's Cabinet in July in protest at the Chequers plan - was mobbed by reporters as he arrived to speak to a packed 1,500-seater hall on the fringe of the Tory conference.
Mrs May declared herself "cross" with her former Cabinet colleague, accusing him of being ready to "tear up" her guarantee to Northern Ireland that there would be no customs border in the Irish Sea.
She said she did not watch Mr Johnson's address, preferring to talk with activists.
'Chuck Chequers': @BorisJohnson challenges @theresa_may on Brexit pic.twitter.com/Y2karthZMk

— RTÉ News (@rtenews) October 2, 2018
However, she told the BBC: "There are one or two things that Boris said that I'm cross about. He wants to tear up our guarantee to the people of Northern Ireland.
"We have a guarantee for the people of Northern Ireland and we are upholding that. Our Chequers plan does that. It is the only plan on the table at the moment that does."
Mrs May said that "Boris always puts on a good show", but pointedly noted that he was "a key part" of the discussions at her country residence which ended with the plan being agreed in July.
---
Read More:
---
Mr Johnson said that Mrs May's Chequers blueprint - which ties Britain to a common rulebook with the EU for trade in goods - would be "politically humiliating for a £2 trillion economy" and would subject the UK to European directives and rules.
Like a spaceship in a sci-fi film forced off its captain's preferred route by hostile technology, the UK would be "locked in the tractor beam of Brussels", he warned.
"This is not pragmatic, it is not a compromise. It is dangerous and unstable - politically and economically," said the former foreign secretary.
"My fellow Conservatives, this is not democracy. This is not what we voted for. This is an outrage.
"This is not taking back control: this is forfeiting control."
And he warned: "If we get it wrong - if we bottle Brexit now - believe me, the people of this country will find it hard to forgive."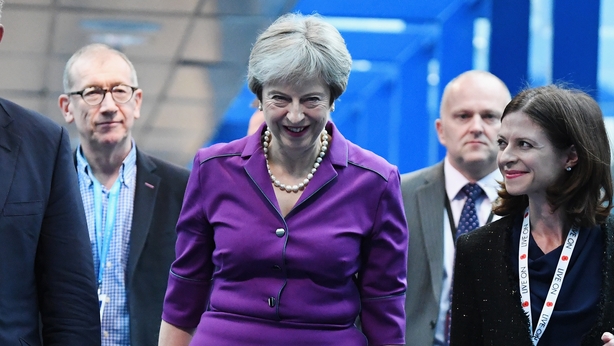 A Lancaster House-style Brexit would be a "win-win" for both Britain and the EU, Mr Johnson said.
But he warned: "If we cheat the electorate - and Chequers is a cheat - we will escalate the sense of mistrust.
"We will give credence to those who cry betrayal, and I am afraid we will make it more likely that the ultimate beneficiary of the Chequers deal will be the far-right in the form of Ukip, and therefore the far-left in the form of Jeremy Corbyn."
Mr Johnson rejected as "total fantasy" the idea that it would be possible to "bodge" Brexit now and then negotiate a better deal after leaving in March 2019.
And he warned that if a deal based on Chequers was agreed with the EU, it would "embolden" those calling for a second referendum - something he said would be "disastrous for trust in politics".
He even won loud applause when he suggested that Mrs May risked being prosecuted under a 14th century law saying that "no foreign court or government shall have jurisdiction in this country".
He said: "For one last time, I urge our friends in government to deliver what the people voted for, to back Theresa May in the best way possible - by softly, quietly, and sensibly backing her original plan.
He added: "And in so doing to believe in conservatism and to believe in Britain.
"Because if we get it wrong we will be punished. And if we get it right we can have a glorious future."
UK Business minister Claire Perry urged Tories to back Chequers, telling Sky News that the alternative of a no-deal Brexit would be "a recipe for a catastrophic series of consequences (and) a way of crashing the economy and doing great damage to our most productive industries".
Her comments appeared to conflict with Mrs May's often-repeated mantra that "no deal is better than a bad deal".
Mrs May acknowledged that withdrawal without a deal would cause "some short-term disruption".
But she told Sky: "We are all focused - as Claire is and the whole Government is - on making sure we get a good deal from the EU.
"What is important is that Government puts in place measures that make sure we can make a success of Brexit, regardless of the deal we get from the EU."