Michael Gove has urged Tory MPs to rally behind Theresa May after hardline Brexiteers attended a meeting looking at ways to unseat the British Prime Minister.
The Environment Secretary described rumours of a direct leadership challenge "whether it was Boris (Johnson) or any other individual" as "loose talk" that might undermine the mandate for Brexit.
Around 50 MPs discussed ways and means of getting rid of Mrs May at a gathering of the European Research Group (ERG), the Press Association understands.
A number of MPs told how they had already submitted letters of no confidence to Graham Brady, chairman of the 1922 Committee, and others discussed plans to follow suit.
If 48 letters are handed over, a vote of no confidence would be triggered.
Mr Gove, a Brexiteer who unsuccessfully stood against Mrs May for the leadership in 2016 after David Cameron stood down, told BBC Radio 4's Today she was doing a "great job at the moment".
Asked whether it would be better for Mrs May to tackle any leadership challenge head-on, he replied: "No. This is loose talk, you always have loose talk.
"The critical thing is to ensure that we deliver on that Brexit mandate.
"Any diversion or any distraction from that mission means that our ability to ensure that the referendum mandate that we were given is delivered, is undermined."
Tory backbencher Michael Fabricant - who was at the ERG meeting - also played down the threat to Mrs May.
---
Read more: Brexit stories
---
"Reports of Theresa May's demise are greatly exaggerated. Of the 40-50 there, only five to six people discussed letters to the chairman of the 1922 and they wrote ages ago," he wrote on Twitter.
"The rest of us sat in uncomfortable silence. Though most are unhappy with Chequers."
As well as the ERG meeting, "leadership issues" were raised by MPs at a dinner with the PM's senior aides.
Backbenchers told the Prime Minister's chief of staff Gavin Barwell that his boss must "chuck Chequers" over a dinner at No 10 Downing Street.
The flurry of activity came after former foreign secretary Boris Johnson launched a fresh attack on the PM's Brexit plan, claiming it would be "substantially worse than the status quo" for British businesses.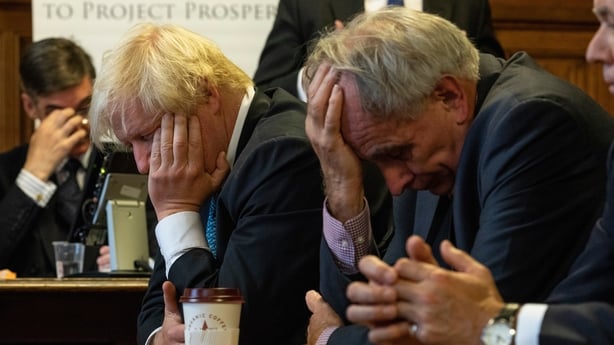 Speaking after the No 10 dinner, Tory MP Andrew Bridgen did not deny suggestions Mrs May would face a coup.
He told ITV News: "I've been told that she will get a full appraisal of comments that were made over the dinner."
Asked if there would be a coup, he replied: "I think we will just have to wait and see.
"I hope that the Prime Minister will take on board what she's heard and chuck Chequers."
The ERG has announced its own alternative plan for tackling the Irish border issue.
The group has faced criticism from opponents who say it has attacked the government's plans without coming up with one of its own on one of the main sticking points in discussions between Brussels and the Government.
Yesterday, Downing Street reiterated that Chequers was "the only serious, credible and negotiable plan which is on the table which both delivers on the will of the British people and which prevents the imposition of a hard border in Northern Ireland".