British Prime Minister Theresa May has told the DUP that the UK will not remain in the European Union customs union or the single market after Brexit, its deputy leader Nigel Dodds has said.
She said there would be no breaking up of the UK "economically, politically or constitutionally" following Brexit, Mr Dodds told reporters after he and party leader Arlene Foster spent almost 90 minutes in talks with Mrs May in London.
A new customs plan to solve the Irish border issue was discussed but Mrs May "didn't go into any details", he added.
Mr Dodds also accused Taoiseach Leo Varadkar and other European leaders of attempting to "bully and intimidate" the UK into agreeing a deal of their liking.
Asked by reporters after the talks about whether his party - which has a supply and demand deal with Mrs May's Conservative Party - would support her regardless of what happened at a meeting of cabinet ministers on Friday, he said: "We don't give blank cheques to anybody and I think it is very clear that we don't.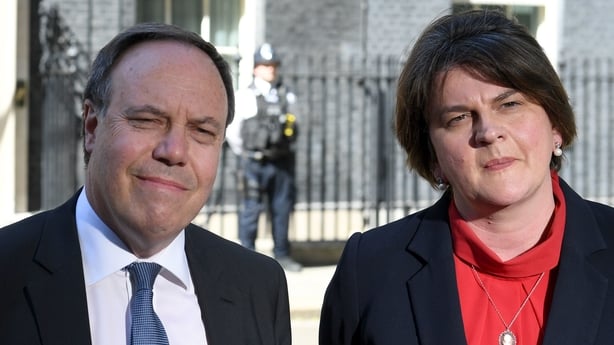 "On Brexit we want to see a proper Brexit which fulfils the referendum result. We have been very clear that has to be on the basis that the whole of the UK leaving the EU as one. I'm confident the PM will deliver on that," he added.
Meanwhile, Mrs May has told the House of Commons: "There remain some real differences between us and the European Commission on Northern Ireland.
"On the protocol on Northern Ireland I want to be very clear: we have put forward proposals and will produce further proposals, so that if a temporary backstop is needed there will be no hard border between Northern Ireland and the Republic of Ireland.
"We are absolutely committed to the avoidance of such a border and we are equally committed to the avoidance of a hard border between Northern Ireland and the rest of the UK.
"Northern Ireland is an integral part of our country and we will never accept the imposition of a border within our United Kingdom."
She said that EU leaders had "all agreed that we must now urgently intensify and accelerate the pace of negotiations" on the future relationship.
"I warned EU leaders that I did not think this Parliament would approve the withdrawal agreement in the autumn unless we had clarity about our future relationship alongside it," she said.
Mrs May said the white paper, which will be produced next week after Friday's cabinet meeting, would set out "detailed proposals for a sustainable and close future relationship" between the UK and EU and mark "an important step in delivering the decision of the British people".
"The EU and its member states will want to consider our proposals seriously," she said.
"We both need to show flexibility to build the deep relationship after we have left that is in the interests of both our peoples."
Mrs May again stressed that the UK would leave the single market and customs union.
Labour leader Jeremy Corbyn noted Mrs May's statement to the Commons was nearly 2,000 words, adding: "All the Prime Minister says on Brexit is 'we need clarity about our future relationship'.
"Yes we do - we've been waiting for over two years for any clarity from this Government."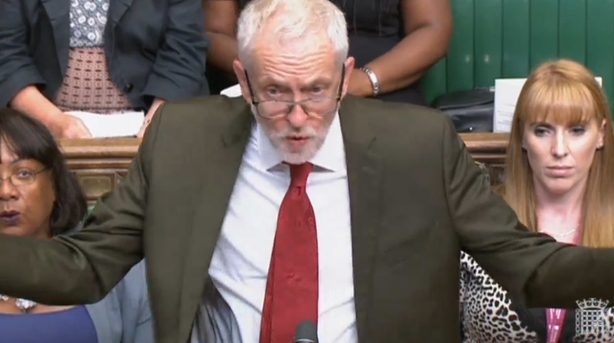 Mr Corbyn added: "I don't envy the Prime Minister as she prepares for her Chequers sleepover. She has many loud and competing voices in her Cabinet - not competing to do the best for this country but to do the best for themselves.
"The Prime Minister's primary duty is not to manage the latest division in her Cabinet, but to negotiate a deal that will safeguard jobs and living standards for decades to come."
Mrs May, in her reply, said Mr Corbyn had wanted to trigger Article 50 immediately after the EU referendum in 2016 and now is "refusing to rule out a second referendum".
She said: "It's not just a question of who in the Labour Party agrees with who else, (Mr Corbyn) can't even agree with himself."
Ahead of the crucial cabinet talks on the UK's exit strategy, Mr Rees-Mogg said Mrs May and her team must decide at their cabinet meeting if they would stand by her pledges or reduce "a once-proud country" to a "tremulous state that sees Brexit as mere damage limitation".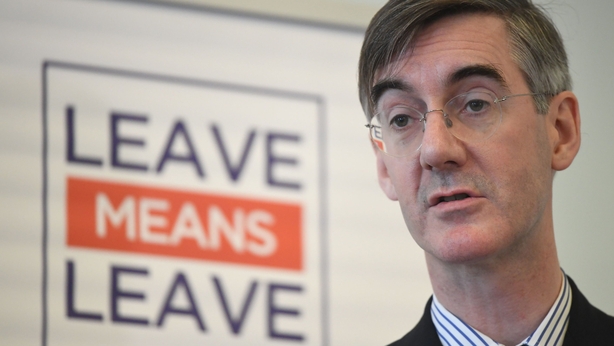 Earlier, leading Brexiteer Jacob Rees-Mogg warned that Mrs May must deliver the Brexit she promised or risk collapsing the UK government.
Mr Rees-Mogg said she and her team must decide at Friday's cabinet meeting if they would stand by her pledges or reduce "a once-proud country" to a "tremulous state that sees Brexit as mere damage limitation".
Writing in The Daily Telegraph, Mr Rees-Mogg warned Mrs May she was in danger of splitting the party like Robert Peel, who plunged it into the political wilderness for nearly three decades following bitter divisions over trade reforms.
The chairman of the European Research Group of Brexit-backing Tories said: "Theresa May must stand firm for what she herself has promised.
"One former Tory leader, Sir Robert Peel, decided to break his manifesto pledge and passed legislation with the majority of his party voting the other way.
"This left the Conservatives out of office for 28 years. At least he did so for a policy that works."
"At Chequers [Mrs May] must stick to her righteous cause and deliver what she has said she would, she must use her undoubted grace to persevere," he added.
British Foreign Secretary Boris Johnson has come to the defence of Jacob Rees-Mogg, insisting it was "vital that all MPs are able to air their views on Brexit".
On Twitter, he said that Mr Rees-Mogg was a "principled and dedicated MP who wants the best for our country".
It's vital that all MPs are able to air their views on Brexit. Whatever your position, I hope we can all agree that @Jacob_Rees_Mogg is a principled and dedicated MP who wants the best for our country.

— Boris Johnson (@BorisJohnson) July 2, 2018