Taoiseach Leo Varadkar has warned there is a real risk the European Union will fail to reach a withdrawal deal with the UK by an October deadline unless meaningful progress is made by a June EU summit.
He was responding to questions from Opposition leaders in the Dáil.
Mr Varadkar said: "The EU guidelines are very clear about June. They say that we will review the situation at the council meeting in June. We as the EU 27, and we are united in this. Ireland's position is the position of the 27 member states who negotiate from a position of strength.
"Our position is that we will review progress at the meeting in Brussels in June and we want to see real and meaningful progress by June if we are going to meet that December deadline. And there is a real risk that we won't meet the October deadline if we don't see real and meaningful progress in June".
He added: "It is still early May. There are shifting sands. There is an important UK cabinet meeting under way today and there are parliamentary votes of significance happening across the water now. So we need to take this as an evolving situation.
"We are very far from what the maximum amount of progress that can be achieved in June is".
BREXIT DEADLINE: Taoiseach @campaignforleo has warned there is "a real risk" the EU will miss the October deadline on the #Brexit withdrawal treaty if we do not see "real and meaningful progress by June." pic.twitter.com/FCUiV5G5cP

— RTÉ Politics (@rtepolitics) May 2, 2018
Meanwhile, British Prime Minister Theresa May has indicated she may be ready to consider new proposals for the UK's post-Brexit customs arrangements.
Speaking in the House of Commons, she said there are "a number of ways" to achieve her government's goals.
Her official spokesman told reporters that thinking about the solution for customs was "evolving".
Mrs May was speaking before a meeting of the special Brexit cabinet sub-committee, amid signs that senior ministers are deeply divided over the two options on the table.
The European Commission has been pushing back against both UK proposals - a customs partnership under which Britain would collect tariffs on behalf of the EU, or a streamlined arrangement using new technology to avoid the need for border checks - with reports that Brussels officials regard them as unworkable.
About 60 Eurosceptic Tory backbenchers have put their name to a report rejecting the partnership arrangement.
The customs union: What is it and what does it mean for Brexit?
Mrs May was challenged by Labour MP Karen Buck at Prime Minister's Questions in the House of Commons on why she was considering two options, both of which were known not to be "feasible".
She responded that there were "a number of ways" of delivering on the government's commitments to leave the customs union while allowing an independent trade policy, avoiding a hard border in Ireland and making trade "as frictionless as possible" with the EU.
When her official spokesman was asked whether this meant that more than two options were now on the table, he said: "The Prime Minister said in the House that there are a number of ways of taking this forward and that is what we are working on.
"Work has been ongoing on two options. That work has been proceeding. Ideas are obviously evolving as we go along. As the Prime Minister said, there are a number of ways to proceed".
Mrs May is yet to name her preferred customs arrangement, though she is thought to have favoured the partnership scheme, drawn up by her representative in Brexit talks Olly Robbins.
The plan has been denounced as "cretinous" by Jacob Rees-Mogg, chairman of the European Research Group (ERG), which has sent Mrs May a lengthy report detailing its opposition.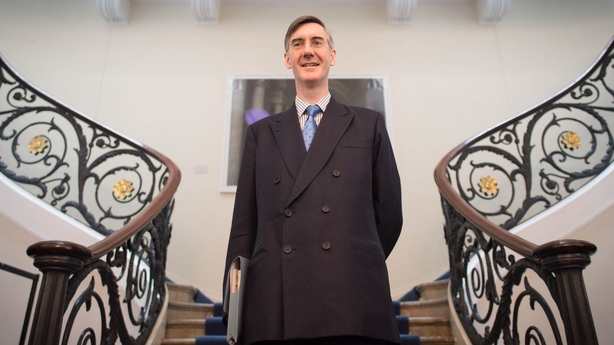 Mr Rees-Mogg insisted he was not issuing an "ultimatum" to the Prime Minister but told BBC Radio 4's Today programme the proposal was "deeply unsatisfactory" and would "not get us out of the European Union, which is what people voted for".
Although the European Commission has said it wants a solution for the Irish border by its forthcoming summit in June, there is no requirement on Mrs May to come to a final decision at today's meeting of the Brexit strategy and negotiations sub-committee.
Cabinet Office Minister David Lidington, one of those attending the meeting, indicated a final decision may not be reached, with the full cabinet expected to consider the issue.
Under the customs partnership plan, the UK would collect tariffs on the EU's behalf at ports and airports, passing on a share of the money to Brussels.
If the UK decided to set different tariffs from its European neighbours, traders would claim refunds from HM Revenue and Customs for goods which stay in Britain.
Mr Robbins is understood to regard the partnership as a means of avoiding a hard border in Ireland while keeping the UK out of the European customs union.
Failure to come up with a solution could leave the UK forced to fall back on the European Commission's "backstop" option, which would effectively draw a customs border down the Irish Sea.
Mrs May has insisted that no British prime minister could accept such a scenario.