Taoiseach Leo Varadkar has said he remains concerned that British Prime Minister Theresa May did not fully recognise the implications of leaving the European Union's customs union and single market.
In a key Brexit speech, Mrs May urged the EU to show more flexibility in talks on a relationship after Brexit, saying Britain realised it could not get all it wanted but she believed an ambitious trade deal was still possible.
In a statement, Mr Varadkar said: "She has given a number of important reassurances today, which I welcome.
"However I remain concerned that some of the constraints of leaving the Customs Union and the Single Market are still not fully recognised."
Mrs May also said that she would not let the United Kingdom's exit from the EU jeopardise the progress made on securing peace in Northern Ireland.
In her speech in London, Mrs May said that both Britain and the EU had a joint responsibility to find a solution in divorce talks over how to avoid a hard border on the island of Ireland.
Any hard border or a customs border in the Irish sea which would break up the UK's common market would be unacceptable, she added.
Earlier this week, Mrs May rejected the EU's draft proposal for Northern Ireland to remain in the single market and the customs union - unlike the rest of the UK - to avoid the return of hard border.
Today, Mrs May said: "We have been clear all along that we don't want to go back to a hard border in Northern Ireland.
"Just as it would be unacceptable to go back to a hard border between Ireland and Northern Ireland, it would also be unacceptable to break up the United Kingdom's own common market by making a customs and regulatory border down the Irish sea."
Mr Varadkar said he particularly welcomed May's "clear commitment" to the Good Friday Agreement and to a December agreement to avoid a hard border.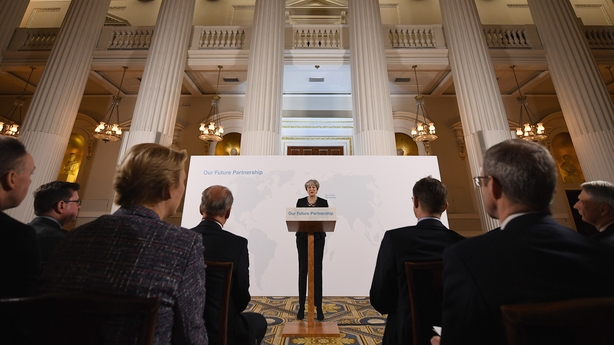 Mrs May called for a deep partnership with the European Union after Brexit, setting out ambitions for a tailor-made deal including financial services but accepting EU regulation of chemicals, medicines and aerospace industries.
In an attempt to add detail to Britain's negotiation on leaving the EU, the British Prime Minister mixed concessions with a plea for a deal that would keep trade flowing between the world's biggest trade bloc and Britain's $2.7 trillion economy.
She proposed having either a customs partnership, where Britain would implement EU tariffs on its border for goods intended for the EU but could set different ones for goods going elsewhere, or a streamlined customs arrangement, where jointly implemented measures would minimise frictions to trade.
But she also proposed Britain having access to the EU's financial markets in return for having similar standards to those of the EU, which would in turn keep access to Europe's biggest and deepest markets in London.
"We all need to face up to some hard facts," Mrs May told ambassadors and business leaders in the Mansion House, the 18th century official home of the Lord Mayor of London in the heart of the capital's financial district.
"Neither of us can have exactly what we want."
"So we need to strike a new balance. But we will not accept the rights of Canada and the obligations of Norway," Mrs May said.
She said the European Court of Justice could not be the ultimate arbiter of any disputes that develop between Britain and the European Union after Brexit.
Her lectern featured the slogan, "Our Future Partnership", the title of her speech which rounds off a series of briefings by her ministers on how Britain sees its future outside the EU and its economic architecture after more than 40 years in the bloc.
EU leaders are increasingly frustrated by what they say is a lack of detail from London on what it wants, and the EU's chief negotiator Michel Barnier has warned that time is short to reach a deal by October in time for Britain's 2019 exit.
Taoiseach 'concerned' about UK Brexit position | More: https://t.co/YqP7NfmKFZ pic.twitter.com/Jk5cFEmgCP

— RTÉ News (@rtenews) March 2, 2018
Mrs May , weak after losing her parliamentary majority last year, has struggled to satisfy the demands not only of EU officials but also of the warring factions in her Conservative Party and major businesses which are desperate for clarity.
She said she would be guided by five tests including respecting the result of the 2016 Brexit referendum and reaching a solution that can endure.
"We are close to agreement on the terms of the implementation period which was a key element in the December deal," Mrs May said.
"Both the UK and EU are clear this implementation period must be time-limited and cannot become a permanent solution."
In his statement, Mr Varadkar said that more detailed and realistic proposals from the UK are now needed.
Tánaiste and Minister for Foreign Affairs Simon Coveney said he welcomes Mrs May's "reiteration of the UK's steadfast commitment to the Good Friday Agreement and to the commitments made in the agreement reached last December, including on avoiding a hard border."
Barnier welcomes "clarity" in May's Brexit speech
The European Union's chief Brexit negotiator Michel Barnier has welcomed "clarity" from Mrs May and her recognition that Britain faces "trade-offs" when it leaves the EU single market and customs union.
"Clarity about UK leaving Single Market and Customs Union and recognition of trade-offs will inform... guidelines re future FTA," Mr Barnier tweeted after Mrs May's speech.
I welcome PM @theresa_may speech. Clarity about #UK leaving Single Market and Customs Union & recognition of trade-offs will inform #EUCO guidelines re: future FTA.

— Michel Barnier (@MichelBarnier) March 2, 2018
He was referring to proposals the EU will make next week for negotiating a free trade agreement (FTA) with London.
Mr Barnier made no further comment on Mrs May's vision of a close relationship with the EU involving mutual recognition of many regulations and standards and "frictionless" borders.
He has in the past made clear that there would be border checks if Britain leaves the single market and that the EU insists on supervisory and enforcement mechanisms for recognising others' standards.
DUP leader Arlene Foster welcomed Mrs May's speech.
She said: "I welcome the Prime Minister's clear commitment that she will not countenance any new border being created in the Irish Sea between Northern Ireland and the rest of the United Kingdom.
"Northern Ireland goods must have unfettered access to trade into Great Britain and the same must apply to Great Britain goods entering Northern Ireland.
"Indeed, it is particularly welcome that one of the 'five tests' is strengthening the union."