The European Parliament's Chief Brexit negotiator has said MEPs will insist that Britain sticks to the commitments made last week, before moving to phase two of the Brexit talks.
Guy Verhofstadt has accused Britain's Brexit Secretary David Davis of undermining the agreement struck between the UK and the EU last week, which includes provisions to avoid a hard border.
The parliament will vote on a resolution tomorrow, but amendments tabled today will seek a firm commitment from the UK that it is prepared to be bound by last week's agreement before proceeding to the next phase of the negotiations.
Mr Verhofstadt described the remarks by Mr Davis suggesting the agreement was "a statement of intent" rather than a firm commitment as an "own goal".
In an interview on Sunday, Mr Davis appeared to suggest that the UK could seek to alter agreements on divorce issues including the border, citizens' rights and the UK's financial settlement, saying the deal was "much more a statement of intent than it was a legally enforceable thing".
After the Government branded the comment "bizarre", the Brexit Secretary took to the airwaves once again yesterday, saying that Britain's commitment on the border issue was "much more than just legally enforceable".
European Commission spokesman Margaritis Schinas later confirmed that the joint report published last week by Mr Davis and EU Brexit negotiator Michel Barnier was "not legally binding" until it is incorporated in a formal Article 50 Withdrawal Agreement, expected in the autumn of 2018.
But asked if it was therefore possible for either side to back down on it, Mr Schinas stressed that it was regarded in Brussels as "a deal between gentlemen" which was "fully backed and endorsed" by the UK Government.
He noted that Prime Minister Theresa May and Commission president Jean-Claude Juncker had shaken hands on it.
Mr Verhofstadt said today that Mr Davis' remarks would result in a tougher approach being taken by the European Council and the Parliament too would take a harder line.
The parliament will have to vote on the final deal.
Remarks by David Davis that Phase one deal last week not binding were unhelpful & undermines trust. EP text will now reflect this & insist agreement translated into legal text ASAP #Brexit

— Guy Verhofstadt (@guyverhofstadt) December 12, 2017
Mr Verhofstadt suggested that MEPs would like to bring forward moves to make the agreement legally binding.
"Remarks by David Davis that Phase One deal last week not binding were unhelpful and undermine trust," he said in a tweet.
"European Parliament text will now reflect this and insist agreement translated into legal text ASAP."
Barnier rules out full trade pact in time for Brexit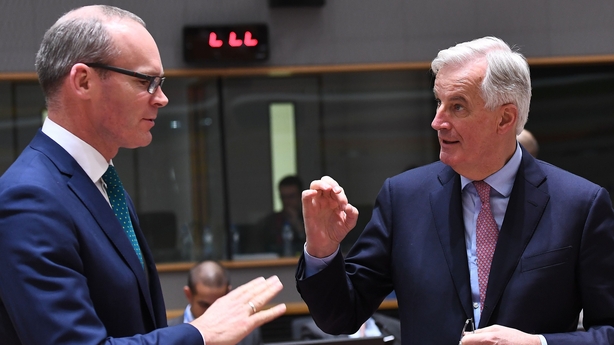 There is "no possibility" that Britain and the European Union can conclude a free trade agreement by the time Britain leaves in March 2019, said EU Brexit negotiator Michel Barnier.
Asked about suggestions in London that a trade deal could be ready for signature shortly after Britain is no longer an EU member, Mr Barnier reiterated the EU's official line that only a "political declaration" outlining future trading relations would be ready at the time of Britain's withdrawal.
He told reporters after he had briefed EU ministers ahead of a leaders' summit on Friday that negotiating a free trade pact would take longer.
He also stressed that there must be "no backtracking" by Britain on an outline divorce package agreed last week if it wants to negotiate the future relationship.
He said that after the summit he hoped he would be able to present draft language early in the new year on the withdrawal treaty, elements of which were agreed last Friday.
Earlier, a leading MEP accused the British government of "behaving like gangsters" in relation to the Brexit deal on the border between Ireland and the UK.
Philippe Lamberts of the Green group said Britain had made a commitment and would be counted on to keep it.
He said this was a matter of credibility on the global stage for Britain, which risked not being taken seriously if its government undermines the deal agreed with the EU last week.
"How can Britain be taken seriously if it behaves like a gangster in its international relationships" he said.  
He said the commitments entered into the agreement to move to Phase 2 of the Brexit discussions are not signals of intent, they are commitments.
The leader of the EPP group, Manfred Weber, said the rest of the EU was standing by Ireland, and no deal would be agreed without Ireland's approval.
During the negotiations, he said, everybody felt as though they were Irish and that more clarity was needed from the UK government before progress could be made on Phase 2 of the talks.