Finally, breakfast means Brexit.
Over croissants and coffee, the deal was done. So far the Westminster words have been relatively warm, even if temperatures have plummeted.
Foreign Secretary Boris Johnson and Environment Secretary Michael Gove have both congratulated Prime Minister Theresa May on moving to the next phase of Brexit negotiations.
The opinion of both men, as the most prominent members of the Leave campaign, matters. Their view will be analysed to decide if Brexiteers can sign up to the proposals.
But Theresa May is unlikely to assume that congratulatory words mean this deal will not yet cause her problems within her own party.
For a leader who has barely gone a week without a major crisis in her government, she knows that feelings on Brexit run deep, and terms such as 'full alignment' make many on the Leave side of the campaign very nervous. Any impediment to striking out and agreeing major trade deals is seen as utterly anathema to the concept of 'taking back control'.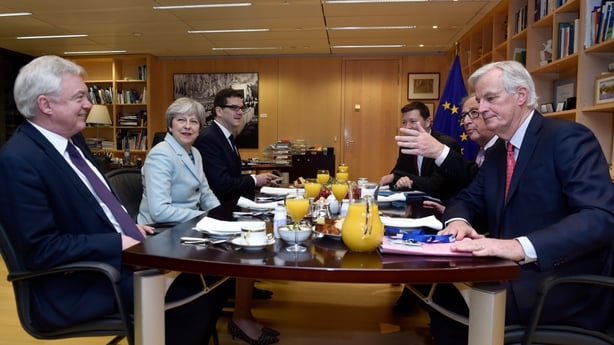 Ditto the involvement of the European Court of Justice in citizen's rights. This involvement may only be for eight years, but many Brexiteers looked forward to walking away from the ECJ in March of 2019, with hardly a glance in the rearview mirror. That will not now happen.
As the former northern secretary, and Brexit supporter, Theresa Villiers said this morning the ECJ involvement is a "part she wishes wasn't in" the text but she is pragmatic about its inclusion.
Theresa May needs that pragmatism to be replicated across a Conservative Party which continues to tear itself apart over Europe.
Among UKIP supporters, whose electoral successes convinced the Tory Party a referendum was needed, the talk is of betrayal with Nigel Farage accusing the Prime Minister of being humiliated by the EU.
The party's electoral base is all but gone, but Mr Farage remains a voice that many Leave voters listen to for a distillation of events in Brussels.
Moving to Phase 2 was always going to be an historic move, but part of the rush to analyse the document was also the fact that detail has been hard to find.
Frequently accused of lacking a coherent plan, the British government has now signed up to a text which at least begins to give an idea of how Brexit might look - even if it's a no deal Brexit.
The conversation about what 'end state' the British Cabinet wants from Brexit has yet to be had, according to the Chancellor Philip Hammond.
That conversation must happen soon, given that talks now move on to trade and transition.
When it does happen the myriad of voices at the Cabinet table who all want something different from Brexit will have to be heard. Will the words still be warm then?