Democratic Unionist leader Arlene Foster has warned Sinn Féin to "get serious" about the terms of a deal to restore Stormont power-sharing.
Accusing republicans of using rights issues as a cloak to "break unionists", Ms Foster told her party conference in Belfast she was committed to resurrecting devolution, 11 months on from its collapse but insisted any agreement between the DUP and Sinn Féin had to be balanced.
She used her speech to restate her party's determination to see power-sharing restored, insisting the party blocking its return was Sinn Féin.
Ms Foster also warned European leaders the DUP would not accept a Brexit deal that forced Northern Ireland to adopt a different customs arrangement from the rest of the UK.
Ms Foster told delegates: "It's time Sinn Féin got serious.
"This party will conclude a balanced deal but we will not be party to a one-sided arrangement that rewards intransigent behaviour.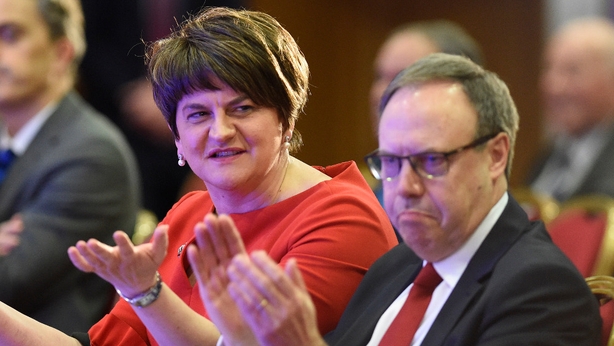 "Northern Ireland needs a government and we cannot continue without ministers.
"Time is short and those in Sinn Féin blocking the restoration of local decision-making need to decide whether they want to do business with us or have direct rule ministers in place.
"I still believe that devolution is the best way to govern Northern Ireland but to do that in a way that delivers for all of our people we need serious partners in government," said Ms Foster.
In response to Ms Foster's comments, Sinn Féin's leader in Northern Ireland Michelle O'Neill said: "Sinn Féin is determined to reach agreement to restore power-sharing institutions which deliver rights and equality for all citizens."
We need your consent to load this rte-player contentWe use rte-player to manage extra content that can set cookies on your device and collect data about your activity. Please review their details and accept them to load the content.Manage Preferences
Ms O'Neill added: "A majority of citizens in the North expect and are entitled to the same rights enjoyed by citizens across these islands; language and marriage equality rights, due process in all aspects of the legal and judicial system, including inquests.
"The two governments and local parties are responsible for the implementation of previous agreements.
"Locally elected ministers are best placed to run local public services and fight back against the austerity imposed by the British government," said Ms O'Neill.
One of the key sticking points is a Sinn Féin demand for an Irish language act.
The DUP will agree to such a law but only as part of a wider act that also protects British culture in Northern Ireland.
"I respect the Irish language and those who speak it.
"However, respect isn't a one-way street. Respect works both ways.
"It is time that Sinn Féin started to respect our British culture.
"For too long they have shown nothing but disdain and disrespect for the national flag, the royal family, the armed forces, British symbols, the constitutional reality and the very name of this country.
"So we are up for respect. And we're up for rights. Republicans like to lecture us about rights. They're fond of rights now. They weren't so concerned about that most fundamental of rights - the right to life - during the Troubles.
"We are for rights. We respect rights. What we oppose is using the cloak of rights as a Trojan horse designed to break unionists," said Ms Foster.
The power-sharing crisis triggered by the Renewable Heat Incentive (RHI) scheme appears as far from resolution as ever, with Northern Ireland having been without a properly functioning power-sharing administration since January when Ms Foster was forced from her role as first minister by the late Martin McGuinness's decision to quit as deputy first minister.
Significant issues still stand in the way of a deal between the DUP and Sinn Féin that would see them return as coalition partners in a devolved executive.
A return to Westminster direct rule looks a more likely prospect at present.
---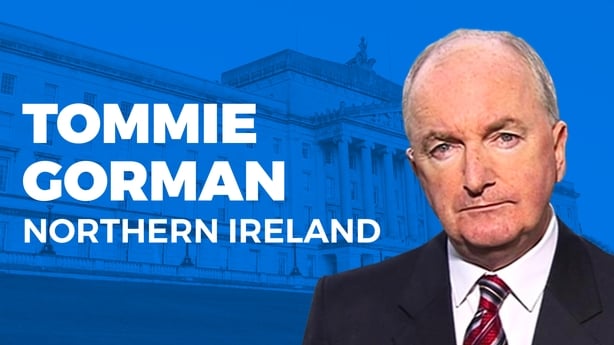 Like all 90 Assembly members, the DUP's team of 28 has no full-time jobs because Stormont is closed.
But there is a confident air about this DUP annual conference.
The attendance includes Damien Green, the UK's Minister for the Cabinet Office and the Tory party's chief whip, Julian Smith.
Their presence acknowledges that British Prime Minister Theresa May's minority government is relying on the DUP's ten Westminster MPs to keep them in power.
The party's deputy leader, Nigel Dodds, addressed a packed conference.
Arlene Foster spoke at 3pm.
A number of threads ran through both speeches.
The DUP is ready to resume negotiations about the restoration of power-sharing.
It remains committed to devolution.
It makes no apologies for its pro-Brexit stance.
But it wants what Ms Foster calls a Brexit deal that takes account of the reality of Northern Ireland's geography and history.