The European Union is negotiating the terms of Britain's exit from the bloc in good faith and is not working on a scenario where there is no agreement on the separation, European Council President Donald Tusk said today.
Britain is keen to start negotiating as quickly as possible the terms of its future relationship with the EU, including a transition period, after it leaves the bloc in March 2019.
But the EU does not want to start negotiating these issues until London and Brussels agree the terms of the divorce: border issues between the Republic of Ireland and Northern Ireland, citizen's rights, and how much money Britain owes the EU.
"We hear from London that the UK government is preparing for a 'no deal' scenario. I would like to say very clearly that the EU is not working on such a scenario," Mr Tusk said in a speech in Brussels.
"We are negotiating in good faith, and we still hope that the so-called 'sufficient progress' will be possible by December.
"However, if it turns out that the talks continue at a slow pace, and that sufficient progress hasn't been reached, then together with our UK friends we will have to think about where we are heading," he said.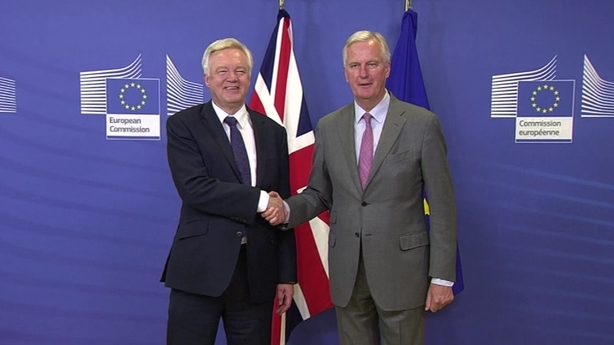 EU negotiator Michel Barnier added a warning that Brexit was "not a game" as he held new talks amid clashes between London and Brussels over who must make the next move.
Mr Barnier's comments came a day after British Prime Minister Theresa May told the European Union that the "ball is in their court" - only for the European Commission to send the ball back the other way.
Speaking after lunch with his British counterpart David Davis during the fifth round of Brexit talks in Brussels, Mr Barnier told Britain's BBC and Sky News: "The lunch was good and we had constructive talks."
Asked if the ball was now in the EU's court, he replied: "Brexit is not a game. Don't forget."
This round of divorce discussions is the last before European leaders meet at a summit on 19 October to decide whether there is "sufficient progress" to move on to the trade talks that Britain desperately wants.
But with the EU virtually ruling out making enough progress, this week's four-day talks have got off to a slow start, with Mr Barnier and Mr Davis meeting only on the second day of negotiations, where they would normally meet on the first.
The schedule for Wednesday meanwhile remains empty, with the EU appearing to point the blame at Britain.
"Our teams are available 24/7 and the timing of talks depends on the availability of our UK partners," European Commission spokesman Margaritis Schinas added.
Mr Barnier and Mr Davis are expected to give a press conference on Thursday to reveal what, if any, progress they have made.
On Monday, Mr Davis was at Mrs May's side as she made a statement to the British parliament in which she insisted that Brussels now had to make the first move, after she unveiled her Brexit plans in a speech in Florence last month.
Britain also on Monday outlined proposals for new laws to set tariffs and quotas including if it leaves the European Union with no agreement in place, as it prepares for a post-Brexit customs system.
Asked if the EU was making contingency plans for a no deal situation, Mr Schinas replied: "Our goal is to reach a deal."