The European Commission's chief Brexit negotiator, Michel Barnier, has said there has been no substantial progress in Brexit talks with the exception of Ireland matters, where there was progress on the Common Travel Area.
At a joint news conference with Britain's David Davis, Mr Barnier said that no "decisive progress" had been achieved after the third round of Brexit negotiations in Brussels.
"Over the course of this week we have made a number of useful clarifications on a number of points, for instance the status of border workers.
"However, we did not get any decisive progress on any of the principle subjects, even though on the discussion we had about Ireland - that discussion was fruitful."
Yesterday, senior negotiators discussed Northern Ireland and the Irish border.
RTÉ News understands though some progress was made on the Common Travel Area, significant differences remain on the issue of North-South co-operation.
Mr Davis said that the UK's approach was substantially more flexible and pragmatic than the EU's to avoid disruption to Brexit.
He said the UK was ready to settle its EU's bill in line with law but also in the spirit of a continued relationship.
Four days of Brexit negotiations concluded this morning.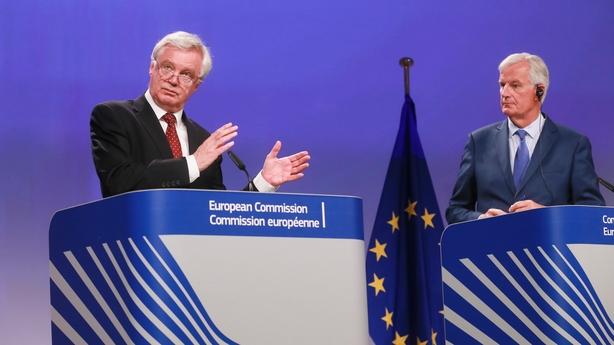 Expectations that the third round of negotiations would produce any breakthroughs were already low.
But the atmosphere around the talks had steadily declined, with British officials accusing the EU of being inflexible, and the EU accusing Britain of still lacking serious detail on the key issues.
Those issues remain Britain's financial obligations, the rights of EU citizens, and Ireland.
The most divisive remains the bill that Britain will have to pay when it leaves, an estimated €60 billion.
Mr Barnier has said that opening talks on the two sides' future relationship in October was unlikely.
He scolded London for demanding the "impossible" - including having a say on the EU's single market rules while being outside of it - in a series of position papers the British government released last week.
He said both sides disagreed again on the EU's demand, firmly rejected by Britain, that the European Court of Justice must be allowed to police the enforcement of rights of EU citizens residing in Britain after Brexit, and vice versa.
"In July, the UK recognised that it has (financial) obligations beyond the Brexit date," Mr Barnier said.
"But this week the UK explained that its obligations will be limited to their last payment to the EU budget before their departure."
"Yet we have joint obligations to third partners... After this week it's clear that the UK does not feel legally obliged to honour these obligations after departure."
Mr Barnier made clear the EU's and Britain's positions on Brexit remained so far apart there was little chance the EU would agree to start talks about its future relationship with London as had originally been expected in October.
"With such uncertainty - how can we build trust and discuss future relationship?" Mr Barnier said.
"We are quite far from being able to say that sufficient progress has taken place, sufficient for me to be able to recommend to the European Council that it engage in discussions on the future relationship between the UK and EU."
Meanwhile, former UKIP leader Nigel Farage has said Mr Barnier is "plucking ridiculous sums of money out of the air" on the so-called Brexit divorce terms for the UK.
Speaking on RTÉ's Today with Sean O'Rourke, he said the idea that a so-called UK-EU divorce bill must be agreed before trade can be discussed is not a proper negotiation and that Britain is morally obliged to pay what it committed to.
Sinn Féin's leader has said the Government should insist that the negotiations are not ready to move to the next stage.
In a statement, Gerry Adams said "the fact that no definitive progress has been made in these talks is evidence that the British Brexit plans are unworkable and unrealistic."
Mr Adams described a number of British government papers on negotiating priorities released in recent weeks as "confused and contradictory."