Britain's Brexit Secretary spent up to an hour in talks with the EU's chief negotiator before officials got on with the "serious business" of detailed negotiations, a UK government source said.
David Davis' meeting during a flying visit to Brussels included 10-15 minutes alone and away from officials with his opposite number Michel Barnier, in discussions described as "very friendly" and "positive".
Shortly after declaring it was time to "get down to work" in a media event alongside Mr Barnier, Mr Davis returned to London.
He will be back on Thursday, officials said, in the hope that he and Mr Barnier can give their political endorsement to a first set of partial agreements.
Mr Barnier's team is known as the Article 50 Task Force after the provision of the EU treaty under which Britain has opted to quit the European Union.
Numbering about 40, most are involved in the talks in the EU executive's Berlaymont headquarters.
Officials described a bustle as negotiators and staff moved among meeting rooms scattered along carpeted corridors and up and down lifts over nearly half of the cross-shaped building's 13 floors.
The meeting between Mr Davis and Mr Barnier featured just two aides each; the absence of notes in front of the British trio, compared to sheaves of papers on the EU side, sparked scathing jibes from critics in Britain who see Prime Minister Theresa May's government as divided and badly unprepared.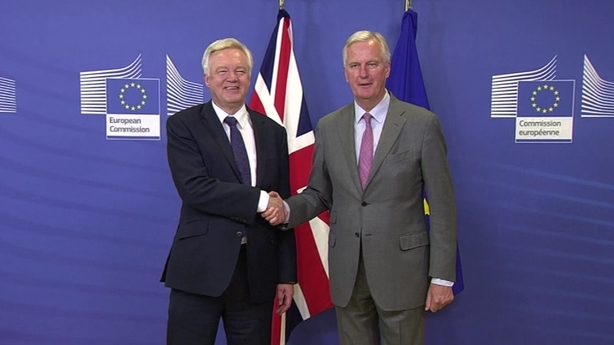 Other meetings involved up to ten officials on each side, getting "down to work" as Mr Davis said, and well aware that a pressing March 2019 deadline may crimp their summer holidays.
The first objective is to show enough progress on a divorce package so that the EU will agree to open talks on a future free trade deal.
The three priorities are commonly referred to as citizens' rights, financial settlement and borders with Ireland.
There are also a host of other loose ends that both sides want to see tied up legally to avoid a chaotic limbo on Brexit Day in March 2019.
London and Brussels agree that some 4.5 million expatriates who live on either side of a new EU-UK border, two-thirds of them in Britain, should not lose rights they have as EU citizens.
Britain has baulked, however, at EU demands that extend to their relatives, and at having those rights guaranteed by EU judges.
The EU also wants London to accept a bill to cover its share of EU spending commitments made while Britain was a member.
The Commission has spoken of €60 billion, though Mr Barnier says that for now he just wants an agreement on how to calculate it.
Mrs May has said only that Britain will pay if it owes something but left open the possibility that it might be the EU that pays London.
Rights and finance are being dealt with two working groups.
A third is dealing with assorted issues such as what happens to outstanding EU court cases involving Britain.
Mr Barnier and Mr Davis's deputies, Sabine Weyand and Oliver Robbins, are personally directing efforts to limit disruption to peace in Northern Ireland from the creation of a new EU border.
The EU timetable, which Britain has broadly consented to after failing in a bid to start trade talks immediately in parallel, sees discussions on a deep free trade pact starting by early next year and being agreed in broad outline by around October 2018 - when the withdrawal treaty could be done and dusted.
That would give time to ratify the divorce package before Britain is out on March 30, 2019, and arrange a transition to avoid trade falling off a "cliff edge" before a full treaty to keep markets mutually open can be concluded by, say, 2021.
For now, though, the ambition is just to get through four days of closed-door talks with enough progress to show the public on Thursday.
Coveney rules out technical post-Brexit border solution
Minister for Foreign Affairs Simon Coveney has ruled out using electronic tagging on the border after Brexit.
Mr Coveney said: "What we do not want to pretend we can solve the problems of the border on the island of Ireland through technical solutions like cameras and pre-registration and so on. That is not going to work."
Speaking in Brussels he said hoped to see a strong political acknowledgement of what can be achieved at Brexit negotiations this week.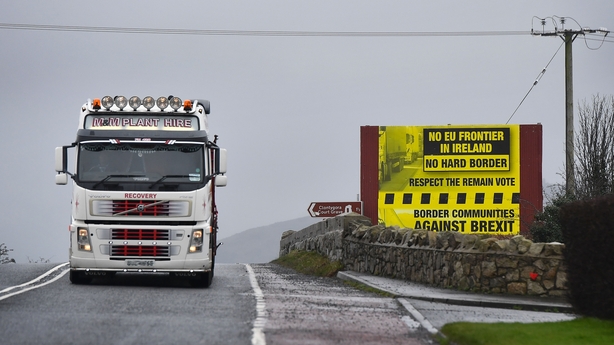 There has been speculation that if the UK leaves the EU Customs Union electronic tagging could monitor the movement of goods across the border.
But Mr Coveney said: "Any barrier or border on the island of Ireland in my view risks undermining a very hard-won peace process and all of the parties in Northern Ireland, whether they are unionist or nationalist, recognise we what to keep the free movement of people and goods and services and livelihoods."