Britain's looming negotiations with the European Union on exiting the bloc are already very tough and will become "impossible" if emotions are allowed to run unchecked, the chairman of EU summits has said.
Donald Tusk's warning followed comments by British Prime Minister Theresa May yesterday that some European politicians and officials were seeking to affect the outcome of Britain's general election on 8 June.
"These (Brexit) negotiations are difficult enough as they are. If we start arguing before they even begin, they will become impossible," Mr Tusk said in a statement read out after a meeting with Norwegian Prime Minister Erna Solberg.
"The stakes are too high to let our emotions get out of hand. Because at stake are the daily lives and interests of millions of people on both sides of the Channel," said Mr Tusk, who heads the European Council that groups EU national governments.
He said that discretion, moderation, mutual respect and a maximum of goodwill were required to succeed in the negotiations.
We need your consent to load this rte-player contentWe use rte-player to manage extra content that can set cookies on your device and collect data about your activity. Please review their details and accept them to load the content.Manage Preferences
Earlier the European Commission, the EU's executive arm, said it had no opinion on Mrs May's accusation about meddling.
"We are not naive. We know there is an election taking place in the United Kingdom, people get excited whenever we have elections," Commission spokesman Margaritis Schinas told a news briefing.
Last weekend a German newspaper gave a damning account of a dinner last week between Mrs May and European Commission President Jean-Claude Juncker, reporting that he had told her that Brexit could not be a success.
Mrs May initially dismissed the German report as "Brussels gossip" before making her accusation of EU interference in the election.
The Brexit negotiations are expected to begin after the election.
Speaking in Canada, Taoiseach Enda Kenny said that the comments made by Mrs May's yesterday were "not helpful".
He said: "This is not a helpful situation, but be that as it may, it's happened and I expect the Prime Minister to have a very clear and a very strong hand subsequent to the election".
Mr Kenny said that would allow her to "do a few things" because she would have her "own mandate to be able to negotiate". But he said "the issues that concern the EU will not change".
EU's chief Brexit negotiator to address Dáil next week
The European Union's chief Brexit negotiator, Michel Barnier, will address the Dáil next Thursday.
Leaders of the Opposition and other groups are expected to make statements after his address to a joint sitting of the Dáil and Seanad.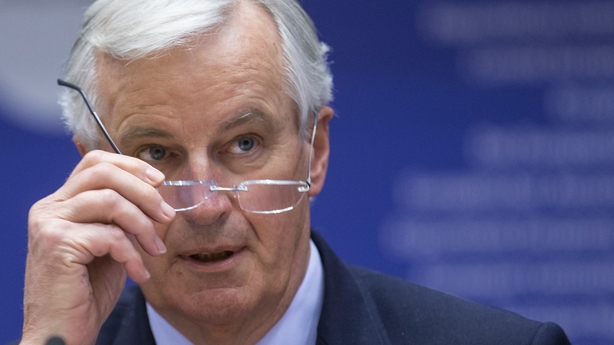 The move comes after the Oireachtas had received a positive initial response to an informal request some weeks ago.
The honour of addressing the Dáil and Seanad is usually reserved for visiting presidents and prime ministers.
Ceann Comhairle Seán Ó Fearghaíl has said they are looking at inviting European, British, and Stormont representatives involved in the Brexit process to address the Dáil in the future.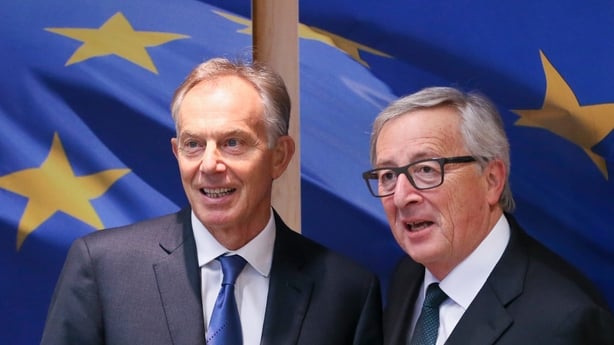 Irish economy to be 'most affected in EU by Brexit'
Meanwhile, Tony Blair is expected to make a major speech at a European People's Party meeting in Ireland next week.
An EPP meeting of the group's MEPs is to take place in Wicklow next Thursday and Friday.
The former British prime minister will address the gathering on Friday.
He will share a platform with Minister for Foreign Affairs Charlie Flanagan, Mr Barnier and Mannfried Weber, the leader of the EPP group in the European Parliament.
Taoiseach Enda Kenny will be attending Thursday's session.
It is understood Mr Blair will be speaking about Brexit in his Friday address.
He has recently indicated that he wants to be involved in politics again and has strong views that the UK should remain in the EU.
Minister for Foreign Affairs Charlie Flanagan has said he is looking forward to the beginning of Brexit negotiations.
He said that from Ireland's perspective he was very pleased that the country's specific interests and priorities are in the EU's draft negotiating directives and looked forward to insuring that, ultimately, the negotiations can proceed in an orderly and constructive fashion.
Asked about Mrs May's accusation that European politicians and officials are seeking to affect the outcome of the UK elections by issuing threats over Brexit, Mr Flanagan said he was conscious of the fact that there was an election campaign well under way in the UK.
He said like all elections it would be hotly contested and one could expect there would be comments made in the heat of an election that might not be made otherwise.
He said the clock was ticking and it was important that everybody put their best foot forward and there was a deal that would be in the interests of the people of the UK, Ireland and Europe.