British Prime Minister Theresa May has delivered her much anticipated address on Brexit.
Highlights from her speech:
UK will leave European Single Market
"This agreement should allow for the freest possible trade in goods and services between Britain and the EU's member states.
It should give British companies the maximum freedom to trade with and operate within European markets, and let European businesses do the same in Britain.
But I want to be clear: What I am proposing cannot mean membership of the single market".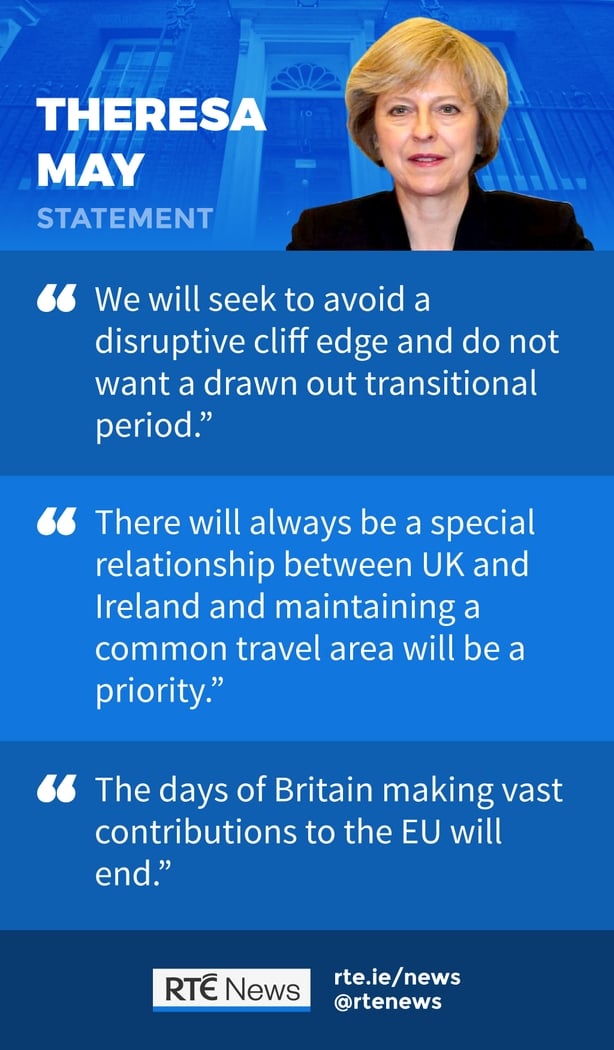 Not seeking partial or associate membership
"We see a new and equal partnership between an independent, self-governing, global Britain and our friends and allies in the EU.
Not partial membership of the European Union, associate membership of the European Union or anything that leaves us half-in, half-out.
We do not seek to adopt a model already enjoyed by other countries. We do not seek to hold on to bits of membership as we leave. No. The United Kingdom is leaving the European Union and my job is to get the right deal for Britain".
Punitive deal for UK would be self-harm for Europe
"I must be clear: Britain wants to remain a good friend and neighbour to Europe.
Some voices are calling for a punitive deal that punishes Britain and discourages other countries from taking the same path. That would be an act of calamitous self-harm for the countries of Europe and it would not be the act of a friend. Britain would not, indeed we could not accept such an approach".
No deal better than bad deal
"While I am sure a positive agreement can be reached I am equally clear that no deal for Britain is better than a bad deal for Britain".
Tariff-free trade with Europe
"I want Britain to be able to negotiate its own trade agreements but I also want tariff-free trade with Europe and cross-border trade to be as frictionless as possible. That means I do not want Britain to be part of the common commercial policy".
Customs Union – no preconceived position
"I do want us to have a customs agreement with the EU, whether that means we must reach a completely new customs agreement, become an associate member of the customs union in some way or remain a signatory to some elements of it, I hold no preconceived position".
Global Britain
"I want this United Kingdom to emerge from this period of change stronger, fairer, more united and more outward-looking than ever before. I want us to be a secure, prosperous, tolerant country, a magnet for international talent.
I want us to be a truly global Britain, the best friend and neighbour to our European partners, but a country that reaches beyond the borders of Europe too.
A country that goes out into the world to build relationships with old friends and new allies alike".
Controlled Immigration
"Brexit must mean control of the number of people who come to Britain from Europe and that is what we will deliver.
We will ensure we can control immigration to Britain from Europe.
[But] We want to guarantee the rights of EU citizens who are already living in Britain and the rights of the British nationals in other member states as early as we can".
No new barriers to trade
"Our guiding principle must be to ensure that as we leave the European Union no new barriers to living or doing business within our own union are created".
Maintaining Common Travel Area with Ireland
"The United Kingdom will share a land border with the EU and maintaining that common travel area with the republic of Ireland will an important priority for the UK in the talks ahead".
Government statement on Brexit https://t.co/2bjEUPeuVL

— MerrionStreet.ie (@merrionstreet) January 17, 2017
UK does not want EU to unravel

"Our decision is not always understood by our friends and allies in Europe, and many fear the beginning of a great unravelling of the EU. But let me be clear. I do not want that to happen.
It would not be in the best interest of Britain, it remains overwhelmingly and compellingly in Britain's best national interest for the EU to succeed".