The British government has sent the European Union a request to postpone the date of its departure from the bloc, European Council President Donald Tusk has said.
"The extension request has just arrived. I will now start consulting EU leaders on how to react," Mr Tusk tweeted, referring to a letter the UK parliament forced Prime Minister Boris Johnson to send.
The extension request has just arrived. I will now start consulting EU leaders on how to react. #Brexit

— Donald Tusk (@eucopresident) October 19, 2019
However, Mr Johnson has sent three letters to the EU, according to reports.
It is understood that one letter was a copy of text from the so-called Benn Act, another letter was sent from a UK envoy while the third was a letter saying that Mr Johnson did not want a delay to Brexit.
Mr Johnson insists he does not want to postpone Britain's departure from the European Union beyond the current 31 October Brexit deadline, and says he will not "negotiate" with Brussels to do so.
But after he lost a parliamentary vote earlier today, Mr Johnson was compelled by British law, the 'Benn Act', to send a letter requesting an extension until 31 January 2020, while parliament works on Brexit legislation.
In a letter to all British MPs and peers this evening, Mr Johnson wrote: "I have made clear that I do not want more delay. European leaders have made clear they do not want more delay. It is to my great regret that today the House has voted for more delay.
"The public want us to get Brexit done so the country can move on. The best thing for the United Kingdom and the European Union is for us to leave with this new deal on 31 October."
Today MPs voted 322 to 306 in favour of the Oliver Letwin amendment which withholds approval for the Brexit deal until formal ratification legislation has been passed.
Mr Letwin, one of the MPs to have the Tory whip withdrawn after rebelling on Brexit, said it was an "insurance policy" intended to ensure the UK cannot "crash out" of the EU on 31 October without a deal.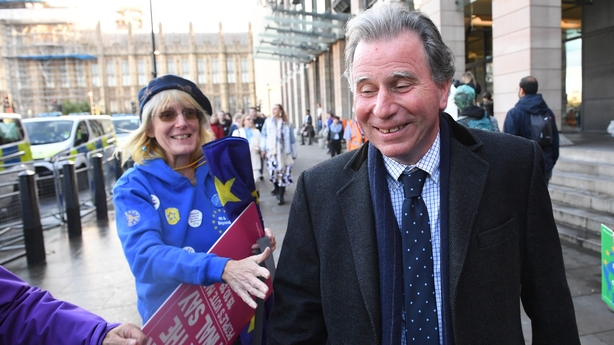 However, British ministers have signalled they will press ahead with plans to table the legislation next week with a view to securing Britain's departure by the end of the month.
Following the vote, Mr Johnson said that he will not negotiate any further Brexit delay with the EU.
"I will not negotiate a delay with the EU and neither does the law compel me to do so," he said.
"I will tell our friends and colleagues in the EU exactly what I have told everyone else in the last 88 days that I have served as prime minister: that further delay would be bad for this country, bad for the European Union and bad for democracy."
---
Read more:
Latest Brexit headlines
DUP ambushes prime minister No 2
Thousands march in People's Vote protest
---
Meanwhile DUP deputy leader Nigel Dodds said the decision on the Letwin amendment will give more time for "detailed consideration" of the Brexit bill.
"It will also give an opportunity to consider in detail whatever amendments come forward," he said.
Taoiseach Leo Varadkar said that should there be any Brexit extension, it must be granted by all 27 EU member states.
Should that happen, President Tusk will consult all 27 Heads of State & Govt on whether or not we will grant one. Extension can only be granted by unanimity. #Brexit

— Leo Varadkar (@LeoVaradkar) October 19, 2019
Tánaiste Simon Coveney has said the Irish Government will stay calm in response to today's events in the House of Commons, and that the next move is for Mr Johnson and the British government to take.
Speaking in Cork, Mr Coveney said the passing of the Letwin amendment indicated that the British parliament wanted legislation passed which was consistent with the Brexit deal before it ratifies the deal itself, to ensure that a no-deal scenario could not be triggered.
Mr Coveney said a lot remained to unfold and the Irish Government would not be panicking.
The Chief Spokeswoman of the European Commission has said that it "takes note" of the vote on the Letwin amendment.
In a post on Twitter, Mina Andreeva said it will be for the UK government to inform the EU about the next steps "as soon as possible".
🇪🇺🇬🇧 @EU_Commission takes note of the vote in the House of Commons today on the so-called #Letwin Amendment meaning that the #WithdrawalAgreement itself was not put to vote today. It will be for the UK government to inform us about the next steps as soon as possible.

— Mina Andreeva (@Mina_Andreeva) October 19, 2019
Additional reporting AFP, Reuters, PA, Paschal Sheehy