Sinn Féin abruptly ended a meeting with Secretary of State for Northern Ireland James Brokenshire at Stormont after a disagreement about the funding of inquests for those killed in controversial circumstances during The Troubles.
Northern Ireland's Lord Chief Justice has already raised the need to provide adequate finance to allow the holding of those legacy inquests. 
Michelle O'Neill, Sinn Féin's leader of the Assembly said that the party had asked Mr Brokenshire to give a commitment to provide funding for the inquests.
But she claimed he had talked nothing but "waffle, waffle, waffle" when he met the party this afternoon, so they had ended the conversation. 
Ms O'Neill said she had asked Mr Brokenshire to again reflect on the request and to return with a different answer.
Meanwhile, exploratory talks between the Democratic Unionists Party and Sinn Féin about the resumption of power-sharing at Stormont continued today. 
After a meeting of the DUP's reduced Assembly group earlier, party leader Arlene Foster said she was delighted that she received the full support of all her colleagues. Her party lost ten seats in the election.

The two largest parties after Thursday's Assembly election also met yesterday.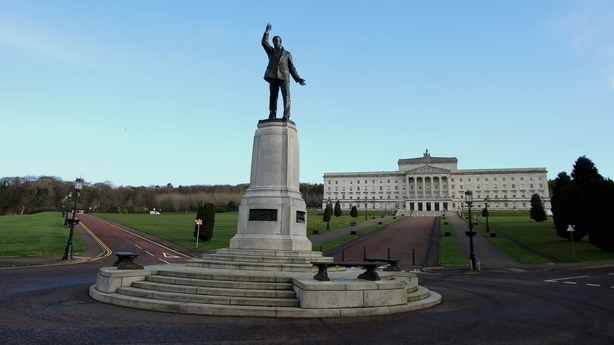 Mr Brokenshire also met the five main parties yesterday, and Minister for Foreign Affairs Charlie Flanagan is due in Belfast tomorrow.
The Ulster Unionists, the SDLP and the Alliance Party were in opposition in the last, short-lived administration. If they decide to go back into government, that would be significant.
Parties have just three weeks to reach a deal.
We need your consent to load this rte-player contentWe use rte-player to manage extra content that can set cookies on your device and collect data about your activity. Please review their details and accept them to load the content.Manage Preferences
No visit by May for Stormont talks - source  
British Prime Minister Theresa May will not be flying into Northern Ireland to get involved in talks to restore power-sharing at Stormont.
Former Northern Ireland Secretary Peter Hain said that the prime minister must call an urgent summit to restore the Northern Ireland Executive or direct rule will be inevitable.
However, a government source has said there is no reason for Mrs May to become intensively involved in post-election talks at this stage.
The source said the more sensible approach is for Mr Brokenshire to take the lead, as previous secretary of states have done in the past.
It is understood that Mr Brokenshire has been in regular contact with the Prime Minister about the situation and is expected to fully brief her in cabinet tomorrow.
While there is no rush for Mrs May to directly involve herself in the talks, involvement at some stage in the future has not been ruled out.
The source said it is not inconceivable that she will attend at some point.
Earlier, Lord Hain, now a Labour member of the House of Lords, said the London and Dublin governments had "taken their eyes off the ball" and that a summit was now required "to bring all the parties together to thrash out an agreement".