Casualties among Kazakh security officers has risen to 18 dead and 748 wounded as authorities seek to quell unrest in the ex-Soviet country, according to Russian news agencies, citing Kazakhstan's interior ministry.
Residents of the country's largest city, Almaty, were in shock today after their sleepy nation suddenly erupted into violence.
The unrest, which began as protests against a New Year's Day fuel price hike, had swelled dramatically yesterday, when the protesters stormed and torched public buildings, leaving dozens dead, burnt-out cars littering the streets, and bullet casings on the ground.
Overnight, social media was inundated with videos of machine-gun fire and people screaming in fear as authorities launched what they called "anti-terrorist" operations.
By this afternoon, the official death toll stood at 18 security officers.
Russia sent paratroopers into the country after deadly violence spread across the tightly controlled former Soviet state.
They chanted slogans against Nursultan Nazarbayev, 81, who has held on to the reins despite stepping down three years ago as president.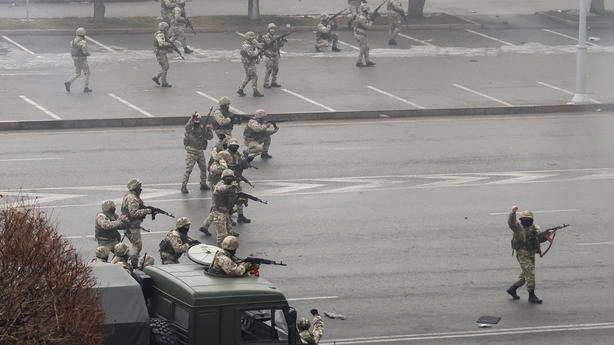 Discontent was bubbling beneath the surface, protesters said, and in recent days chants of "Old Man Out!" - in reference to the 81-year-old - echoed across Almaty.
In at least one case protesters looped ropes around a bronze statue of him, trying to pull it down.
His hand-picked successor, President Kassym-Jomart Tokayev, initially responded to the unrest by dismissing his cabinet, reversing the fuel price rise and distancing himself from his predecessor.
He also announced he was taking over a powerful security post Mr Nazarbayev had retained.
But the actions appeared insufficient to mollify crowds who accuse the authorities of amassing huge wealth in oil and minerals while the nation of 19 million remains mostly poor.
We need your consent to load this rte-player contentWe use rte-player to manage extra content that can set cookies on your device and collect data about your activity. Please review their details and accept them to load the content.Manage Preferences

Authorities have moved to snuff out the violence, detaining around 2,000 people in Almaty.
They have also instituted a nationwide state of emergency that restricts movements, bans mass gatherings and imposes an overnight curfew.
According to Reuters, the city's airport, seized earlier by protesters, was back under the control of military personnel.
The internet had been shut down across the country and the full extent of the violence was impossible to confirm.
---
Read: Kazakhstan's week of violent unrest
---
President Tokayev called in forces from ally Russia overnight as part of a Russian-led military alliance of ex-Soviet states.
He blamed the unrest on foreign-trained terrorists, who he said had seized buildings and weapons.
"It is an undermining of the integrity of the state and most importantly it is an attack on our citizens who are asking me ... to help them urgently," he said.
The secretariat of the Russian-led Collective Security Treaty Organisation said troops being sent included units from Russia, Belarus, Armenia, Tajikistan and Kyrgyzstan.
It did not disclose the overall size of the force.
Unverified video on social media showed troops patrolling Almaty's foggy streets overnight, firing weapons, as well as widespread looting in the city.
Mr Nazarbayev stepped down in 2019 as the last Soviet-era Communist Party boss still ruling a former Soviet state.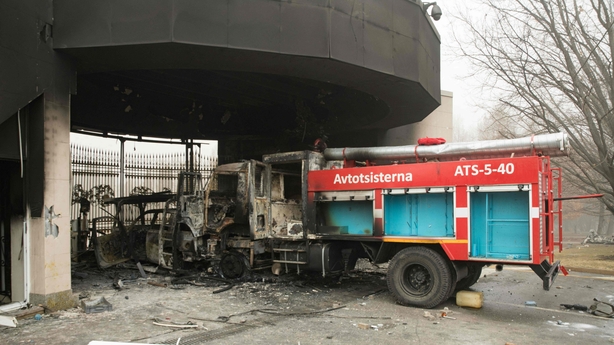 But he and his family retained control, keeping key posts overseeing security forces and the political apparatus in Nur-Sultan, the purpose-built capital bearing his name. He has not been seen or heard from since the unrest began.
State television today showed unconfirmed video of a pile of weapons on the street, with people walking up and taking them.
TASS news agency quoted the Kazakh health ministry as saying more than 1,000 people had been injured during the protests, and more than 400 of them were in hospital.
Western countries have called for calm.
Top European Union diplomat Josep Borrell said today that Russia's military intervention in Kazakhstan brought back "memories of situations to be avoided".
Mr Borrell expressed "great concern" about the situation and added: "Rights and security of civilians must be guaranteed ...EU is ready to support in addressing this crisis."
Neighbour China described the events as an internal matter for Kazakhstan and said it hoped the situation would stabilise soon.
The unrest began as protests against the rising price of liquefied petroleum gas, a fuel used by the poor to power their cars.
But it quickly spread into broader anti-government riots, feeding off deep-seated resentment over three decades of rule by Mr Nazarbayev and his successor.
Mr Tokayev ordered government protection for foreign embassies and businesses owned by foreign companies.
The country's reputation for stability had helped attract hundreds of billions of dollars of foreign investment in oil and metals industries.
State TV said the National Bank of Kazakhstan had decided to suspend banks working for the safety of their staff.