A Chinese passenger jet slid off the runway as it landed at Manila airport in torrential rain, authorities said, with all 165 people on board safely evacuated.
The Xiamen Airlines aircraft, carrying 157 passengers and eight crew, landed on its second attempt before skidding onto the grass and ripping off its left engine, airport general manager Ed Monreal said.
Four people suffered "superficial scratches" as they evacuated the Boeing 737-800 jet, which had flown to the Philippine capital from Xiamen in southeast China, he added.
Mr Monreal said the cause of the incident was under investigation.
Civil Aviation Authority of the Philippines spokesman Eric Apolonio said the incident occurred in heavy rain and passengers and crew used an emergency chute to leave the aircraft.
Chinese state news agency Xinhua reported the plane circled the airport for an hour before attempting to land.
The aircraft is resting on its belly near the end of the airport's main runway where it came to a stop after the accident, which occurred late last night.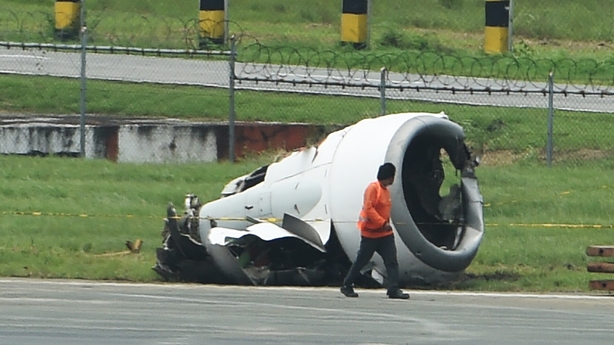 Authorities lifted part of the body of the plane off the ground this morning to recover its cargo as well as its flight data recorder and cockpit voice recorder, both vital to determining the cause of the accident.
"The Manila (airport control) tower told us that the aircraft tried to land once, aborted, then circled back. After landing the tower lost contact with it," civil aviation chief Jim Sydiongco said.
The incident forced a partial shutdown of the Philippines' main airport today.
The runway for smaller aircraft remained open, but the authorities said the accident had delayed thousands of passengers, including holidaymakers travelling ahead of a long weekend.