A powerful 6.4 magnitude earthquake struck the popular tourist island of Lombok in Indonesia killing 14 people and sending villagers fleeing from their beds into open fields to avoid collapsing buildings.
The quake, which hit the island early in the morning when many people were still asleep, injured about 40 people.
Electicity was cut off in the worst-hit area, Sembalun, a sparsely populated area of rice paddies and the slopes of Mount Rinjani on the northern side of the island.
An emergency tent was set up on a street in Sembalun to treat the injured because the local hospital was damaged, and those in a critical condition were taken to other hospitals.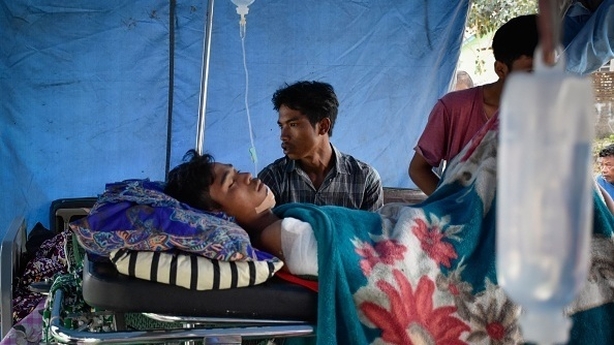 Video footage showed ambulances lining the streets of Lombok and many houses damaged with only parts of brick walls standing.
"We jumped out of our beds to avoid anything falling on our heads," said Jean-Paul Volckaert who runs a hotel near Senggigion the western side of Lombok.
"I've been walking around but so far there is no damage. We were very surprised as the water in the pools was swaying like a wild sea. There were waves in the pools but only for 20 to 30 seconds," he said.
A magnitude 6.4 earthquake is considered strong and is capable of causing severe damage.
The Lombok quake struck at 6.47am local time and was only 7km deep, a shallow depth that would have amplified its effect.
It was centred 50km northeast of the city of Mataram, according to the U.S. Geological Survey, but it was also felt strongly to the west on the neighbouring island of Bali, Indonesia's top tourist destination.
Nearly 80 subsequent tremors were recorded, with the largest aftershock recorded at 5.7 magnitude, Indonesia's Meteorological, Climatological and Geophysics Agency said.
The earthquake was on land and did not trigger any waves or tsunami.