It is not always the case that diplomacy is carried out by the foreign ministries and prime minsters office.
In these days of climate crisis, environment ministries are playing a bigger role in diplomatic efforts to craft global solutions to global challenges.
That is why Ireland's Minster for the Environment (and Green Party leader) Eamon Ryan was at the United Nations high level meetings in New York over the past week, in a series of meetings and events grappling with some of the practical issues of tackling climate change - with money at the heart of them.
Issues such as finding durable finance to help the hardest hit poor countries adapt to the climate change that has already happened - and that which is yet to come; getting China to become a financial contributor to climate change initiatives; and seeking ways to mobilise public and private finance to pay for the massive transitions ahead, particularly in the energy sector.
We caught up with Mr Ryan on the 22nd floor of a glass tower that looked out on the nearby Empire State building - Manhattan providing a suitably big picture backdrop for the projects he outlined.
First, the most pressing matter - getting actual cash into a "Loss and Damage" Fund world leaders agreed to set up at the last COP (Conference Of Parties) in Sharm e-Sheikh, Egypt.
There is another COP coming up in December, in Dubai, and governments making the running on this fund - including Ireland - want hard decisions by then. (A 24 member committee drawn from countries and institutions around the world is driving the process: Ireland is part of that committee, sharing a developed world place with Germany.)
While it is agreed that the beneficiaries of the Loss and Damage Fund will be developing nations severely impacted by the unavoidable effects of climate change, the exact scope still must be clearly defined.
What is the threshold for damage and loss?
What constitutes an "unavoidable risk of climate change"?
These are just some of the questions that will need to be answered to get the fund up and running.
Another crucial question is which countries will be responsible for the financing of the fund?.
"Well, firstly, we need a lot of finance," says Mr Ryan. "We need to change the entire global financial system so that we have the money to help those countries that are suffering the most and were the least responsible for the problem."
Mr Ryan's message to a meeting in the UN on Friday on the fund was "the polluter has to pay".
He says the countries that caused most of the global warming problems have to pay the most, not just for the Loss and Damage fund, but also for "adaptation" - preparing in advance for the consequences of climate change: "making sure your agricultural systems are ready your coastal defenses are in place that we also need to finance that".
And then there is the problem of paying for the big switch - the change over to renewable energy sources.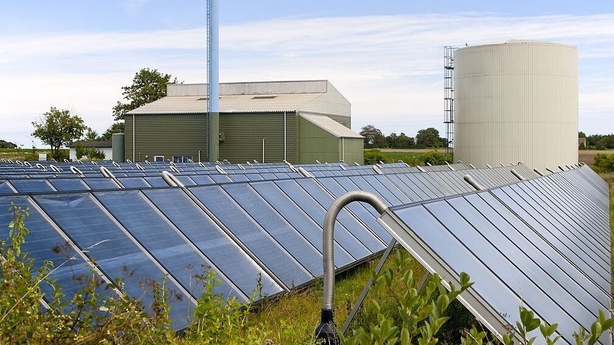 Mr Ryan says "we will need a massive volume of finance to allow every country in the world switch to the renewable alternative".
He calls it "a peace project of our time - we won't fight over solar energy. It's available in every country in the world. And we need the finance to have that develop, particularly in the developing countries where it's not happening at the moment.
"Holland has more solar panels than the entirety of Africa, even though Africa receives about 60% of the global global solar radiation.
"So what we need to do is get innovative sources of financing to help change that, and see the benefit from that when Africa starts to have its own access to energy."
One of the benefits he sees from helping particularly Africa to finance the energy transition is the potential to reduce migration flows from the continent: if people can live well in their own land they will tend to stay there.
A similar argument was advanced at the start of the week by Tánaiste and Minster for Foreign Affairs Micheál Martin in support of funding for agriculture, food systems and nutrition (Ireland will spend about €300 million this year on food-related assistance).
"The vast majority of migration is coming from countries that are suffering from climate change.
"So if we can stabilise those countries, not just by stabilising the climate, but also giving them a reliable affordable energy system, that stabilises the world for everyone and addresses a lot of the security and migration challenges we face," says Minister Ryan.
Earlier this month the International Energy Agency (IEA) published a report on the cost of finance for African countries trying to build energy infrastructure.
The study, by the IEA and the African Development Bank, found the cost of capital for utility-scale clean energy projects in Africa is at least two to three times higher than in advanced economies.
This is holding back developers from pursuing commercially viable projects that can deliver affordable energy solutions.
Which kind of answers the question "why don't they have more solar energy farms in Africa?". Or hydro plants. Or windfarms.
According to the IEA: "Even though Africa accounts for almost 20% of the world's population and has ample resources, it is the destination for around just 2% of global clean energy spending."
Getting Africa back on track towards meeting development goals requires a doubling of spending on clean energy projects by the end of this decade, it says.
Lack of progress in the energy sector is having knock on consequences for other Sustainable Development Goals targets in Africa and beyond (the UN held a special meeting on refocusing on the SDGs at the start of the week: Ireland and Qatar crafted the resolution agreed by the General Assembly).
Until the cost of financing comes down and funding is put in place, the developing world will struggle to make the changes that are necessary to sustain their own viability as places to live.
But the world is interconnected, so fixing things for the developing world ought to benefit the developed world as well.
Gesturing to the towers outside, Minister Ryan said "New York and Wall Street is changing because they all realise that they won't be in business in ten years time if they're not part of the solution.
"The banks down there, in downtown, they have to be part of the solution. So too do the international institutions - the World Bank and International Monetary Fund - we need to expand their balance sheets, we need to make sure that they have the rules and the ability to redirect the money which is currently typically going to more developed and wealthy countries, to those countries that need it most."
A big challenge is stable funding sources for climate initiatives like the Loss and Damage Fund, rather than relying on governments to make exchequer grants from annual budgets.
Mr Ryan says there are a range of "innovative sources of financing" - a.k.a. taxes and levies - being discussed.
"A tax of 1% on aviation fares would deliver €8 billion a year. And that would go a long way towards giving a reliable, predictable income for us to address some of the worst problems, to provide climate finance where it's needed most," says Mr Ryan.
"We agreed in July, in principle, to do the same in maritime transport."
He also says fossil fuel companies should be levied.
"It can't just be European and American exchequers or philanthropy addressing this problem. We do need to broaden out the base of money that's going to go towards the solutions."
He says about a trillion dollars a year is invested in fossil fuel industries worldwide, compared to $1.5 now going into the clean energy sector.
Mr Ryan would like to see fossil fuel investment diverted into the clean tech sector in its entirety.
"That's the sort of negotiations I've been involved in. How do we do that? How do we phase down fossil fuels while we phase up the more secure, cleaner, more reliable, renewable alternative."
Funding the loss and damage fund will most likely fall on developed nations, but what definition will be used to determine this threshold? Will the definition of 'developed nation' contained within the United Nations Framework Convention on Climate Change (UNFCCC) be applied, or will countries with high levels of emissions also be asked to contribute?
One of the thorniest questions facing the upcoming COP in Dubai is how does China fit into all of this.
It is a big polluter, the second biggest producer of CO2 on the planet, and not just in recent times. It is also the biggest producer of green energy systems like solar panels.
But the UN's definitions classify China - the worlds second biggest economy - as a developing country. Which means it does not have to pay as much for the loss and damage funds (or other climate change mitigating measures).
"They have to make a contribution," says Mr Ryan.
"They are the second most responsible for emissions in the world, even in historical terms going back to the industrial revolution."
On the other hand he notes China's growing dominance in renewable energy technologies: "China is actually developing more renewables than the rest of the world put together.
"They make most of the solar panels, they make most of the wind turbines, they make most of the batteries.
"And increasingly unless the Western world wakes up and catches up and starts investing in the alternative, they'll be making making most of the electric vehicles too."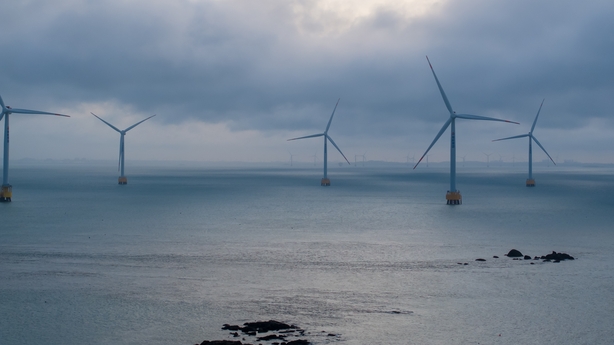 This sudden dominance in key technologies has alarmed both the EU and the US, both of which are moving to "de-risk" their trade relationships with - and dependencies on - China.
The risk of this slipping into a series of trade wars and worsening political relations is considerable. Its where climate diplomacy, trade and investment, security and strategy come together - and need careful managing.
"I think this works best when everyone works together. If it goes into a trade war, be it America - China, Europe-America, Europe - China; That won't work.
"Climate can't afford us to delay. This is the decade of action. And one of the arguments I'll be making at the International Energy Agency, when we meet in our ministerial in February, is that the definition of energy security today is through collaboration where everyone has access to the same renewable systems that particularly the developing world gets access to it - in Latin America, in Africa, in Asia.
"That actually creates markets for us all, to create jobs, and to be able to sell to each other. It creates a more sustainable supply chain, you're not just relying on one location for things to come from."
After Christmas, Ireland will take a turn as the co-chair of the International Energy Agency - the organisation set up by oil and gas importing countries as a kind of counterweight to OPEC, the cartel of oil producing and exporting states, in the wake of the first oil crisis in the 1970s.
Back then, according to Mr Ryan, the countries buying the oil defined energy security as being able to buy the oil they needed at a price they could afford, and keep a supply in storage to cover disruptions.
"That's no longer going to be the definition of energy security," he says.
"Yes, particularly with the war in Ukraine, we have to protect our people and our country from gas and oil being used as a weapon of war.
"But in my mind, what really defines and delivers energy security for our people in this time, is access to renewable power, particularly for Ireland, because it's our own power. We're importing 80% of our power at the moment. We will, in the next decade turn into energy exporter, as well as being able to provide for our own needs.
"And that's the key role for the IEA. We've agreed what we need to do is triple renewable power across the world in the next seven years, and double efficiency. And it's doable."
The minister sees a large role for the IEA in helping ensure that the energy transformation is spread across developing and developed countries together - for security as much as for climate benefits.
"Sharing power, which we can do in renewables better than anything else, works better for everyone. My security is dependent on my neighbours security," Mr Ryan said.
"Your security depends on Africa not burning, and seeing all the kind of meltdowns and huge migration and so on, but instead having a common prosperity.
"And I know that sounds very big and broad, but that's where we're at. That level of thinking and understanding is what we need in politics."
And with that, he was off to another meeting.