Things seem to have reached a particularly low ebb in Britain in terms of public confidence.
A glitch in British air traffic control systems on the August Bank Holiday Monday left 250,000 travellers stranded.
Then, news that over 100 schools had to be fully or partially closed because of building defects.
News magazines of both the right and left are united in their description of the state of Britain in their current issues. The Spectator's cover is 'Broken Britain' while the New Statesman's is 'Crumbling Britain'.
The latest woes come on top of the British government's continuing battle with inflation and the cost-of-living crisis. It is wielding the weapon of fiscal tightening meaning higher interest rates and high taxes leading to less money around.
By many measures, Ireland is in a much better place. In fact, the Irish Government feels able to open the financial sluice gates by increasing Government spending.
The news that the British economy growth had been underestimated and that it is no longer below pre-pandemic levels has done little to lift the gloom and the feeling that the country has somehow lost its way.
This would be borne out by comparing the current state of the UK with Ireland which would have usually been seen as a poor relation.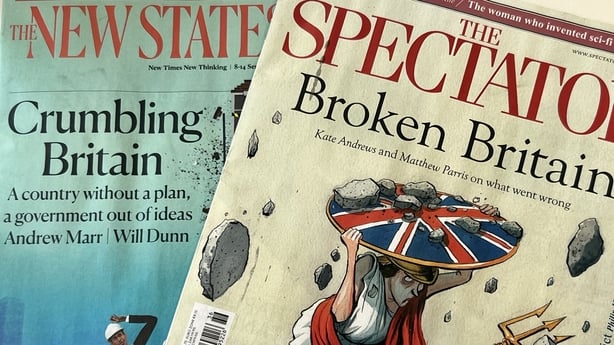 We have dismissed figures showing Ireland to be richer than Britain being due to distortions produced by multinational corporations and the tax revenue surplus they provide - compared to a deficit in Britain - because they are seen as temporary.
However, the deeper one digs into the fabric of Irish and British societies, it really does seem that Ireland has continued to develop while Britain has declined.
Traditionally, Irish people travelled to Britain in search of work and we looked up to its healthcare system, public facilities and social services.
Things have changed. For a start, the usual migration flow between Ireland and Britain has been reversed. Last year, 16,100 people came from Britain to live in Ireland compared to 14,200 using the more traditional route from Ireland to Britain.
The basic economic indicators are favourable to Ireland.
Interest rates in Ireland are lower, currently 4.25% compared to 5.25% in Britain. The Consumer Price Index (CPI) inflation in Ireland is lower at 6.3% compared to the British rate of 6.8%. And the latest unemployment figures are lower in Ireland at 3.8% compared to 4.2% in Britain.
The data comparison website Worlddata.info ranks Ireland above the UK in most categories, including political stability and civil rights, which involves a shift of historical proportions.
The only categories in which Britain does better in this comparison are climate and popularity.
The popularity category is calculated on the numbers of migrants, tourists and refugees coming to a country as well as the UN Happiness Report.
The website ranks the cost of living as better in Ireland and, perhaps most surprisingly, the health service. It states that Ireland has a higher proportion of both hospital beds and doctors compared to Britain.
Unexpected results
In fact, new research is continuing to highlight unexpected results within Britain.
The Office of National Statistics (ONS) has shown that the ethnic group in England with the highest mortality rate is white British.
Ethnic minorities have higher death rates in specific categories such as Covid-19 infection.
But overall, the group with the highest risk of mortality are white, northern and working-class residents, often because of lifestyle issues.
And while the unemployment rate in Britain looks healthy, the wider picture of workforce participation looks anything but.
According to research by the Spectator magazine, there are a total of 5.3 million people - around 13% of the working-age population - who are on out-of-work benefits based on figures from the Department of Work and Pensions.
They can be in a number of categories, such as Incapacity Benefit, but they are not counted as unemployed and seeking work.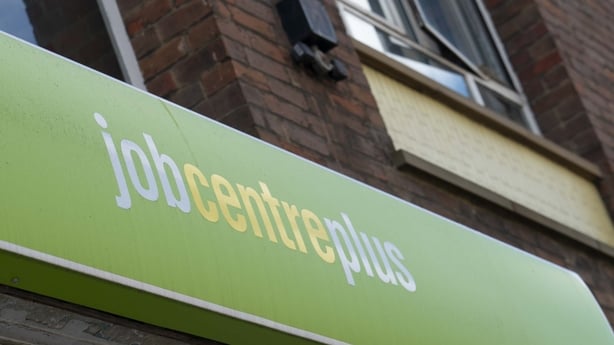 The lack of workforce participation at a time of record immigration - there are also more people opting for early retirement - has puzzled British commentators. The government has introduced schemes to encourage people back to work, such as remote working for those with a disability.
The rise in disability numbers is not just due to the Covid pandemic. There are 6.3 million people in the UK entitled to a disability benefit according to recently published figures from the House of Commons library. That is up from 3.9 million people since 2002. This benefit is paid to people both in and out of work.
The figures show huge regional variation with one area of South Wales having 18.8% of its residents in receipt of disability payments compared to just 2.8% in one area of the south east of England.
In general, the number of mental health cases has shown the biggest rise, with mobility and breathing issues having the largest number of cases.
Comparisons of data between countries can be difficult, but whether it is the result of different definitions or diagnoses, the disability benefit numbers appear bigger in the UK than in Ireland.
Using a crude comparison based on the 157,823 people on Disability Allowance in Ireland and the 6.3m people on similar benefits in the UK, this would suggest that the proportion receiving disability payments is nearly three times larger in the UK, by head of population.
There does seem to be a difference between the two countries reflected in overall disability numbers. The number of people with disabilities is increasing across the Western world.
However, the growth seems to be faster in the UK, where 18% of the population reported having a disability in 2003 while in Ireland the figure was 13.5% in 2016.
The UK figure was up to 24% last year. Meanwhile, the Central Statistics Office has changed its census question making more recent comparisons difficult.
Housing
Despite the seriousness of Ireland's homeless problem there is evidence that the situation in Britain is similar or even worse.
In Dublin, there were 83 people on the streets last winter. The official English count found 858 on the streets of London. In terms of population, that would make it 59 per million in Dublin, but 95 per million in London.
The number of homeless families is also a big problem in England with 131,370 homeless children or 2,346 per million, according to the charity Shelter UK. This compares to 3,829 homeless children in Ireland or 766 per million.
However, it is the area of local service in Britain that deterioration is most evident. Its public realm including parks, libraries and free school meals used to be held up as a gold standard.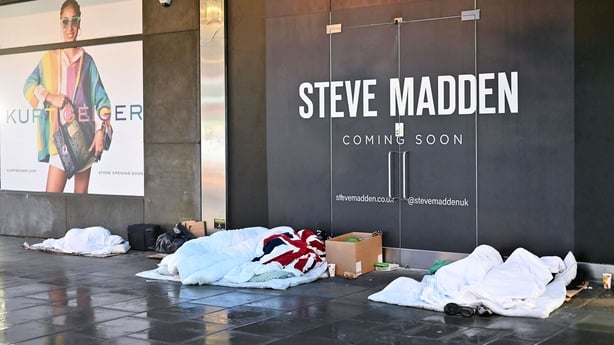 Local authority funding was first hit during austerity following the financial crash and has been continually targeted as the British government concentrates on preserving funding for the NHS, police and fire service.
The Local Government Information Unit (LGiU) which represents councils in the UK and Ireland estimates that British local authorities have lost about 40% of funding from central government in recent years.
This coupled with increased costs and reduced revenue because of the cost-of-living crisis has led to acute financial pressure and the loss of services.
Additional factors such as financial mismanagement or project overruns have led to five local authorities effectively declaring themselves bankrupt with Birmingham City Council - the UK's biggest - being the latest. It is estimated that there could be another 20 councils the verge of folding.
Seán O'Riordáin who works with the LGiU in Ireland has recently written of how his long-standing view about the superiority of the English local authority system has changed, given the cutbacks to services taking place in Britain.
He wrote: "Faraway hills are not so much greener than parched brown."
He pointed out that local services were maintained in Ireland even during the IMF austerity, whereas in England they are being closed.
Problems such as a lack of productivity in the British economy predate Brexit, but leaving the EU Single Market has not helped.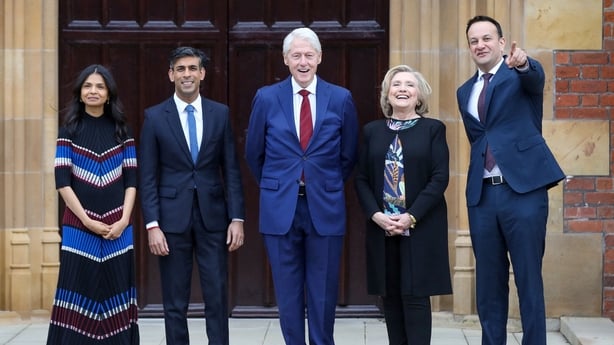 British Prime Minister Rishi Sunak is due to address the Conservative Party Conference in October with his vision to reform the economy.
But the British and Irish governments are going in opposite directions. Mr Sunak is pursuing fiscal rectitude even though inflation is coming down.
Taoiseach Leo Varadkar is increasing spending despite criticism from the Irish Fiscal Advisory Council and the fact that the latest inflation figures show an increase.
However, Mr Sunak has an opposition determined not to be seen as financially irresponsible while Mr Varadkar is facing political opponents pushing for more spending. Both governments are facing general elections by early 2025.
It will be interesting to see how the differing economic approaches work out and what the various economic and social indicators show in a year's time.