There is a minimum age to be President of the United States – it's 35. But should there be a maximum age as well? A point beyond which you can't be the President?
Nikki Haley, who is seeking the Republican party presidential nomination, certainly thinks all politicians over the age of 75 need to be tested to see if they have the mental and physical capabilities to do the job.
She has been gaining in the polls in the Republican party and outside it too. Ms Haley, a former South Carolina Governor and former US ambassador to the UN is 51.
A CNN poll last week showed Ms Haley was the only candidate among the field of Republican contenders who could clearly beat Joe Biden in a one-on-one race to the White House.
Yes, it's just one poll taken more than a year out from the actual race, but it speaks to a wider unease about older people occupying the highest political office in the land.
And it's not just the presidency that is seen as problematic.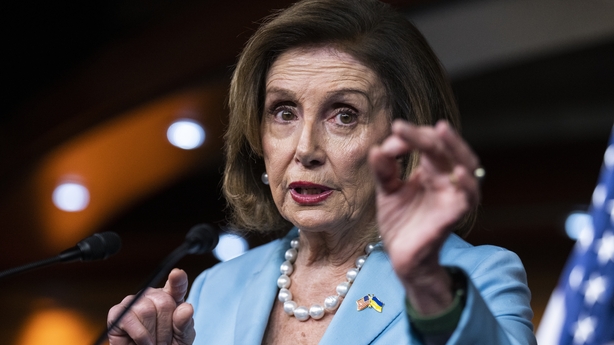 The former speaker of the House of Representatives, Nancy Pelosi, announced she was going to contest the House elections next year.
She is 83, and had a long and glittering political career behind her or so most thought.
The day before, she had been outspoken in defence of Senator Diane Feinstein, another Democratic politician with a long and distinguished political career.
But many questions have been asked about her ability to function as a member of the upper house – she has been seen being helped to vote by aides and has appeared confused on a number of public occasions.
She is 90 and says she will retire when her Senate mandate finishes in January 2025.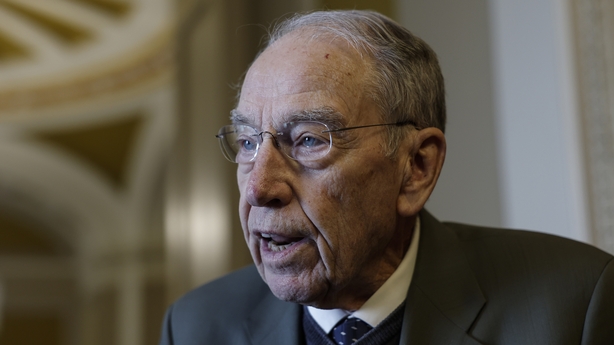 Senator Chuck Grassley is 90. He was caught up in the so-called fake electors plot, with a plan to have him chair the Senate instead of Mike Pence on 6 January 2021, when the presidential election votes were being counted.
He was first elected to public office in 1959.
His party leader, Senator Mitch McConnell, has had two episodes of "freezing," when he stopped talking in the middle of press conferences and had to be helped away by aides in the full glare of the cameras.
He is 81.
Joe Biden turns 81 in November. If he runs again, as seems likely, he will turn 82 just before election day.
He will be asking the American people to keep him in office until he is 86. And that is quite an ask.
That CNN poll, and a Wall Street Journal poll earlier in the week both showed the presidents age as the number one concern of the voters with 75% saying his age is a problem and 73% thinking he lacks the mental and physical robustness for the job.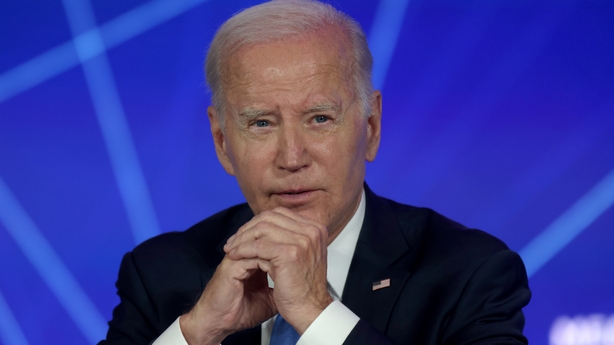 Its little surprise that voters have been focused on his age – his Republican party opponents, and especially their media outriders, have been harping on Mr Biden's age since the day he took office.
The constant drumbeat is bound to influence people. And the more times he falls or has verbal stumbles in public, the more the voters focus on this aspect of their Commander in Chief.
Mr Biden took over from the second oldest person to have held the presidency.
Donald Trump was 74 when he lost the election in 2020. He is now 77, and will be 78 by election day next year – older than Ronald Reagan was when he finished his second term.
Back in his day, much had been made of Mr Reagan being in his seventies when he held the post. And he was the oldest incumbent, until Mr Biden.
In the CNN survey, Americans were asked the optimum age for someone to be president.
Most plumped for someone in their fifties. And that's pretty much how it's been for most of US history.
The first four presidents – Washington, Adams, Jefferson and Madison, were all 65 when they left office.
More recently, Obama did eight years and retired at the age of 55.
Bill Clinton was 54, George W Bush was 62 when he finished his eight years. Jimmy Carter was 56 when he lost to Reagan.
Ford was 64 at retirement and Nixon faced impeachment halfway through his second term at the age of 61.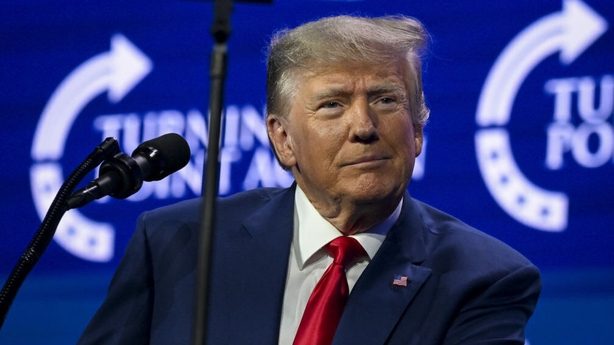 Even people we think of as old weren't.
Lyndon B Johnson was 60 when he retired, Franklin D Roosevelt was 63 when he died in office and Teddy Roosevelt finished his second term at the age of 58.
Mr Biden wants to go on till he is 86 and that really does make him an outlier.
Even if his main challenger would be 82 at the end of his term if he won, leaving us with a dead heat for the title of oldest president.
Polls after polls have been saying that the majority of Americans – two to one – do not want to see a re-run of Trump v Biden next year.
They want different candidates from both the big parties, younger candidates.
The Republican party has no shortages of younger candidates in the field challenging Trump. But the party activists, who will vote in the primaries to chose a candidate, are going for Trump.
Mr Biden too seems destined to be virtually unchallenged in the Democratic party.
Voter appeal
The polls have been saying for a year and a half now that if both men face off again, they get roughly the same amount of support.
In some polls Trump is fractionally ahead, in some polls Mr Biden is fractionally ahead.
All the gaps are well within the margin of error in the polls. As the polls are taken on a national basis, but the actual election is conducted on a state-by-state basis through the electoral college mechanism, a dead heat in the polls gives a slight advantage to the Republican candidate.
The indictments don't seem to have dented Trump's voter appeal – when measured against Mr Biden.
Maybe convictions will change that. Maybe not.
As for Mr Biden, he is languishing with an approval rating of 39%. His ratings went south after the chaotic withdrawal from Kabul and have never recovered.
That rating at this point in the election cycle leaves him in the presidential basement, just behind Donald Trump – who lost in 2020 – and just ahead of Jimmy Carter, who lost in 1980.
His big political problem is inflation, which has really stuffed up consumer prices in the US: it's more expensive here than in Ireland or elsewhere in Europe for pretty much everything (I know you don't believe me, but it's true).
The antidote to inflation - high interest rates - have doubled the economic pain.
Higher petrol prices due to the Ukraine war have also not helped (though prices remain half those that Europeans pay: Americans tend to drive longer distances, so the gas price really does matter: right now, its climbing again).
All of that is bad enough for Mr Biden.
But if serious question are being asked about his age and fitness for the job – and they are – that is adding a very big question mark over his future because while inflation, interest rates and gas prices have complex causes and effects, and are difficult to explain, a person's age is really simple to understand.
And that could be a big problem for America's elder statesman.