When he takes to the witness box in London's High Court, Prince Harry - or the Duke of Sussex to give him his full title - will become the first British royal to appear in court since the 1890s.
Just a month after attending his father's coronation at Westminster Abbey, King Charles' son is back in the UK, but on a mission few believe will help heal the family rift which was all too obvious at that event.
The last time a royal went to court was when Edward VII testified as a witness in the 1890s as part of a slander trial over a card game.
The last princely court appearance may have been related to gambling, but this event will also be a gamble for the fifth in line to the British throne.
Known for the motto of "never complain, never explain", the royal family does not advocate the route Prince Harry is about to take but he has dispensed with the attitude of his other family members as he takes on the tabloids with apparent gusto.
When this case opened last month, the prince made an appearance in court, clearly setting down a marker that he is fully involved in the legal proceedings and not shying away from his central role.
While he is arguably the most high-profile litigant, the action against Mirror Group Newspapers involves over 100 others, among them actors, sports stars and people connected to high-profile individuals.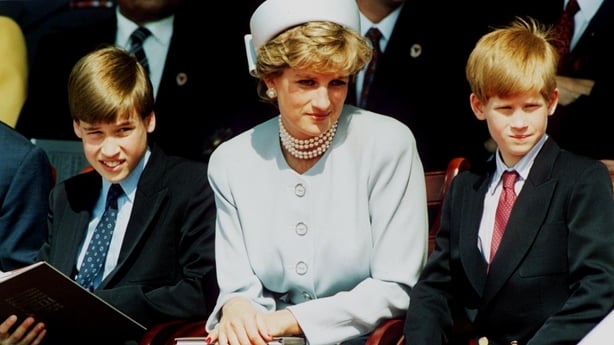 Those bringing the action claim that the Mirror Group, which publishes the Daily Mirror, Sunday Mirror and the Sunday People, engaged in unlawful activities between 1991 and 2011 in a bid to find out private information about them which was then published.
They say this involved phone hacking on an "industrial scale" as well as obtaining private details through deception.
The media, but particularly tabloid newspapers, are anathema to Prince Harry. It is not hard to see why.
As someone born into perhaps the brightest spotlight in the UK, he has lived a large part of his life under their glare.
From youthful indiscretions to his personal relationships, all have been dragged across the front pages.
But most painfully of all he blames the media for the death of his mother Princess Diana in a car crash in Paris in 1997.
It's against that backdrop that the prince will give his evidence this week, and of course, be cross-examined.
'Utterly different level'
While there has been no shortage of questioning of Harry in the last few years – with a major Oprah Winfrey interview as well as Netflix documentary and a best-selling biography – this week's questioning will be on an utterly different level.
Previous interviews with selected individuals have not involved the kind of rigour which will be attached to cross-examination in the witness box.
There will be no questions about how he met his wife or what he does to relax, but instead the very interviews he has done in recent years will potentially be used against him, whether it's to question his comments about drug use or the fact that many see him as having invaded his family's privacy in a way that he has also accused the tabloids of doing to him.
It may very well be quite brutal as the barristers that bear the title of King's Counsel grill him on behalf of their newspaper clients.
There will be nothing which is off-limits or will have been agreed in advance.
When he steps into that court he will face people who are handsomely paid to take apart his argument, and character, deliberately and decisively.
It is though a fight that Harry has clearly decided is worth taking on, and one in which he has immersed himself for some time now.
With the zeal of a convert he will want to make his voice heard and speak his mind in a way he clearly felt was impossible when he was still a working royal.
Ironically though, his turn in the witness box this week is certain to draw him back onto the very front pages he says he wants to avoid, and sell more of the very tabloid papers he clearly loathes.