It's a dark reality of the last decade facing the Greek government.
Countless reports of pushbacks at the country's land and sea borders with Turkey.
It's a practice that expels refugees and asylum seekers as soon as they reach Greek soil.
Illegal under international law, pushbacks often involve high degrees of violence and force.
Greek political leadership has denied any wrongdoing, but pushbacks and violent practices are being increasingly documented by journalists and international organisations.
A new report from the Greek Council of Refugees (GCR), At Europe's Borders: Between Impunity and Criminalization, contributes to the robust body of documentation of the Greek state's illegal practice of pushbacks.
We need your consent to load this rte-player contentWe use rte-player to manage extra content that can set cookies on your device and collect data about your activity. Please review their details and accept them to load the content.Manage Preferences
It provides detailed descriptions of 11 cases of pushbacks in the Evros border region and the Aegean islands, and two cases of pullbacks by the Turkish authorities in Evros.
All cases in the report are legally represented by GCR and submitted before the European Court of Human Rights (ECtHR) and/or the Greek Public Prosecutor.
The testimonies included in the report, which all share very similar descriptions of what people had to endure during a pushback operation, offer a disturbing insight into the organised and systematic nature of these illegal practices.
Common violations reported by victims include arbitrary and illegal detention, neglect, physical and sexual violence.
"This report is evidence that illegally pushing people back, 'pushbacks,' is not a rogue incident or isolated, but it's systematic," according to Dr Aideen Elliott, Senior Policy, and Research Coordinator with Oxfam Ireland.
"It's become like an unofficial policy of how to deal with people who arrive looking for protection in the EU. As a Member State of the EU, we cannot let the rule of law fall down in this way," said Dr Elliott.
Oxfam, which is partnered with the Greek Council for Refugees, warns pushbacks are a profoundly serious violation of European law.
Dr Aideen Elliott described it as a symptom of a broken asylum policy in the EU but believes it can be fixed.
"We have a system where the border Member States are tasked with so much of hosting of border control. This doesn't work, so an EU wide approach is needed," she said.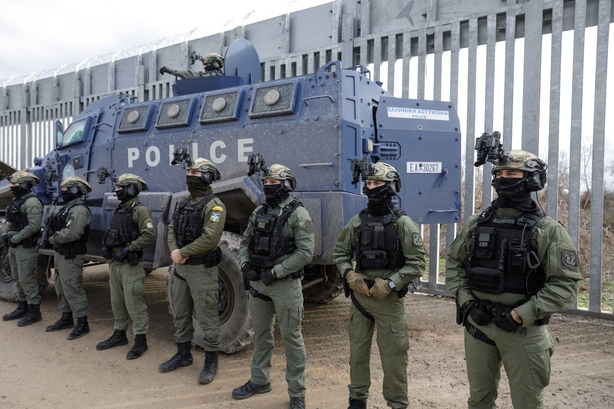 In one case outlined in the GCR report, 37 Syrians, including 17 children, were stranded on an Evros islet without water or food. The Evros river is a natural border between Greece and Turkey and the group had entered Greece from Turkey seeking international protection.
Among the group was a woman who was six-months pregnant, and two infants and a child with serious respiratory problems supported by an oxygen tank.
Despite the asylum seekers contacting the GCR, who in turn informed authorities requesting assistance for rescue and processing; the UNHCR requesting they be identified and subjected to the procedures provided for by law; and the European Court of Human Rights granting interim measures ordering they should not be removed from Greece; it was too late.
Within two days of arriving in Greece the asylum seekers had been pushed back to Turkey.
According to their testimonies, Greek-speaking men in military uniforms and black full-face masks, carrying flashlights and weapons, appeared on the islet, searched the group at gun point and sexually harassed and groped the women.
When the asylum seekers reiterated their request for international protection their heads and backs were beaten, including the children.
They were led by gunpoint to an inflatable boat and transferred to the Greek river bank before being violently placed in two minivans with a maximum capacity of ten people, according to the testimonies.
After arriving at a Border Police Station, probably Neo Cheimonio in Orestiada, they were separated into a group of women and children by a group of men in military and police uniforms.
Testimonies given to the GCR detailed how they were ordered to take off their clothes, underwear, and shoes.
The women and men were mocked and harassed by approximately four men in military uniforms who used a stick to scratch their genitalia.
Afterwards, they used the same stick to sexually assault the men, while they sexually assaulted the women in front of the children.
The report found the group remained unofficially and unlawfully detained before the final stages of the push back operation to Turkey began, at which point one woman summoned the courage to speak up.
"We want to apply for international protection in Greece," she said and begged them not to send them back to Turkey, but one of the masked men closed her mouth with his hand.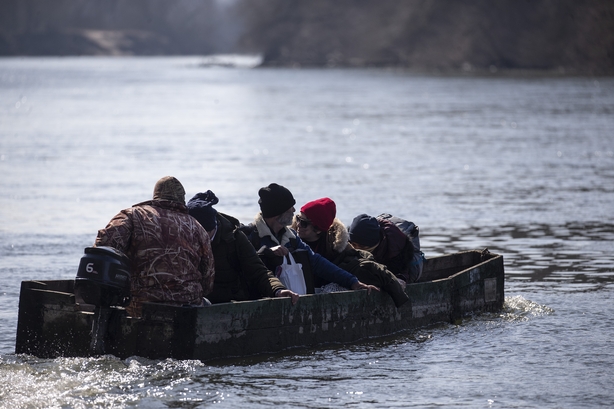 Another person who refused to exit the van at an unknown location near the Evros river was beaten violently before they were all forcibly returned to Turkey.
The EU committed millions of euro for closed migrant camps on Greece's five Aegean islands - Leros, Lesbos, Kos, Chios, and Samos - that receive most of the migrant arrivals by sea from neighboring Turkey.
But after visiting Samos, the blueprint for the other camps, Dr Elliott believes the system is failing.
"It's really prison like. These people have not been found guilty of a crime, not even accused of any crime, but they're kept in these places with barbed wire around them, with the cameras everywhere, and they're only allowed out for some hours of the day," she said.
Another case in the GCR report describes how two Palestinian men, recognised by the Greek authorities as refugees and legally residing in Kos Island, were arrested by two men in civilian clothes who identified themselves as police officers.
Over the course of the pushback operation the report found the Palestinian men were sexually assaulted, severely beaten, and had documents, phones and money confiscated.
They were handcuffed, blindfolded with duct tape, dragged on the floor with their legs tied and left in unofficial detention for hours.
They were transported to the Port of Kos late at night and boarded by coast guard officers into a Hellenic coast guard boat.
One refugee said: "I explained again [to the Greek port police] that I have documents, I have family in Kos, we are recognised refugees.
"They replied, "not our business"."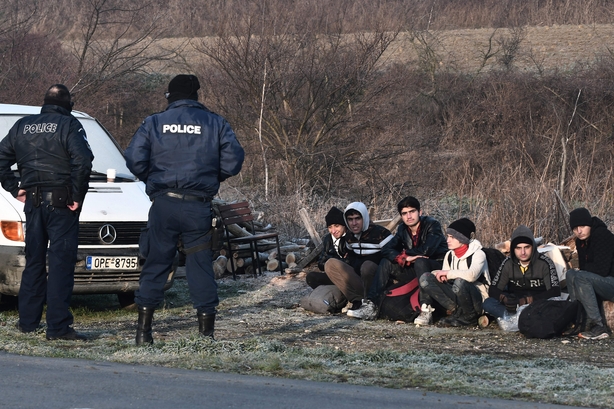 The men were left at sea on a small half delated raft before being rescued by the Turkish Coast Guard Police. They were arrested and detained for a few days for illegally entering the country.
Greek lawyer, and one of the authors of the report, Kleio Nikolopoulou, warns this is a concerning development.
"In the report we have presented cases of pushback victims, not just from asylum seekers that try to enter the Evros region or land border with Turkey who want to apply for asylum and seek international protection in Greece, but we also have cases of recognised refugees legally residing in Greece and them being victims of pushback to Turkey.
"The categories of the victims of pushbacks are vast," she said.
The report also describes how the Greek state intimidates, stigmatises, and criminalises human rights defenders who support pushback victims.
Instead of investigating these violations of the law, Oxfam and the GCR are concerned authorities are criminalising people who try to shine a light on these issues, like Irish man Sean Binder, who was on trial in Greece for search and rescue.
"Legal organisations are being intimidated and targeted by the Greek government, by the Greek authorities. GCR is also one of these legal organisations that is being currently targeted by ascribing hidden political motives in our work, or by linking us with smuggling networks, or by describing us as enemies of the state," said Ms Nikolopolou.
These false accusations have created a repressive environment wherein the support for asylum seekers and their rights has become incredibly difficult.
It's also her belief that under-reporting in the Greek media means many Greek citizens are unaware of the atrocities happening on their own borders.
"I don't think they are aware of the horrendous conditions under which the people that manage to enter their country and apply for asylum end up living in or that they are unofficially, illegally, and arbitrarily detained in unofficial detention facilities.
"Asylum seekers face physical abuse, mental abuse, and very often sexual abuse. I don't think that people are aware of this situation," according to Ms Nikolopolou.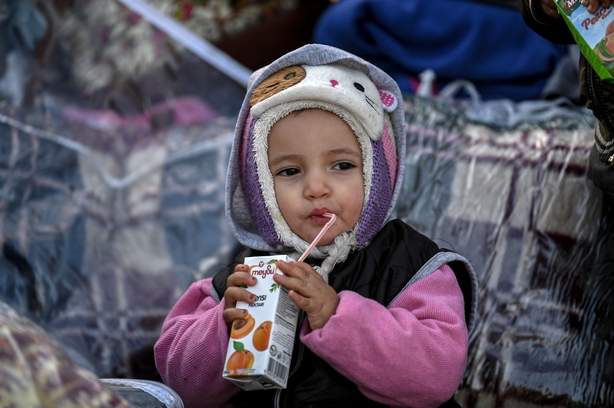 This week the GCR and Oxfam, along with MEPs hosted a roundtable at the European Parliament in Brussels on pushbacks and criminalisation. They said, however, it does not appear to be an agenda item at the European Council despite being a serious violation by an EU member state.
Work is ongoing for an independent border monitoring mechanism, but there are concerns that it is not truly independent.
"So far we haven't seen any results from its work and at the same time, it hasn't really been communicated how we could approach this mechanism and what are going to be the pathways of addressing the issues," explained Ms Nikolopolou.
There are now growing concerns of increased flows of displaced asylum seekers from Turkey and Syria following last month's devastating earthquakes.
The situation on the Greek-Turkish borders has been rumbling on for over a decade. Decisions on policies at EU level are notoriously slow but Oxfam's Dr Aideen Elliot is optimistic that changes can be accelerated if enough pressure is applied.
"We are concerned the mandate of the current European Parliament is in danger of running out before agreements are reached.
"But we are also encouraged by what we saw with the speed at which the Temporary Protection Directive was implemented for people who were forced to leave Ukraine after the brutal invasion.
"So, it really shows when the political will is there, the EU can be agile, and it does not have to be slow and cumbersome. So, we would hope to see that serious rule of law violations by an EU Member State would spur action at a speedy pace."