The first thing you have to know about Guayule is how to pronounce it. Yes, it starts with a "G", but it's pronounced with a "W". So it's "Why-ooli". Got it? But we'll stick to the official spelling.
The second thing you have to know about Guayule is that it might just offer a way out of the problems of the mega-drought and climate change for hundreds, possibly thousands of farmers in the southwestern United States.
The third thing to know about it is that it might, just might, secure a supply of a strategic raw material for US industry and consumers – thanks to climate change.
And what is this Guayule of which we speak?
Well, it's a plant that grows in the desert.
And?
Well, it doesn't use much water.
Of course not, that's why it's a plant that grows in the desert. Anything else?
Well, you can make rubber out of it...
Now you've got my attention.
Or rather, Guayule got the attention of Bridgestone, the world's second biggest tyre maker (it's held the top spot for the previous ten years, so it's big).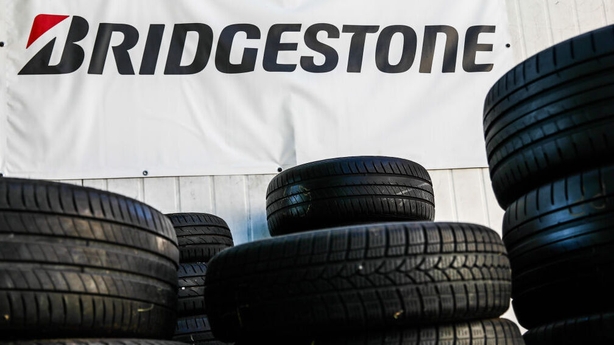 A decade ago, the American division of the Japanese multinational embarked on a project to see if they could make tyres on a commercial basis out of the Guyaule plant.
We need your consent to load this rte-player contentWe use rte-player to manage extra content that can set cookies on your device and collect data about your activity. Please review their details and accept them to load the content.Manage Preferences
It wasn't an original idea – it was tried in the 1920s after disease ripped through the rubber plantations of Brazil, a major supplier to the US.
In the lead into war, the then Major Ike Eisenhower proposed commercial cultivation to ensure tyres for trucks and aircraft in the event of war.
In the event – that is to say, when World War II broke out - the government took up the idea and made tyres from a local rubber source.
But the availability of cheap supplies from Asia after the war meant the emergency measure was just that – an emergency measure that didn't survive peacetime.
After ten years of experimental breeding and testing, Bridgestone now thinks the time is right to scale up growth of the plant on a commercial basis, in order to have a raw material supply for sustainable tyre production.
"It's a drought resistant crop. So if you can't get the water to it when you want to, it won't die on you," - Will Thelinger, farmer.
Guayule rubber is just like any other natural rubber, and can be used in existing factories. If enough farmers plant enough of the stuff next year, the company will start churning out Guayule Tyres in 2030.
This year it made some sets of Guayule tyres for an IndyCar race (they were colour-coded with green stripes, amidst the more familiar red and yellow compound markings).
What might tilt the field in favour of Bridgestone this time around is climate change. Yes, the global catastrophe might just have a business upside. I thought it was worth nosing around, so I headed south from Phoenix.
About halfway down the road to Tucson, we pulled into Eloy, a very small town that styles itself the parachute capital of America. Apparently there are two parachute manufacturers in the town.
Also the dry weather and clear skies means planes from the nearby airstrip can take skydivers up pretty much any day of the year.
Its other claim to fame (sort of) are the four privately owned and operated prisons that squat in the hinterlands of the town.
And by hinterland we mean desert – desert on which people try to grow things, if they have access to water.
The area was one of the beneficiaries of the big public works programmes that began in the early 20th century – first the trapping of the Colorado River by the Hoover Dam and its storage in Lake Mead, then the creation of the Glen Canyon Dam and the creation of Lake Powell.
The Colorado River pact shared out the precious water among seven states and Mexico. But now it is running dry.
So, the farmers down this way are feeling the effects. Agriculture takes an estimated 70% of Arizona's water allocation, and the water shortage means farmers are bearing the brunt of the cutbacks.
Less water means fewer acres can be cultivated. It's as simple as that. Land is being taken out of commission.
"You know, I'm a fourth-generation farmer here" Brandon Smith tells me. "The area that my great grandfather and grandfather cleared off in the 50s - my uncle will be done farming this year. So, from the 50s to 2023, we've farmed that farm. And as of 1 January, my family won't be farming there anymore".
And it's because of water cutbacks. With less water to go around, the large family holding has to prioritise which land they keep in production and which the leave fallow.
"It's great ground," he says.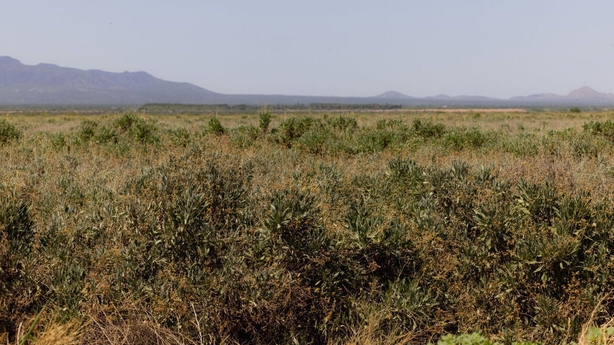 "Some of the best ground in this state. But because of water, we're going to be done farming it. It'll go fallow. It'll just sit there. It'll probably be that the desert actually starts to take back over again."
We meet at Bridgestone's Guayule research farm. He and a couple of dozen others – farmers and academics - have come for a field day for potential growers of Guayule.
The company is trying to recruit farmers to grow the plant as a commercial crop.
Bridgestone will be the buyer – its sunk $100 million (€96 million) into the project so far.
The US government is pitching in tens of millions to help farmers, and native American tribes, transition to a new type of crop. Just last week the department of agriculture announced a $35 million (€33.6 million) fund to assist growers over the next five years.
Will Thelinger is ahead of the curve. The water crisis pushed him to become a pioneer of the new west three years ago.
He agreed to sign on as Bridgestone's first commercial farmer, setting aside 80 acres to see if he could make it work.
About half the family farm has been fallowed because of the water crisis, so there was little to lose, except for working time. And even that turned out to be not so bad.
"It's a drought resistant crop. So if you can't get the water to it when you want to, it won't die on you," says Will. A real problem, as the farms now have to rely on ground water pumps to pump up water from deep underground: if a pump breaks, less hardy crops die.
"In round numbers, it uses about half as much water as some of our other traditional crops and over a longer period - over 12 months.
"So you can put a lot more acres in and hopefully we won't be fallowing as many acres moving forward."
As well as using far less water than other cash crops, it is also far less labour intensive than traditional rubber trees – a big plus for Bridgestone in weighing up the economics of the plant.
Of the scrubby bush that grows to about a metre in height he says: "It's a hard crop to get established. But after the first let's say three months, once you get the crop going it's one of the easiest crops to take care of. Just need to water it once a month, if that. And it doesn't have any diseases that really attack it right now. It's very pest resistant. So, it's a very, very easy crop.
"We knew the water cuts from the Colorado River were coming down the pipeline, and Bridgestone contacted us for this crop, and I was interested in it for its lower water usage and just diversifying our farm is always a good idea.
"We've lost our allocation from the Colorado River within our water district. So, it's only ground pumps, water from the ground.
"We've had to fallow about half our farm where we're not growing anything on it anymore, and basically just grow what we can elsewhere. So, a crop like this could make us more productive.
"The way I'm hoping is part of the farm would be in Guayule, and then stay versatile with other parts of the farm with whatever water we do have available.
"But wherever the economics is, is kind of where our farm will go. So it depends on prices of milk and feed and alfalfa and cotton prices. So I'm hoping to just have some Guayule so we can grow a lot more acres plus stay versatile with other crops ... hopefully."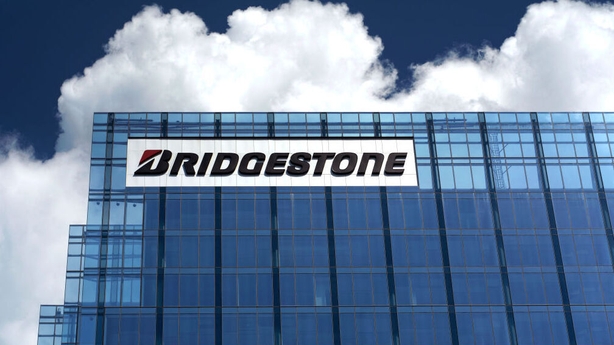 Our midsize rental SUV feels small when we line it up with the big pickup trucks of the visiting farmers.
In a city they are faintly ludicrous. Out here they make a lot of sense.
Electric powered pickups from Ford, GM and (Stellantis-owned) Ram have apparently sold out before hitting the showrooms.
Battery or Internal combustion, one thing won't change – they are all going to need tyres. So can Guayule meet the need – and provide a living for drought hit farmers?
David Dierig has been testing Guayule to find optimum conditions and growing practices for a decade at the Bridgestone farm.
"Yeah, we have moved beyond the research phase. We're increasing our seed production, so we have enough on seed to plant 25,000 acres," he tells me.
The experimental farm is just over 200 acres. Dr Dierig and his colleagues have been experimenting to see how little water they can feed a Guayule plant on and still get enough growth to harvest this perennial plant.
As well as using far less water than other cash crops, it is also far less labour intensive than traditional rubber trees – a big plus for Bridgestone in weighing up the economics of the plant.
Signing contracts with growers is a big part of the push right now. It takes about two years for the plant to be ready for harvest. So there is a lead time on the rubber – but again its shorter than rubber trees.
In September Bridgestone opened a biorubber process research centre in Mesa, just southeast of Phoenix.
Its job is finding better ways of extracting rubber from the Guayule bark that is harvested. The crop is cut every second year over a six year cycle, before being regrown from seed again.
---
---
Surgical grade latex is produced by Guayule too: some think that could be more profitable than making tyres. The biomass remaining after extraction of the rubber can be burned in power plants as "sustainable" fuel.
But Guayule is not the panacea for the supply problems of the rubber industry in America.
"We're never going to take up enough land to take over the rubber industry here in the US," said Dr Dierig.
"We will supplement what we already have, and we think that we could probably come up with about 20% of what the rubber industry needs by growing it throughout the southwest."
That could mean scaling production to around 100,000 acres. With the water situation in the region, farmers may not have too much choice if they want to stay on the land.
But one thing that might sustain prices for Guayule is the strategic consideration. Southeast Asia is the source of almost all the raw rubber imported into the US.
The recent rise in tensions over Taiwan is merely the latest reminder that if things go bad in the region, all sorts of supply chains will be disrupted – including the rubber needed to keep cars and trucks on the road and aircraft on the runway. And politics is not the only potential disruptor, as we know from Covid.
Dr Dierig said: "The hit to our economy if we ever got our supply cut off either because disease took over what's growing in southeast Asia, or if our supply got cut off because of geo-political issues we would have something to fall back on. You know rubber is really critical to our economy here in the US."
Oh, and by the way, it's critical to the European economy too.
So, is Guayule a lifeline for the farmers of southern Arizona? Brandon Smith was certainly interested. He has invested in the very efficient – but rather costly sub-soil drip tubes to bring the smallest amount of water necessary to his main crop of Alfalfa, which he grows on a farm of 300 acres – along with corn and cotton.
According to Bridgestone research, sub-soil drip tapes work really well for Guayule.
Brandon Smith also works as a consultant for various types of irrigation systems for a big regional Agricultural Development company, so he is comfortable with the investment proposition.
"It's $4,000-plus per acre (€3,840) to put in the infrastructure to do that, depending on what style you put in," Mr Smith said.
"But like I said, it's a 20-25% savings in water consumption. So you get your money back over time. But just the initial costs - it keeps a lot of guys from doing it.
"But with these water shortages that were being faced with, you'll see more guys turn into that. That's the future - you got to be progressive.
"If you're not you're going to be done with farming."
He strikes me as progressive in his approach to the land – he's not done with farming in Arizona.
The water crisis in the southwestern states is dire. The outlook is worse.
But Guayule – and the rubber it produces – might just be a window of opportunity for the region's farmers (or some of them). And the rubber industry. And the US government. And maybe even consumers. Who knows – it might even be good for the environment.
We leave the farm, the Guayule and Eloy behind, pass an empty expanse called Tumbleweed Park, and eventually turn back onto Interstate 10. We're heading north, back to Maricopa County – and practicing our pronunciation. Why-ooli.