It is uncharted territory - a job swap at the top of Government halfway through its lifetime.
But when Taoiseach Micheál Martin switches positions with Tánaiste Leo Varadkar in December, does that spell the beginning of the end of his leadership of Fianna Fáil?
Today, the party faithful are meeting in Dublin for the first in-person ard fheis since the Covid-19 pandemic.
Mr Martin will deliver his televised address this evening in front of a gathering ripe with speculation about what the future holds for the man in charge for the past 11 years.
That time has been marked by the precipitous rebuild post 2011, a rebound in 2016 and 2019 and an electoral stumble in 2020. Some TDs have publicly blamed the extension of the Confidence and Supply agreement which they feel went on too long and resulted in them being tied to Fine Gael in the minds of voters.
Within the parliamentary party, the mood is said to be reasonably good heading into the party conference.
Several TDs and senators said they felt the Budget had landed well and set the scene for the regrouping with members.
"There is a positive outlook based on budget. That will put a pep in step of grassroots. They can say our party responded to people's needs."
Others say this week's parliamentary party meeting was extremely positive after the Budget. "There was a Fianna Fáil stamp on this Budget. For example, investment in education, health, defence and childcare."
But alongside the buoyant mood, there is what is described as "confusion" over the party's standing, its direction and continued murmurings in the party about the leader's position ahead of the next general election.
Concerns also abound about the level of change looming. "There is an identity loss from losing the Taoiseach position along with more change in Finance and the Chief Whip. There are a lot of moving parts."
The view of many TDs and senators spoken to this week is that the changeover will go ahead as planned but Mr Martin is unlikely to be at the helm for the next election.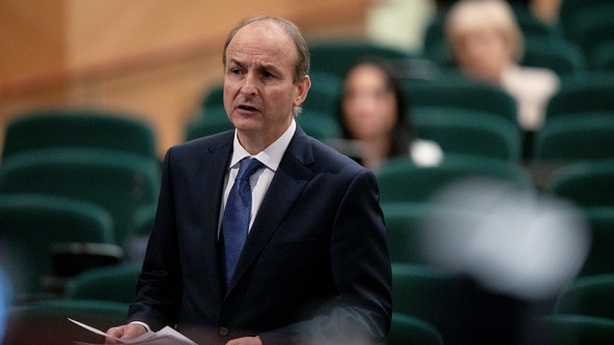 One TD who would define himself as being in the middle ground of the party said the leadership should be put to bed in the new year.
"Either Micheál Martin doubles down as leader or he says he's going to Europe or wherever. There needs to be a strong signal. The middle ground of the party is open to change if it is done in a managed professional fashion, they want to see a proper plan."
Another TD said: "We probably do need a change, he's doing a great job as Taoiseach but the party has suffered. He has been overwhelmed with Covid and war but he has taken his eye off the ball. The job of leader is to manage both the country and the party. His focus is lacking."
But there is also a perception that the party leader's stock has improved.
"Six months or a year ago, I would have said he will not lead us into the next election but now I think there is a chance. He is perceived as a very good Taoiseach on the big ticket issues."
Alongside the moderate views however, there are a cohort of Fianna Fáil TDs who are strongly opposed to Mr Martin's leadership for various reasons. Some were pushing for change early last year but the rebellion fizzled out.
Now once again, as the switchover looms, there are whisperings of a push, with some expecting an attempt to force change before 15 December – the date of the handover. The timing under discussion is sometime after the Cáirde Fáil dinner in late October.
"They feel he is deserving of one ard fheis as Taoiseach and then the presidential dinner but then there could be an opportunity for a leadership hopeful to make a move."
That move would come in the form of a motion of no confidence in the leader. This requires the signatures of ten TDs and it would be tabled at a parliamentary party meeting.
"There has always been a serious concern about how we're doing and we haven't addressed those concerns, people are running out of patience."
Another TD said: "There is a lot of discussion that a motion of no confidence will be brought after the Cáirde Fáil dinner. A lot of backbenchers feel that time in November is when they will raise this issue. If he becomes Tánaiste and he remains on, it will be very hard to change."
The view of some TDs is that they hope Mr Martin comes out with a declaration later this year setting out his departure rather than risking a rancorous heave.
"He has to keep saying he'll keep going otherwise he's a dead man walking but I would really like to see him come out with a plan."
Those mentioned as possible future leaders include Minister for Public Expenditure Michael McGrath, Minister for Housing Darragh O'Brien, Junior Minister Dara Calleary and backbencher Jim O'Callaghan.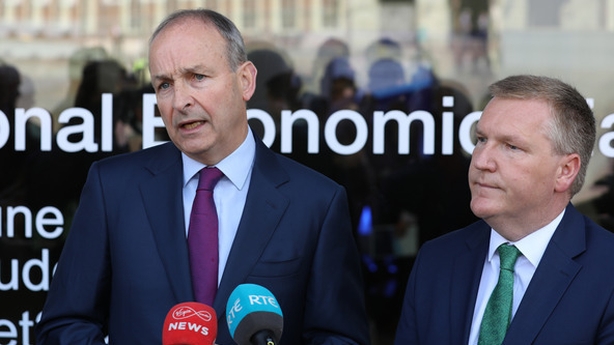 However, for now, no possible candidates have stepped forward.
"If potential suitors step into the breach and say I want to be that person, here's my plan, then that's game on but until then, I don't see any change."
Another said: "No one has shown face yet. Jim O'Callaghan did a lot of early running but he has gone quiet. I'm not a blind loyalist. Right now, yes he [Micheál Martin] will lead. There will be a time for a debate, but now is not that time."
One TD who is pushing for change and would support a no-confidence motion concedes that any move is conditional on the party's standing in the polls.
"Right now, we are in dangerous territory on 17% in the Red C poll – that potentially means losing 20 seats. But if Fianna Fáil went up a few points after the budget then the risk of a heave decreases. Higher again and it won't happen at all."
As for the party leader, Micheál Martin has repeatedly declared his intention to remain at the helm and lead Fianna Fáil into the next election. But some believe that although he must say that publicly, privately he knows that change is on its way.
"You've been there for 30 years, you've done everything, but the party needs change."
So as Micheál Martin addresses the ard fheis this evening, the possibility looms that it could be his final conference as party leader.
---
The address by the Fianna Fáil party leader will be carried live on RTÉ One, the RTÉ News channel and RTÉ's social media platforms.