An €11bn wall of money is being directed at the cost-of-living crisis by the government in Budget 2023.
But there are two problems. Much of the money comes from corporate tax receipts and the energy crisis, triggered mainly by Russia's invasion of Ukraine, is completely unpredictable.
That double uncertainty means that no-one knows if Budget 2023 will be effective or not.
Government Ministers have repeatedly said that the €11 billion budget will "put money in people's pockets."
That is clearly true. The question, however, is whether that additional resource will simply be gobbled-up by inflation - leaving people worse-off rather than better-off.
So, how best to control inflation and assist the most vulnerable in society?
Ask three economists and you will probably get six opinions.
The government cannot do much about the main drivers of inflation - the energy crisis and the faster than expected recovery after the pandemic.
So, Budget 2023 is the government's attempt to assist people feeling the squeeze - particularly the lower income groups, who are hardest hit because a proportionately higher percentage of their income will be gobbled up by inflation.
One key battleground between the government and opposition is whether an energy credit or an energy price cap is the best approach to the spike in energy costs.
A second front is whether the new rent credit, of €500 per annum, will be of real assistance.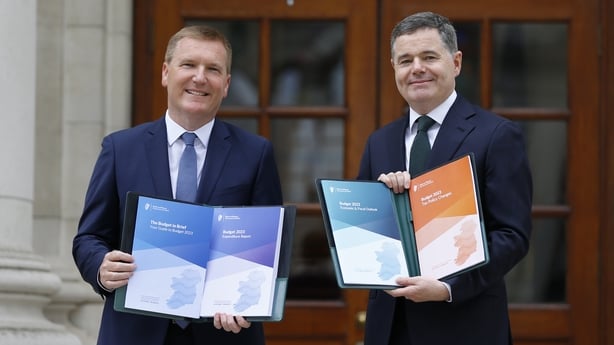 Social welfare
And then there are the additional social protection measures.
The 25% reduction in the cost of childcare will be welcomed by parents and guardians, however the following three issues have led to more substantial political debate.
On the energy credit, Minister for Public Expenditure Michael McGrath said that "every household" is impacted by rising energy prices and therefore it is important to provide support to "every household."
The mechanism of €600 energy credits is to be paid in three instalments at a cost of €1.2bn.
The strategy is anchored in the view that introducing an energy cap would mean that the State is on-the-hook to energy companies who have effectively been given a blank cheque.
'Remember the bank bailout' Ministers warn, 'we don't want to do that again!'.
Sinn Féin argues vociferously that a cap is the only way forward as it provides certainty to householders, who otherwise will be draining their coffers to deliver super profits to energy companies.
The party's Finance spokesperson Pearse Doherty argued that other EU Member States were introducing such a cap as it was the only way of protecting consumers.
(It should be noted that when the Netherlands introduced a partial cap, it also cut back plans to hire more teachers and nurses. )
The debate on rent was equally polarised.
---
Read more live coverage and reaction on Budget 2023 here
---
Minister for Finance Paschal Donohoe said the €500 per year credit was aimed at "those who do not get any other housing supports" and suggested it would benefit 400,000 people in the State.
Labour's finance spokesperson Ged Nash quipped that the government's budgetary response was a "sugar high" which would be replaced by a "hangover" after Christmas and probably a mini-budget.
The party argues that without a rent freeze, the credit will simply be gobbled-up in rent increases.
The rental row also expanded into the wider housing debate, with Minister Donohoe saying the government had committed a record €4.5bn next year in public funding for the provision of more social, affordable and cost rental homes, but deputy Nash derided the Housing For All policy as a total failure.
On social protection, a €2.2bn package was announced.
There will be a series of measures this year including a once-off double weekly payment in October; the Christmas bonus in December; and six measures in November involving lump sum payments on fuel allowance, living alone allowance and working family allowance as well as a double child payment, carer support and disability support.
Mr Donohoe declared to the Dáil that these targeted measures would "provide extra assistance to those who need it the most."
'Lack of ambition and vision'
However, the Social Democrats co-leader Róisín Shortall said the entire budget was an indictment of the government's "lack of ambition and vision" and, zoning in on the changes to income tax, claimed that these would reward those on higher incomes "the most."
Ms Shortall contended it was "really shocking" that what she termed the "super-wealthy" were getting a bigger benefit than lower income families who were being forced to choose between "feeding their families and heating the homes."
Expect that row to continue - for example, Minister for Transport Eamon Ryan was tweeting graphics from the budget documentation which suggested that those in the lower income bracket will secure the largest percentage change to their weekly disposable income.
Ensuring we have a fair budget that targets resources where they are needed the most is a key objectives of the @greenparty_ie #Budget2023 pic.twitter.com/lK20t2dK0S

— Eamon Ryan (@EamonRyan) September 27, 2022
On the wider economic picture, Minister Donohoe predicted that the pace of growth in the economy is expected to "... slow through the rest of this year as mounting inflationary pressures reduce spending power."
He then put a figure on it: his department has revised downwards Ireland's Modified Domestic Demand - ie removing the income from the big multinationals - from 3.9% to 1.25% next year.
That is a dramatic reduction in growth and will narrow the government's ability to manoeuvre in next year's budget.
Sad to say, the cost-of-living crisis is only beginning.