Warning: This article features graphic images
Shocking scenes have not been rare since Russia invaded Ukraine.
The destruction of Mariupol, images of millions of Ukrainians fleeing, even the brazenness of the invasion itself stunned international observers.
But in the villages around Kyiv, it is the latest cruelty against civilians that has provoked international revulsion: Shot at close quarters, some of the victims had their hands tied behind their backs.
Whoever carried them out, these are killings that cannot be portrayed as unintentional "collateral damage".
With a death toll of over 400 in areas previously occupied by Russian forces, it is difficult not to question Moscow's claims that "not a single civilian has faced any violent action by the Russian military".
Such a blanket claim would be scarcely credible by any party to any armed conflict - particularly when it is made without time to examine the existing evidence in detail.
But Russia has gone a step further.
Not only is Moscow claiming its forces are above reproach, the defence ministry accused Ukraine of having "staged" a "fake attack" - a "production" - for Western media who entered the town over the last two days.
It has made these claims without any supporting evidence.
We need your consent to load this rte-player contentWe use rte-player to manage extra content that can set cookies on your device and collect data about your activity. Please review their details and accept them to load the content.Manage Preferences
If the claims are to be believed, it is a "production" of stunning detail, complexity and execution.
The 75-year-old mother of Tetiana Pomazarko described to The New York Times how her daughter was shot dead by gunfire from a Russian tank in the front garden of her home.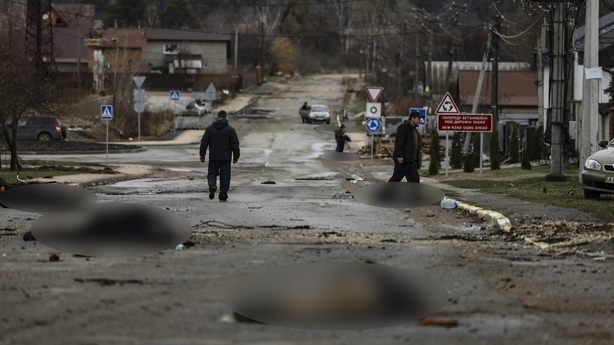 Antonia could not manage to fully bury her daughter. The 56-year-old deceased's legs were still visible when Times photographer Ivor Prickett captured the image of her partially-interred remains yesterday.
The French news agency AFP said its reporters saw at least 20 bodies, all in civilian clothing, strewn across a single Bucha street.
Al Jazeera's Imran Khan counted ten bodies in a Bucha street. A resident claimed to the Qatari news channel to have witnessed a deliberate killing of a civilian.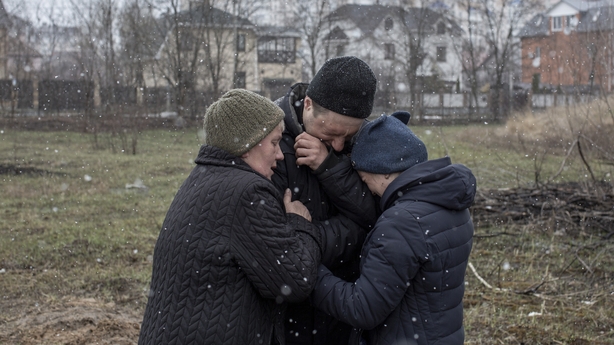 Hanna Herega said she saw a man gathering wood being shot by Russian troops: "Then they shot off his left leg completely, with the boot. Then they shot him all over this side [on the chest]. And another shot went slightly below the temple. It was a controlled shot to the head."
The BBC's Jeremy Bowen spoke to a Iryna Kostenko whose only son was shot. Using a wheelbarrow, she took Oleksiy's body back to their own garden and buried him.
Elsewhere in Motyzhyn, the Reuters news agency reported seeing the bodies of village leader Olha Sukhenko, her husband Ihor and their son, Oleksandr who were killed and buried in a shallow grave.
---
Read more
Live: What's happening in Ukraine today
Besieged city of Mariupol is '90% destroyed' says mayor
Integrated policy needed as we give safe harbour
---
Locals who spoke to the agency's reporters said the family had been tortured and killed by Russian troops.
Nearby a burnt-out tractor could be seen and one of those buried in the sand had his head taped.
The Reuters reporter also saw another body of a man in a well near to the burnt-out farm, where black burn marks climbed up its few remaining walls. He appeared to have been tied up.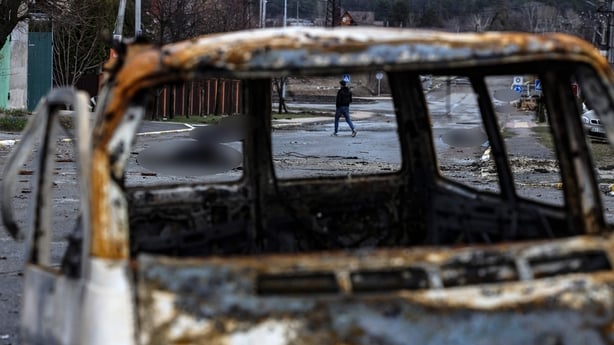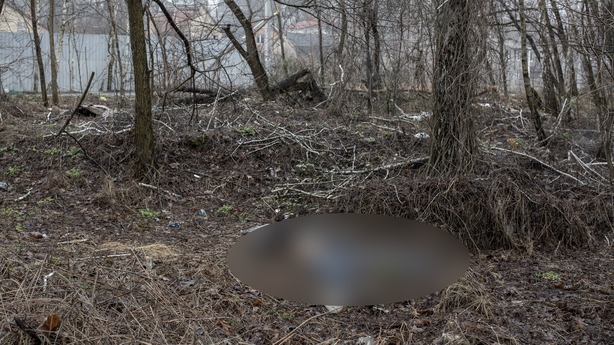 The Economist's Oliver Carroll described to RTÉ's Morning Ireland some of the bodies he saw in Bucha's streets: "At least two of those men had their hands tied behind their back. The handcuffs were made of white material. It looked as if they'd been on their hands for a long time."
A fake attack, Carroll said, seemed highly unlikely from the scenes he saw: "The stench from the bodies smelt as if it certainly wasn't recent.
"So, there have been attempts to portray this particular site as being a set up by the Ukrainians. Or the Ukrainians shot them themselves in the three days they've been in control of the town.
"That didn't, in my opinion, bear any relation to the reality."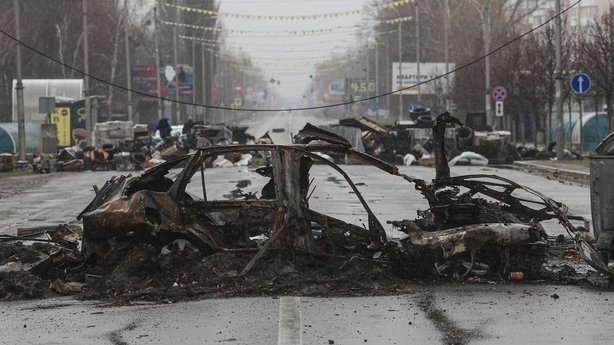 It would only take one of those stories to be true to rubbish the claim that "not a single civilian has faced any violent action by the Russian military".
Previous denials from Moscow - such as claiming it had no intention of invading Ukraine, or that it was not shelling residential areas - might well colour how this latest one is received.
Some atrocities act as catalysts. The international outrage over the 1995 slaughter of 8,000 Muslim men and boys by Bosnian Serb forces at Srebrenica triggered intensified NATO air strikes in defence of 'safe areas' within weeks.
There is little prospect of such an intervention in Ukraine, but Russia is definitely concerned about the rising temperature over the last 48 hours.
Foreign Minister Sergei Lavrov told the TASS news agency that the images from Bucha - which he described as "provocations" - presented a direct threat to international security.
Increased international sanctions are being called for in Europe. The EU Council's President, Charles Michel, said that more are on the way.
The UN Secretary General has described as "essential" the need for an independent investigation and accountability over what has happened in Ukraine.
Former UN peacekeeper in Bosnia - retired Colonel Colm Doyle - has described the prospect of any such investigation as challenging.
"In Ukraine you will need witnesses...it will be a challenge [but] that's not to say it should not be attempted," he told RTÉ's News at One.
On the evidence of its utterances so far, getting Russia to co-operate with any probe will be a major stumbling block.