Israel has again been accused of practicing apartheid in the occupied Palestinian territory (OPT), this time by the outgoing UN Special Rapporteur for the situation of human rights in the Palestinian territory occupied since 1967.
Professor Michael Lynk addressed a conference in Dublin today, where he outlined how he came to the conclusion in a UN report published last week, which echoed recent findings by Palestinian, Israeli and international human rights organisations, that apartheid is being practiced by Israel in the occupied Palestinian territory.
On the publication of the report, Prof Lynk said: "There is today in the Palestinian territory occupied by Israel since 1967 a deeply discriminatory dual legal and political system that privileges the 700,000 Israeli Jewish settlers living in the 300 illegal Israeli settlements in East Jerusalem and the West Bank."
At a conference organised by Sadaka, the Ireland-Palestine Alliance, entitled 'Dismantling Israeli Apartheid: Developing Ireland's Strategy,' Prof Lynk said when he first took up his (voluntary) role as UN Special Rapporteur, he never thought he would utter the term "apartheid" with respect to Israel's approach to Palestine, never mind publishing it in a report, saying that he thought he would have to use softer language to be persuasive with diplomats.
But he said ultimately it was inevitable he would turn to apartheid, saying "when the facts change, so should your mind."
Prof Lynk said there is a permanence to what Israel is doing with respect to Palestine, despite the fact that under the Geneva Convention, occupation requires that occupation is temporary and short term. He added that everything about the occupation is permanent, and it's not being disguised by Israel at all.
Prof Lynk quoted former UN Secretary General, Ban Ki Moon, who concluded that Israel was operating an apartheid regime in OPT in an op-ed in the Financial Times last June.
"Israel has pursued a policy of incremental de facto annexation in the territories it has occupied since 1967, to the point where the prospect of a two-state solution has all but vanished."
"What has become increasingly clear in recent years is Israel's intent to maintain its structural domination and oppression of the Palestinian people through indefinite occupation. This gives the dual legal system regimes imposed in the Palestinian territories by Israel – together with the inhumane and abusive acts that are carried out against Palestinians – new significance, resulting in a situation that arguably constitutes apartheid."
He also pointed to the fact that Archbishop Desmond Tutu had also used the term 'apartheid' to describe Israel's treatment of Palestine, as far back as 2014, when he said: "I know first-hand that Israel has created an apartheid reality within its borders and through its occupation."
The use of the term 'apartheid' by a leading South African activist is not accidental and gives the lie to the claim by some that Israel cannot be directly compared to South Africa under apartheid.
Prof Lynk said the term "apartheid" obviously originated in South Africa and was formally implemented by legislation in the country, where it lasted until 1994. But he says the current use of the word is defined in international law, in several instruments.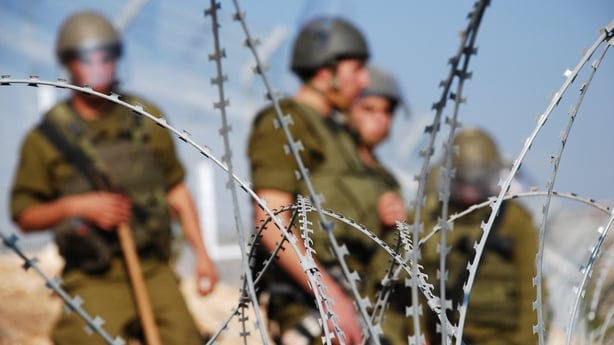 Prof Lynk, whose term as UN Special Rapporteur ends in April, says he has concluded that Israel does practice apartheid in the OPT, even though it does not have the same practice as in South Africa. But he says there are pitiless elements to the treatment of Palestinians – like high walls and extensive checkpoints, segregated highways and the abandonment of social welfare to international aid.
He said he is often asked to provide hope for the future of the OPT, to which he answers that human beings imposed this "oppressive rule that's gone from occupation to annexation to apartheid." And he believes that it can equally be dismantled by human beings with a higher calling to human rights.
Quoting Seamus Heaney, he said:
"History says, don't hope on this side of the grave. But then, once in a lifetime, the longed-for tidal wave of justice can rise up, and hope and history rhyme."
Rania Muhareb of the Irish Research Council also addressed the conference. She said that as well as the system of apartheid, Israel is using settler colonialism against Palestinians and is based upon the domination and replacement of Palestinians.
Ms Muhareb was asked by Independent Senator Frances Black why the international community does not support Palestinians more, asking "why do you think there's no political will to really deal with the issue of apartheid?"
Ms Muhareb said there is political will from some states, for example Namibia and South Africa at the UN Human Rights Council.
"There is some leadership. We also look to Ireland for more engagement on this."
She added that there is hope with growing international recognition of apartheid as seen in successive reports.
Sinn Féin TD for Louth Ruairí Ó Murchú, asked Prof Lynk what the response of the international community should be, considering his comment during his presentation that we've missed the exit to the Two State Solution.
Prof Lynk said that in June 1980, 13 years into occupation, the UN Security Council said there was an overwhelming necessity to end the prolonged occupation of Palestine by Israel and it criticised the state for ignoring UN resolutions.
Prof Lynk wondered how many reports will it take?
"If it was prolonged after 13 years, what is it after 55 years? Is Israel not a bad faith actor if it still hasn't acted upon UN resolutions?"
He also drew attention to the speed with which the international community reacted to the invasion of Ukraine.
This was a point also raised by Inès Abdel Razek, Advocacy Director for the Palestine Institute for Public Diplomacy (PIPD), an independent Palestinian organisation, speaking from Jerusalem.
Ms Abdel Razek said there was a certain level of incoherence where the international community applies international human rights law to Ukraine but not to Palestine, adding that it must end its complicity with Israel's apartheid and implement proper sanctions against the State of Israel.