He is the former actor and comedian who now finds himself squared up against a Russian President apparently determined to prove that the might of his country cannot be matched.
The unconventional trajectory of 44-year-old Volodymyr Zelensky's political career owes much to the events of 2014, when popular protest brought down the country's then president Viktor Yanukovich.
Mr Yanukovich's heavy reliance on Moscow was not enough to protect him and he eventually fled Kyiv as the "Maidan Revolution" saw the old style pro-Russian leadership replaced with a generation which wanted to foster closer ties to the West.
Unsurprisingly such a move angered the Kremlin, which refused to recognise Ukraine's new government. It seized Crimea and backed separatists in eastern Ukraine in a war which has raged in the region ever since.
Mr Zelensky was a well-known actor and comedian who had starred in film and television and become a household name through his work with the comedy group Kvartal 95.
By 2015 he was playing the lead character in 'Servant of the People', a hugely popular Ukrainian show about an unknown teacher flung into the presidency after a video of him ranting against political ineptitude and corruption goes viral.
The role would prove a critical staging point in Mr Zelensky's journey from actor to politician. He would even go on to call his political party Servant of the People when he chose to run for the presidency.
In 2019 he won a landslide victory with over 73% of the vote. He had taken on the opposing candidate of sitting president Petro Poroshenko, who focused much attention during the campaign on Mr Zelinsky's perceived lack of experience.
A qualified lawyer, Mr Zelensky made that lack of political background a positive, arguing that it made him a breath of fresh air from the traditional politicians who had gone before. He argued that his charm came from being different to other politicians who many Ukrainians had tired of at that point.
He also campaigned differently, going directly to the electorate, focusing time and effort on using social media to get his message across.
Andrew Rasiulis, a fellow of the Canadian Global Affairs Institute, wrote at the time of Mr Zelensky's election that his inauguration speech was "remarkable for what it said and what it did not say. The Ukrainian electorate demanded change from the encrusted old guard of Ukrainian politics... Day one of Zelinsky's term suggests that a new era in Ukrainian politics has indeed arrived".
That new era was one which would be based on ending the war in eastern Ukraine. Finding peace with Russia had been a central tenet of Mr Zelensky's campaign, as he told a country sick of warring with Russia that he would bring a resolution to the conflict.
He attempted to do so through dialogue and to implement the Minsk accords, but no lasting peace was ever found and tensions have only increased in recent years, leading to the current crisis.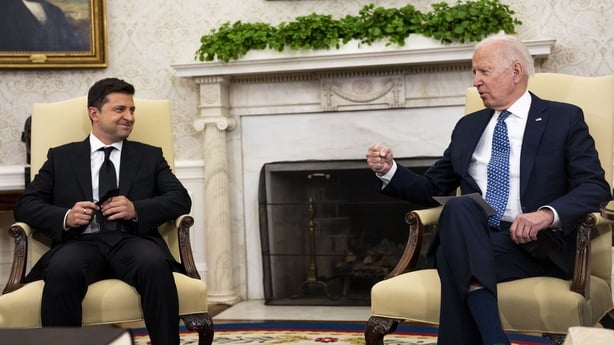 It was a brush with another politician who styled himself as a maverick and mould-breaker which previously brought Mr Zelensky into a global spotlight. In 2019, US president Donald Trump asked the Ukrainian president to launch an investigation into corruption allegations against Joe Biden, who was polling ahead of Mr Trump in the run-up to the US election.
The phone call between the two men was leaked by a whistleblower with Mr Trump facing accusations that he was illegally pressuring Mr Zelensky to help damage his political rival, a claim Mr Trump denied. Mr Zelensky was adamant no quid pro quo had taken place, and that no investigation had been launched.
Now Mr Zelensky finds himself looking to Mr Biden to rally Western support as he navigates the prospect of war in Europe.
"We expect clear and effective steps of support from our partners," Mr Zelensky has said in recent days. "It is very important to see who is our real friend and partner, and who will continue to scare the Russian Federation with words."