The Irish Government now puts the likelihood of the UK triggering Article 16 of the Northern Ireland at 50:50, but not before Christmas.
"It's reasonably clear that London has decided it doesn't want a big drama before the end of the year," says a senior Irish official.
January could be the decisive month. However, other member states believe it is still not a question of if but when Article 16 is triggered.
One EU diplomat suggests that the UK may even trigger it in order to shore up unionism ahead of next May's Northern Ireland Assembly Election
"London has been taken aback by the DUP's under-performance in going into the elections, and by the rise of Sinn Féin in the south," says the diplomat. "So those two things might lead to some form of arithmetic in London that they need to trigger regardless."
Predicting London's intentions is always difficult, however.
The internal dynamic is a blend of chief negotiator David Frost's hardline approach and Boris Johnson's mood swings, obsessing as he appears to do about how Article 16 will play domestically.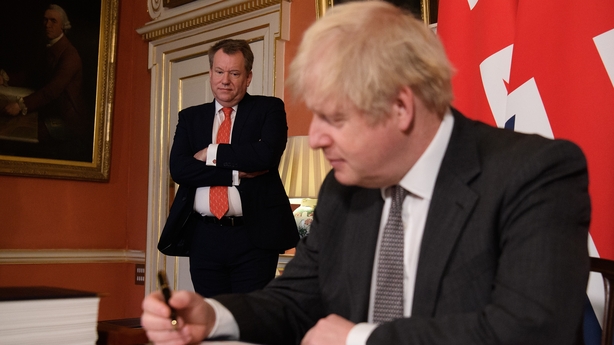 "They're hypersensitive to how that signaling and messaging on the protocol plays within their own core base more than anywhere else," says the official.
This explains the weather patterns of recent weeks. On 21 November Maros Šefčovič, the EU's chief negotiator, welcomed the "change in tone" from David Frost.
That optimism was pushed back by Frost himself in the House of Lords the following week. In reality, London was spooked about momentum towards a pre-Christmas deal, and there was probably a measure of Brussels over-interpreting the change in approach.
While the technical teams have been making steady, if slow, progress, things are not moving at the political level. The Frost-Šefčovič meeting in Brussels last Friday (26 November) was difficult.
"It was more a reversion to form," says one EU diplomat. "It was negative and aggressive compared to the previous meeting."
The view in London is that UK officials thought they were landing points with their opposite numbers which were not landing, but that subsequent contacts at official level have provided some more clarity.
Still, Dublin believes that Boris Johnson has given David Frost a mandate to negotiate through December to see what kind of agreement emerges, and this view is supported by UK sources.
"Then they will decide in January whether they think it's enough, or whether they're back to pressing the Article 16 button," says an Irish source.
The talks on the EU's four proposals to ease the burden of the Protocol remain stalled on several levels.
Those proposals, covering medicines, customs, sanitary and phytosanitary (SPS) checks and an oversight role for Northern Ireland institutions and stakeholders, were published on 13 October.
A fundamental hold up is that Šefčovič believes the papers, including a pledge to cut SPS checks by 80% and customs checks by 50%, are a generous offer to which the UK has not reciprocated.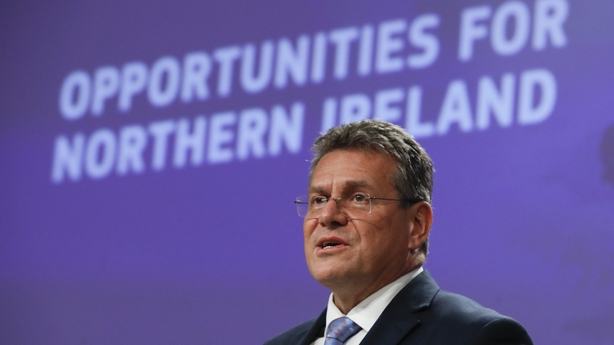 Reciprocation would include, at least, a clear commitment by the UK to ensure that permanent Border Control Posts (BCPs) at Northern Ireland ports would be completed and properly staffed, even if the overall level of checks is diminished, and that there is a clear commitment from London to give EU officials (and capitals) access to UK customs data for GB-NI trade flows.
The UK is still unconvinced about the precise delivery of the promised 80% and 50% reduction in checks and whether or not the remaining 20% and 50% formalities would still mean a chilling effect, whereby GB producers were dissuaded from sending goods to Northern Ireland because it is too expensive or too much hassle.
What do we know about the detail of these issues in the talks?
The overall position is the extent to which the EU is prepared to move closer to the UK Command Paper, published in July.
The Command Paper envisages a regime where only goods that are clearly destined to move on to the South when they arrive at Larne, Belfast or Warrenpoint should be subject to EU checks and controls.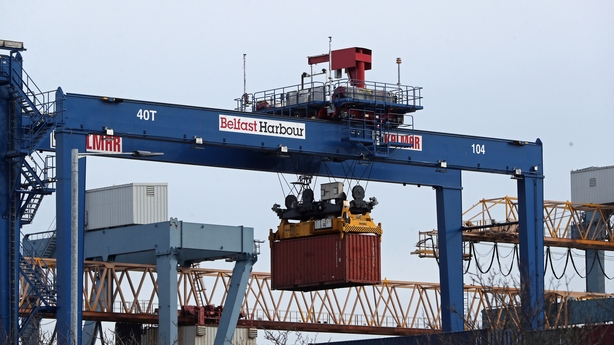 Goods clearly destined for Northern Ireland-only should not be subject to any checks, and essentially industry would be trusted to ensure no leakage of goods across the border.
The EU agrees with the overall principle, but argues that there still must be targeted checks in order to determine the extent of the risk of goods moving South, and where those risks lie (and that it can't simply be outsourced to industry).
This is the current playing field, but the solutions are contentious, especially when it comes to SPS checks.
The EU non-paper on SPS proposes a system whereby checks are reduced significantly but not completely.
A simplified "global certificate" for agri food consignments would state that a mixed consignment of food products in a container met EU food safety rules.
This would remove the need for Export Health Certificates (EHCs) for each product in the load.
Instead of a vet signing off on the certificate, it would be done by a UK or Northern Ireland agriculture official.
While the certificate would have a small number of data lines, a deeper bank of information on traceability would be available electronically.
The EU would specify a list of products which are normally prohibited (ie, chilled meats) and these products would require an individual certificate.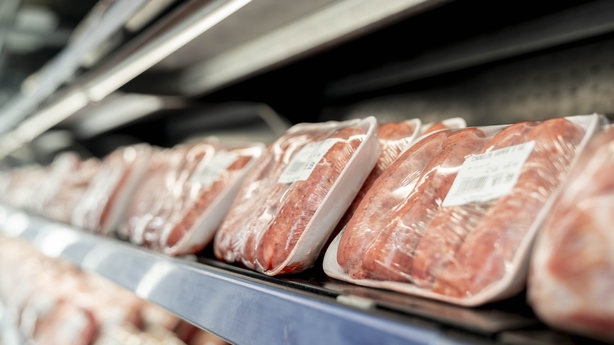 In return, the frequency of identity and "physical" checks at Northern ports would be reduced, based on a risk-management approach.
This new approach would require products to be labelled at the supermarket end as being "for sale only in the United Kingdom". Certain categories of food would be produced according to EU standards.
In other words, the EU is recognising that some consignments are clearly only going to Northern Ireland. These would avail of green lanes at Northern ports.
However, checks would be reduced, but not eliminated, and the system would be subject to monitoring and audits, a review clause, and a rapid alert system if there is a problem.
Northern Ireland retail sources describe this as a triple-lock: proving goods are not crossing into the South, labelling and conformity with EU standards. They say it would be impossible for businesses, certainly SMEs, to comply with all three.
"Even if there are fewer checks, the friction of the paperwork for traceability will still mean too much cost," says one source.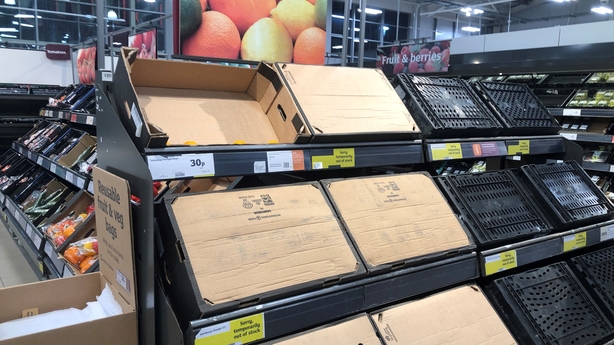 Under the current grace (or standstill) periods, agri food consignments moving from GB-NI are governed by the so-called STAMNI scheme.
This is a temporary UK authorisation (accepted by the EU) which replaces the Export Health Certificates for products not destined for the South.
The scheme removes scores of data lines that would normally be in an EHC to prove the traceability of an animal-derived food product (ingredients, which herd, abattoir etc).
Instead, it has only around ten data lines and, again, can be signed off by a UK or NI agriculture official, rather than a vet.
Sources say this system is irksome but "doable" as a solution, compared to life before Brexit.
However, so far the EU has resisted accepting the STAMNI scheme as permanent. That is because both sides are at odds over what the baseline of the negotiations should be.
London says the baseline should be the pre-Protocol situation, while the EU says the Protocol requirements, as of 1 January, should be the baseline (industry says it should be somewhere in between).
In other words, the EU currently regards the STAMNI scheme as a creature of the grace periods which the UK unilaterally created (and which the EU still regard as a breach of the Withdrawal Agreement), and not something that is close enough to the Protocol's original aims.
EU officials say that if they are to loosen the triple lock then the UK has to agree to complete credible BCP infrastructure, so that if there is an unusual spike in imports of a certain food product then there is a system in place to check it.
"Why would you even start contemplating that if the UK is not playing ball at all," says one EU official familiar with the talks, "showing no interest in actually creating the conditions for the whole system to work?"
UK sources suggest that if there was movement on customs, then that could help with SPS checks, and it appears that this week the EU is taking a more flexible approach to customs checks, including widening the scope of which sectors can avail of a trusted trader scheme.
It is also understood the UK is proposing that local authorities north and south of the border play a role in monitoring any aberrations in the new system.
The EU response to industry complaints is that so long as the UK refuses to have a closer agreement on SPS issues, such as through a Swiss-style agreement, then member states are reluctant to compromise too far.
"Member states have been making the case quite forcefully for not loosening standards," says one official.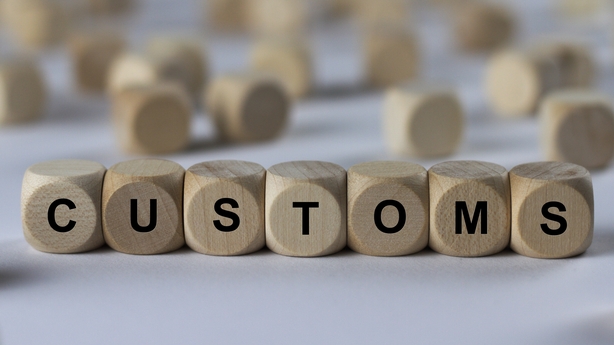 "So when it comes to trusted trader schemes, there are ways that you can expand them, or make them even more trusted, give them even more access. But it can't be at the expense of security and safety standards."
And in that context, the EU believes that industry will be capable of adapting by sourcing goods elsewhere. Once there is a clear set of rules that everyone abides by, then companies will adapt and there will be opportunities as well as problems.
"Why is there not a massive sausage factory in Northern Ireland that does brilliant Cumbrian-style sausages?" asks one official.
This seems to go to the heart of the current standoff.
The UK is insisting on the centrepiece of its Command Paper, or that, in simple terms, goods clearly staying in Northern Ireland should have as few checks as possible; the EU is saying that the kind of hard Brexit London has sought means there will inevitably be friction, and that the UK is still not engaging in detail in the EU's proposals for ideological reasons.
The UK also believes that trade diversion, or the adaptation of supply chains, is already happening to the detriment of East-West trade and is therefore grounds for triggering Article 16.
---
---
The view in Dublin is that industry will classically - and legitimately - seek to reduce the regulatory burden as far as possible.
However, officials suggest the nature of the Northern Ireland economy means that some sectors will adapt better than others, and that the UK cannot expect a clear-cut, catch-all definition of no checks for NI-bound goods, and checks for Republic of Ireland goods.
"In the round, how much does the actual regulatory regime weigh on each product?" says a senior Irish official. "The truth is it varies depending on the sector, the products, the volume, the trade, and so on.
"You're still going to find that you'll have problems for individual companies or sectors or products, rather than it being a blanket problem across the economy.
"The difficulty, then, is that, once it's framed like that, no matter how much better you make it, there will always be hard luck cases that fall on the wrong side of the line. They'll be ones that we're reading about in the papers every time, but they're being weaponised in the service of the UK's ideological approach."
Despite the problems on the SPS and customs front, it's understood that there has been much more progress on the medicines issue, but again a deal is being held up by conflicting approaches over how the agreement is sequenced and presented.
In short, the Protocol originally framed the licensing of medicines as a single market issue, in that medicines circulating in Northern Ireland would have to be authorised for sale and for quality control purposes by a license holder based in NI, under single market rules, or in any EU member state.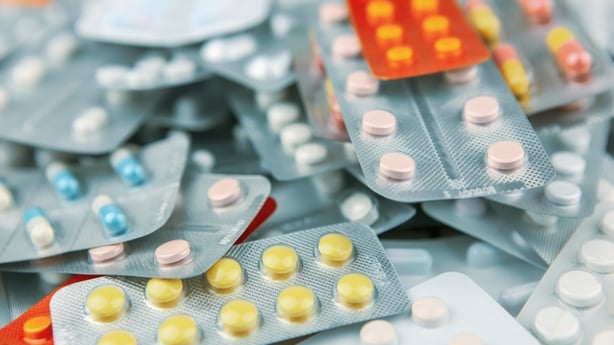 A one-year grace period was agreed last December under a deal brokered by Frost's predecessor Michael Gove and Maros Šefčovič, but since then the European Commission has said it would change EU legislation to ensure that medicines, including generics and innovative drugs, could be licensed by the UK regulator (or GB license holders) so they would flow freely to Northern Ireland.
Šefčovič has been pushing hard for both sides to agree to this new approach in order to show people in Northern Ireland, for whom this is a very real issue, that the EU is serious about its concerns, and to create momentum that could lead to agreement in the other areas.
While UK figures privately admit that London's concerns have been almost, if not completely met, David Frost has been reluctant to sign off the medicines package.
"There's an element of concern on the UK side that this progress could be misconstrued that somehow the entire package is now on a good track," says one diplomat briefed on the talks. "I don't think that, in their view, they are on a good track."
For that reason, Šefčovič is expected to publish the European Commission's medicines legislation, partly out of frustration, partly because it will need to go to the European Parliament under co-decision rules.
It is understood the UK has not been given the legal text, but a copy of it has been placed in the European Commission office in London for a UK official to read - an arrangement that has caused some irritation.
The question, as the end of year approaches, is whether or not the EU has more concessions up its sleeve on SPS and customs (the October proposals were designed to allow for UK modifications, provided they did not require a renegotiation of the Protocol), and what reciprocal moves from London will allow both sides to jump.
---
Podcast: Brexit Republic - 'Significant Gaps Remain'
---
A sober depiction of London's position is that the Command Paper is the new baseline and that the UK political and trade systems should be trusted to ensure the integrity of the single market.
"The way the EU thinks about this is that we have outsourced control of our external border for customs and goods," says a Dublin source, "to a British government that is ideologically opposed to what we're trying to do, and trying to frustrate the agreement we reached."
Momentum, therefore, is a precious asset, just as a lack of momentum can feel like things are going backwards.
The Financial Times report this week, that the US was delaying lifting Trump-era tariffs on UK steel and aluminium imports because of the Article 16 threat, may have focused minds in Downing Street.
EU diplomats briefed on the matter have confirmed the FT story, although the takeover of British Steel by a Chinese company is also said to be a factor in the delay (tariffs on EU steel and aluminium will be lifted on 1 January).
If January comes around and David Frost is still not satisfied with the EU's offer on the Protocol then Boris Johnson will have to decide whether or not to trigger Article 16, and whether a confrontation with the Biden administration is worth it.
Sources briefed on his recent phone call with Taoiseach Micheál Martin say Johnson has contested the notion that he wants to keep relations with the EU on a confrontational level for domestic reasons.
"He got elected on the back of 'get Brexit done,'" says one source. "This is now playing out in a way that can be presented as Brexit not being done at all and it's still a mess."
Johnson is said to be genuinely "sore" at how the Protocol has turned out, whether or not he understood the full implications when he signed it, and sore about the increase in North-South trade.
"At the end of the day," says an Irish source, "the wily politician in him will know he'll have to make judgment as to whether the deal is worth taking or, if not, will he go to war?
"How much better are you going to make the deal on the table when the space to improve it will, by definition, be smaller and smaller."