In his final piece of online analysis, former RTÉ News Northern Editor, Tommie Gorman, looks back on the career of outgoing First Minister, Arlene Foster, and asks what next for power sharing in Northern Ireland.
For much of her five and a half years as DUP leader, Arlene Foster has been waiting for the sky to fall.
When the end came, as so happens in politics, it was brutal.
A number of times in a past life she was one of the very few who sat up late with the then leader, Peter Robinson. One more heave was brewing in the DUP civil war between those who yearn for the past and those who worry about the future.
She was there when the Cowboy Supper Takeaways were ordered and Robinson and his advisors worked up a formula to quell discontent in the ranks.
When he called time on his career at the end of 2015 and manoeuvred her in as her replacement, she secretly promised the person in the mirror that she would never allow herself to be squeezed into a dark corner where the only exit is under the sign marked "demise".
But that's where she was on Tuesday. The bailiffs had gathered in numbers. The paperwork was in order. The choice was leave or be evicted.
Margaret Thatcher, Ian Paisley, Charlie Haughey, David Trimble, Alan Shatter, Frances Fitzgerald, Brian Cowen and Alan Dukes are just a selection of the many who have been in the space where the numbers don't add up to survival.
It is the loneliest of places. When the unavoidable decision is made, the instinct to fight completely disappears. In nano seconds it is replaced by a silence and a sad calmness.
And the realisation that a phase of life is over.
Even before Sam McBride's accurate prediction of the decisive putsch was carried in Tuesday's Belfast Newsletter, Foster had a sense of foreboding. The previous evening warnings were relayed that the storm clouds were gathering.
She rose early in her home near Fivemiletown on Tuesday morning. Court proceedings related to her personal life were continuing in Belfast. The latest bout of infection to challenge her immune system had cleared.
She dressed in blue. The same outfit she wore when she was filmed kicking football with Michelle O'Neill the previous Thursday and when they joked about the Sinn Féin leader's pre-Late Late Show appointment with a hairdresser.
The fortified security vehicle ferried her to Belfast where she and Education Minister, Peter Weir, had a scheduled mid-morning event on The Shankill Road. She used the standard "crisis, what crisis?" technique to deal with a possible coup query from a BBC Northern Ireland journalist.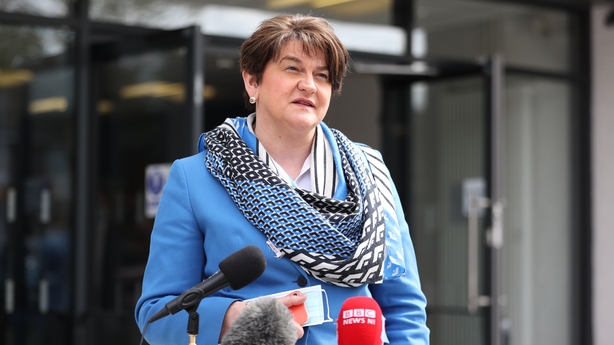 And then she braced herself for what she knew in her bones was coming.
The bunker was the DUP office on Belfast's Shore Road. It was there she spent the Gethsemane hours. It was eerily quiet, in contrast to Stormont where regime change was gathering momentum.
Sitting in the ground floor office on the terraced house on the Shore Road, there was no break in the flow of bad news to her.

"Sources and senior sources" was the shorthand in circulation. There was no nailed-down proof about the "up to 22" wanting her to go. But it was clear the Assembly critics were coalescing around Agriculture Minister Edwin Poots and that she could rely on no more than a dwindling minority of the 27 members.
The smaller section of the DUP electoral college, the Westminster MPs, has only eight members but they are some of the best-known party figures. Foster knew the sums - at best she could rely on Gavin Robinson, Gregory Campbell and probably Jeffrey Donaldson and Sammy Wilson. The other four, Ian Paisley Jnr, Carla Lockhart, Jim Shannon and Paul Givan might all be minded to replace her.
Without the mother of all squabbles, the London and Stormont numbers wouldn't add up to a realistic chance of survival.
It was another grouping, with four members, that kept imposing itself on Foster's thinking. The quartet, not the Assembly and Westminster matrix, became the decisive factor in her decision-making.
Her husband, daughter and two sons had observed, close up, the realities of her working life. They wanted the turmoil and the toll to end. It was the bond that ferried her over the Styx.
The "sources and senior sources" still had not publicly surfaced as Foster was ferried down the road on Tuesday night. Speculation on her demise was no more than that.
But she had made her decision.
A night's sleep brought no change in her intentions. She had a morning event to attend in her local constituency but the work on her statement was under way.
Arlene Foster went her hairdresser for the first time in 17 weeks. David Blevins of Sky News and cameraman Chris Beck were contacted. A room on the Brookeborough Estate was booked. Blevins' reliability to honour confidences and provide pool material for other outlets was guaranteed.
Foster made contact with British Prime Minister Boris Johnson and her Sinn Féin partner in government Michelle O'Neill to tell them of her plans. She phoned her party chairman, Lord Morrow, at 3.45pm.
The pre-recorded speech was made available to media organisations.
Northern Editor, Vincent Kearney was able to break the story on RTÉ One's 4pm television news.
We need your consent to load this YouTube contentWe use YouTube to manage extra content that can set cookies on your device and collect data about your activity. Please review their details and accept them to load the content.Manage Preferences
The struggle to cope with change
Arlene Foster had herself been a plotter in a past life. She and Jeffrey Donaldson were prominent among the Ulster Unionist party members who persistently attacked David Trimble as he attempted to find ballast and stability in the first post Good Friday Agreement Executive that included Sinn Féin.
On a January night in 2004, a piper led to three DUP new signings, defectors, Arlene Foster, Jeffrey Donaldson and Norah Beare, into a packed hall in Lisburn.
Trimble would survive as UUP leader for another year but this DUP gloating gave a push to the UUP's unstoppable drift towards the margins.
I first got a close-up view of Arlene Foster's sparky character in September 2004. The British and Irish governments were hosting political talks with Northern Ireland's political parties at Leeds Castle.
There was a remote possibility that a rutting season between the DUP and Sinn Féin was under way. (It would be a marathon involving a most unlikely pairing).
Prime Time was seeking guests from the two main rival camps for down the line interviews with Miriam.
Sinn Féin offered its then Vice President and Westminster MP, Pat Doherty. RTÉ was not high on the DUP's priority list but eventually, one of its lesser figures, 34-year-old recent convert, Arlene Foster, was made available.
On that cold night in the south of England, I was on duty to provide the on-the-ground liaison with RTÉ HQ. Foster refused to engage in any chit chat with Doherty during the pre-broadcast waiting around. She pointedly turned away from him and looked in the other direction.
The chill was everywhere. Could I get her a drink, I asked, silently wondering if a cup of coffee or glass of water, might lessen the tension.
"I'll have a brandy," she said.
Amused and surprised I went off to fulfil the request.
Before the cameras went live she downed the mixture in one motion and then got stuck into a combative engagement with Sinn Féin before quickly disappearing after the broadcast ended.

Trouble was never far away
Peter Robinson always rated her. Although she was a "blow-in", he had a role in having her appointed Minister for the Environment when the DUP, under Ian Paisley, entered power-sharing with Sinn Féin in May 2007.
The following year when Robinson manoeuvred Paisley into retirement and took over as leader, Arlene Foster began a seven-year term as Minister for Enterprise, Trade and Investment.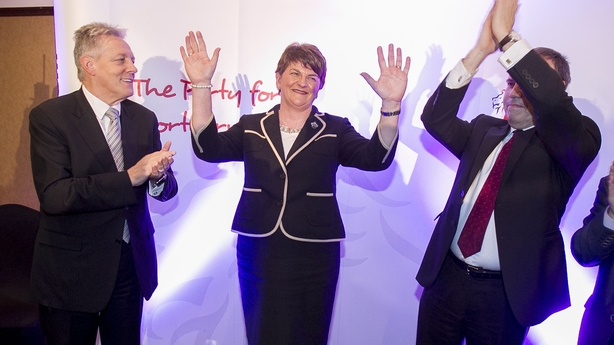 On that investment-chasing circuit, she sometimes crossed paths with her counterpart from south of the border, Mary Coughlan. Foster often made a point of prominently displaying Union branding on her travels. Coughlan used to smile and look towards the heavens when she'd see it.
But as women in a male-dominated trade and as neighbours from border counties, they struck up a friendship. (Indeed Mary Coughlan was one of several politicians from south of the border to make contact with her after the resignation announcement this week.)
Heather Humphreys, the current Minister for Social Welfare and Acting Minister for Justice, is another who bonded with her. As with Coughlan, the border women who sometimes use colourful language is a shared trait in the personal chemistry.
In Humphreys case, the Protestant background is another. Foster's grandmother once cycled over the border to sell lace in Humphrey's constituency. Some of the men who tried to kill Foster's father once regularly travelled with malign intent over those border same roads.
Humphreys and Foster were in contact last Monday morning, talking about the tourism potential in the Irish Government's plans to invest in the Ulster Canal.
Constantly questioning herself
Those who know Foster are aware of her short fuse and her ability to say things and do things she later regrets.
The obvious example is her "crocodiles" remarks about Sinn Féin and its Irish language policy demands.
Gerry Adams responds to Arlene Foster's jibe likening SF to crocodiles by saying - "See you later, alligator". pic.twitter.com/eQG0QawWOK

— RTÉ News (@rtenews) February 6, 2017
But there were other important ones too. During the 2016 Euro Championships in France Martin McGuinness, her then partner in government, practically begged her to join him in attending two football matches - one featuring Northern Ireland and a second involving the Republic of Ireland.
It would send out a powerful, positive message, he argued. But she couldn't be persuaded to do so. She was six months into her leadership and she was wary of taking risks.
Nine months later Foster travelled to Derry to attend the funeral of Martin McGuinness. Yes, they had disagreed at the Euros in France. True, his January 2017 announcement that Sinn Féin was pulling out of power-sharing because of the RHI controversy triggered the darkest time in her political career.
But as McGuinness was losing his battle with cancer at Altnagelvin Hospital, she asked that her good wishes be extended to him.
That March morning of his funeral, she took a phone call, begging her not to attend, from a friend whose family had been scarred by the IRA. But Foster continued on her journey.
Two years after her Euros no-show, even though Stormont was still in mothballs over the RHI controversy, Foster attended her first GAA Ulster Final. She travelled those Fermanagh/Monaghan border roads embedded in her troubled memory.
It helped that her native Fermanagh were playing Donegal. Among the surprised supporters at Saint Tiernach's Park, Clones who took note of her attendance was Enniskillen native, Line of Duty actor, Adrian Dunbar.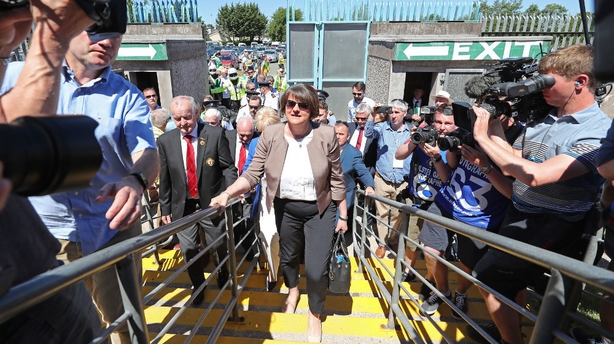 Her public persona and the caricature it shaped often failed to show a warmer, vulnerable side. In February 2020, a month after Stormont's three-year closure ended, she went south for the Late Late Show. Like most mortals, she was nervous in advance of the engagement.
As the clock ticked towards showtime, potential disaster made an unwelcome entrance. The zip in her dress split. She had no replacement close to hand. A member of the RTÉ backstage team arrived within seconds and repair work began.
As Ryan Tubridy quizzed her about Brexit, North South relations and whether she trusts British prime minister, Boris Johnson, Foster gave her rapid-fire replies while secretly praying that the emergency stitching would hold.
As the UK leaves the European Union, Northern Ireland's First Minister Arlene Foster @DUPleader tells the #LateLate how she feels about Brexit, and her thoughts on Boris Johnson. pic.twitter.com/gY013GQlmy

— The Late Late Show (@RTELateLateShow) January 31, 2020
She struggled and ultimately failed to lead a party riven by policy disagreement. She herself is regularly pre-occupied by self-examination and self-doubt. On Saturday 20 March last, in her family home her husband and children were watching a rugby match on television. It was Ireland versus England and one of the few days when even the most staunchly unionist households in Northern Ireland are baying for a victory by the men in green.
Foster took herself off to the graveyard to visit the resting place of her late father. I remember his wake. She brought me to the open coffin and showed me where the IRA bullets had left a mark on his forehead but failed to kill him.
We were together in the front room of the terraced house in Lisnaskea, close to the police station. The family had been advised to move there after the IRA gang targeted them on their border farm. "A box" was how her grandmother used to describe the new home, as she longed for the fields and the fresh air.
While her family watched rugby, Foster prayed at her father's grave, surrounded by the headstones of many more neighbours who were murdered because of their religion and, in some cases, their land.
In my final interview with her on Saturday 27 March she indicated to me, one more time, that she could not see herself remaining on the island if a United Ireland emerges during her lifetime.
But how could Foster reconcile the pull to stay close to those living and dead with relocation far away from what is familiar to her?
Loyalty to truth was a factor in demise
She has a belligerent loyalty to truth.
Often it is a contentious version of truth.
But she finds it difficult, indeed impossible to rein in the instinct.
In the RHI inquiry, when asked if she had read the legislation she was about to enact as Minister, Foster took a stance that very few might adopt if faced with her embarrassing predicament.
She told the truth. She answered "No".
That same stubborn trait was the thread that led to her unravelling.
Lyra McKee was the 29-year-old journalist, killed by a dissident republican bullet, as she observed rioting in Derry in April 2019.
Arlene Foster knew little about her at the time. But she was in Saint Anne's Church of Ireland Cathedral when she, the assembled political leaders and the wider world heard Fr Martin Magill ask "why in God's name does it take the death of a 29-year-old woman with her whole life in front of her to get us to this point?"
We need your consent to load this rte-player contentWe use rte-player to manage extra content that can set cookies on your device and collect data about your activity. Please review their details and accept them to load the content.Manage Preferences
Lyra McKee's death, like the murder of another completely innocent man, Robert McCartney, in 2004, touched not just a nerve but the conscience of Northern Ireland.
When a formula to restore power-sharing was confirmed by Secretary of State, Julian Smith and Minister for Foreign Affairs, Simon Coveney, in December 2019, they mentioned the impact of Lyra McKee's death.
Circumstances introduced Arlene Foster to the world of Lyra McKee and the partner she never got to marry, Sara Canning. They also started Foster's friendship with the priest who spoke raw truth, Fr Martin McGill.
Arlene Foster was reared with the belief that marriage is the relationship between a man and a woman and she steadfastly holds that view. She is a church goer. During the pandemic she has missed the routine of Sunday gatherings and singing in a choir.
But more and more her time in public life has confronted her with the difficult truth that many people do not share some of her views and values.
Two years ago she was photographed alongside Alison Bennington, at a DUP selection convention. She had turned up and sat in the front row to give her public endorsement to the first openly gay DUP candidate who would, in May 2019, win a seat to Newtownabbey Borough Council.
Another example of the issue that would not go away was from a marriage equality gathering one sunny afternoon on Belfast's streets. A balloon, with a string attached, hovered above the crowds with the slogan "F--- the DUP".
Some of Northern Ireland's citizens struggle to accept that every society since time began has gay members. The North has gay clergy, gay street cleaners, gay business owners, gay traffic wardens, gay police officers, gay broadcasters and journalists and gay politicians. Among Northern Ireland's largest parties, the DUP continues to struggle with that reality.
In Stormont's Assembly on 20 April an Ulster Unionist Assembly motion, proposed by two of its members, Doug Beattie and John Stuart, successfully sought the banning of gay conversion therapy. It argued that it would be fundamentally wrong to view the LGBTQ community as needing "a fix or cure".
A DUP amendment counter-claimed that "legitimate religious activities" including preaching, prayer and pastoral support did not constitute conversion therapy. Some DUP members argued there should be a balance between "dangerous practices" and any attempt to "restrict freedom of religious belief" speech and freedom.
The DUP amendment did not get sufficient traction.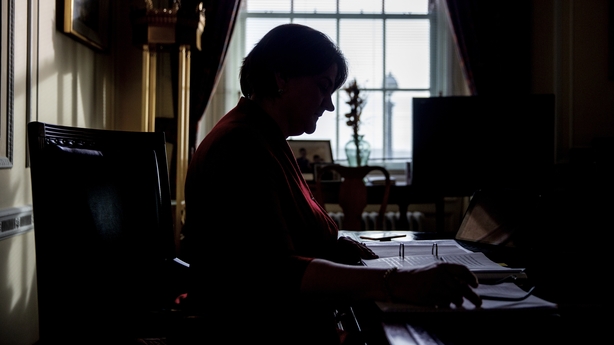 Belligerent truth now came knocking on Foster's door once more. She thought of LGBTQ people she has met in her public life. She took account of her own religious beliefs. She knew the views of significant sections within her own party and elements of its support base that were opposed to the UUP motion. But she also reflected on the situation of LGBTQ individuals in her circle, her party included.
Most of the DUP Assembly members opposed the motion. Arlene Foster, party leader and four key members of her team abstained. The fuse was lit. The unravelling was under way.
Those who wanted to begin the ousting process now that had issue could launch the putsch.
Ironically but probably not deliberately, the Ulster Unionist Party that Foster helped undermine by her defection to the DUP had provided the controversy that led to her demise.

The DUP dilemma - the future or the past?
55 year-old Lagan Valley Assembly member, Edwin Poots, is odds on favourite to replace her. It is a remarkable change of fortune.
When successfully undergoing cancer surgery recently, he temporarily stood aside as Minister for Agriculture. Junior Minister, Gordon Lyons, stepped up to temporarily fill the vacancy.
The modernisers thought Lyons might have a future beyond the immediate present. But Edwin Poots is back now, stronger.
The Paisley family will be pleased. They always felt Ian Paisley senior has been jettisoned with indecent haste by the party he founded. In the years since, Edwin Poots, like his late father, remained close to the Paisleys. Ian Paisley junior is conscious of the connection.
In the Assembly some of the younger DUP members like Paul Givan, Jonathan Buckley and Christopher Stalford are close to Poots. He rarely walks alone within the Stormont building.
He was a significant voice in one of the many rounds of negotiations with Sinn Féin. One of those who'd sometimes have a yarn with him on the margins of those gatherings was Gerry Adams.
As with many new beginnings, for Poots and his colleagues these early days could be the best ones. Soon the complex realties will kick in.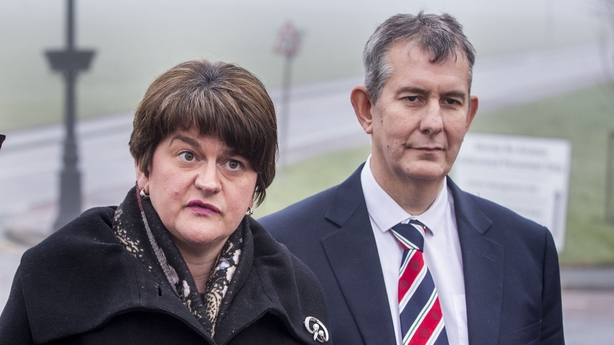 Some commentators speculate about the DUP dream ticket - Edwin, the traditionalist and urbane Jeffrey Donaldson in Westminster. That might work swimmingly in a one-party state but it is likely to be tested, soon, in Northern Ireland.
The first discussion between the new DUP team and its partner in government, Sinn Féin, will be interesting.
The first item Michelle O'Neill will want on the agenda is the matter of the bounced cheque - the Irish Language Act that Sinn Féin has been promised but not yet received.
Next on the list will be social legislation - the kind of fundamental societal issues that caused Arlene Foster to abstain and burn in recent days.
Then there's the existential question of Brexit – the forbidden fruit, dangled before the DUP and consumed by them in 2016. The faction that brought down Arlene Foster insist the Northern Ireland protocol must be removed. They argue that if there is to be a border, it should be on the island of Ireland. Some distance short of a cunning plan.
While the DUP fought itself, Jim Allister, leader and sole Assembly member of the Traditional Unionist Voice, was the consistently dominant voice of hardline unionism. From the time he left the DUP in 2007 over its decision to share power with Sinn Féin, he has never wavered from his outright opposition to the Good Friday Agreement arrangements with republicans.
If anything he will feel emboldened and vindicated by the events of recent days.
Pitch in Boris Johnson, the most disengaged British Prime Minister in Northern Ireland affairs since the Good Friday Agreement or before; Brandon Lewis, the occasionally present Northern Secretary; the push from sections of nationalism to begin the preparations for a border poll; the marching season, the upcoming 40th anniversary of the Hunger Strikes and the 20th anniversary of the Holy Cross Ardoyne school saga.
All this and more in 2021, the centenary of the foundation of Northern Ireland. If some of the Royal Family do make it across the Irish Sea (with or without the border), might they meet Arlene Foster travelling in the opposite direction to the House of Lords?
And yet when all the jousting, the shafting, the arguing and the seemingly impossible equations are laid bare on the table, one reality still trumps all. The vast majority of the 1.9 million people in Northern Ireland and the 4.9 million neighbours in the south are mainly interested in the present and the future.
They have come too far to go back to the past. They will prevail.
(Tommie Gorman retires this weekend after 41 years with RTÉ. His documentary, Ireland, Cancer and Me, will be screened on RTÉ One on 4 May at 10.15pm)