It was a dinner of asparagus velouté with scallops, followed by filet of sea bass with a barigoule of vegetables, and rounded off by a dessert of mascarpone, eau de fraise, meringue and vanilla ice cream.
At the table were David Frost, the uncompromising lead UK minister on Brexit and the Northern Ireland Protocol, and Maroš Šefčovič, a former Slovak diplomat and his EU opposite number. They were joined by Marie Simonsen, a Danish official in the European Commission who has taken over as head of the UK task force, and her opposite number Rebecca Ellis.
Before the dinner, which lasted three hours, Mr Frost and Mr Šefčovič held a half hour meeting alone. Having already held a number of phone calls, their relationship had been improving following a rocky start. They agreed to restore the hotline set up by Mr Šefčovič and Michael Gove, Mr Frost's predecessor, to avoid any sudden crises.
Will this gourmet extravaganza be seen by historians as the turning point in the long and tortured arc of Brexit's collision with Ireland, a political agony which, in no small measure, is a lot about food?
"That's definitely the goal," Mr Šefčovič told RTÉ News the following day, referring to the hotline. "Let's call each other, let's not surprise each other, let's not be unilateral in what we do, and have a joint approach. In that way we can also guarantee that there will be support for [the process], that it will bring positive results. This is exactly what Ireland and Northern Ireland need."
Despite days of rioting in Northern Ireland, and three months of near petulant exchanges between London and Brussels over a range of issues, there is a new mood in the air, and cautious optimism that both sides can now embark on a long and highly technical process to allow the Protocol to work.
But there remain serious challenges. At the moment the rioting in the North has largely stopped, but after the funeral of Prince Philip it could flare up again. And the marching season is not far away.
Just one month ago, the EU had taken legal action against the UK for a second time over what it called a serious breach of the Protocol and the good faith obligations of the Withdrawal Agreement.
This followed London's decision to unilaterally extend grace periods that delayed the full implementation of the Protocol.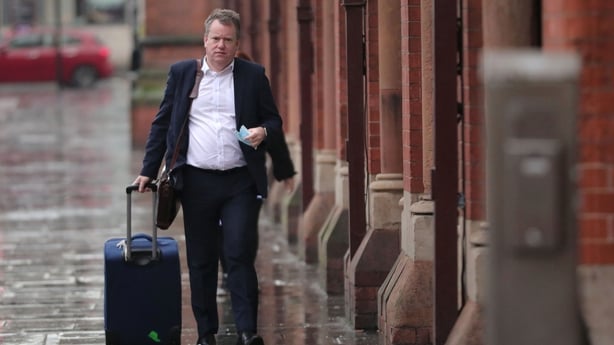 What changed?
"After the unilateral declaration, the trust levels plummeted," says one EU diplomat. "Things are stabilising a bit."
In the aftermath of London's unilateral gambit, the Commission asked for a "roadmap" spelling out how the UK would fully comply with the Protocol, with detailed timelines and "deliverables" on the outstanding issues.
Member states wanted reassurances on the completion of permanent Border Control Posts (BCPs) at Northern Irish ports, access to UK customs databases, and how a trusted trader scheme will work. 
On 31 March, London sent not a roadmap but a "work programme". Downing Street was insisting that both sides had to come up with solutions.
"The UK has this view of it as a joint production, whereas originally the Commission saw it as the UK telling us all how they were going to come into compliance [with the Protocol]," says one EU diplomat. "But the UK looks at the thing as if there are joint obligations involved."
As such, the 31 March document fell short of the Commission's expectations.
"The UK has given indications of coming into compliance in certain areas by certain dates," says one diplomat familiar with discussions, "but there are other areas where there are no dates mentioned. And there are some areas which go beyond what the Commission thought was realistic. That's potentially difficult."
But the "work programme" was accompanied by a letter from David Frost in which he described the paper as a starting point. "The Commission was comforted by that," says the diplomat. "Member states agreed that the Commission could embark on technical discussions with the UK."
Those technical discussions have been ongoing, and they are said to have been positive and detailed.
On Tuesday afternoon, Mr Šefčovič told political group leaders in the European Parliament that the UK had been engaging in good faith, but that there were still some 27 issues around the Protocol which had to be resolved. He was cautiously hopeful. 
"There's engagement from the Brits in good faith on the issues, compared to them trying to get out of commitments," said one source who attended the meeting. "The main difficulty concerns not so much the implementation of the Protocol but more the timing. When things can be done, rather than will they be done."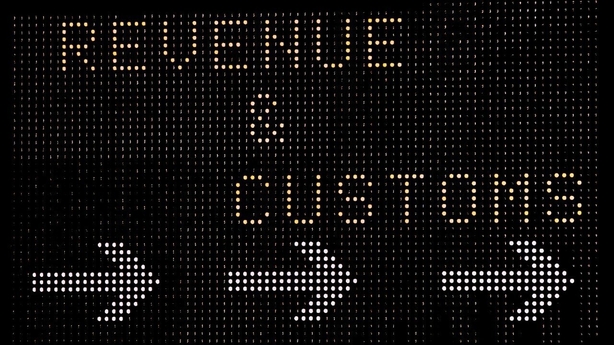 However, London is still demanding the EU drops, or radically softens, some of the restrictions on plants, bulbs, chilled meats and so on moving from Great Britain to Northern Ireland.
UK officials are also said to be pushing hard for concessions on how UK medicines entering Northern Ireland (and potentially then the EU's single market) should be regulated, as well as the question of tariffs on steel imports, another complication thrown up by the Protocol.
But Brussels is still insisting on compliance.
"We are genuinely, really open to finding solutions, and all sorts of flexibilities and working with them on this," says one EU official. "We know it's difficult, but they have to pull their weight on their own side as well and explain how they're planning to do all the other things [the Protocol requires]: BCPs and all the rest."
There has been growing talk of an EU-UK veterinary agreement which, officials say, could eliminate up to 90% of the checks on food products entering Northern Ireland from GB.
Brussels believes this would be embraced by the very people most sorely affected by the Protocol - farmers, supermarkets, food and plant importers.
The view has been that any such agreement would require the UK to align with EU sanitary and phytosanitary (SPS) rules. So far London has resisted alignment, preferring an "equivalence" model, such as that between the EU and New Zealand.
EU officials point out that the trade volumes with New Zealand are vastly smaller than between the EU and UK, and in any case the New Zealand model reduces, but does not eliminate, trade friction.
In the House of Commons on Tuesday, the Northern Ireland Secretary was evasive when asked directly by Labour MP Fleur Anderson if the British government would pursue a veterinary agreement.
"We must get those things resolved, and our intention, aim and focus is on doing so by agreement, and in agreement with our friends and partners in the EU," Lewis replied.
Senior figures acknowledge that the sovereignty-obsessed UK government will not agree to dynamic alignment with EU food safety rules, even in order to deliver a sweeping solution to the difficulties around the Northern Ireland Protocol.
"Whether an SPS agreement is politically reachable, I have my doubts," says a senior EU diplomat. "However, is this where we have to go to really solve the problem? Yes. The EU will probably have to be a bit realistic in the degree of UK alignment [to EU rules] it can attain, and the UK will also have to be realistic in assessing that the genuine disappearance of friction will entail alignment to important elements of EU law, at least in certain areas."
So, some patchwork of agreements and understandings, line by line, may be the gruelling direction of travel that officials will have to take in the coming weeks, if not months.
Senior figures have said that an early agreement could be reached to make it easier for people in Northern to bring pets - or at least guide dogs - and animals bound for trade fairs, in from GB without having to secure EU health certificates and to quarantine the animals.
But food will be the big issue.
Supplying scores of Northern Ireland supermarkets with thousands of tonnes of food containing meat, dairy or eggs, from GB distributors, without the need for cumbersome and expensive EU health certificates, has always been the biggest logistical challenge.
How to address chilled meats, such as sausages or pies, (prohibited from entering the EU from third countries) as well as plants and bulbs, feeds more into the raw question of the Protocol and how it undermines unionist identity.
But member states, who will have to endorse any new agreement on the Protocol, are highly sensitive to public health and consumer protection, and will not take lightly to any corners being cut when it comes to food entering the single market from a third country.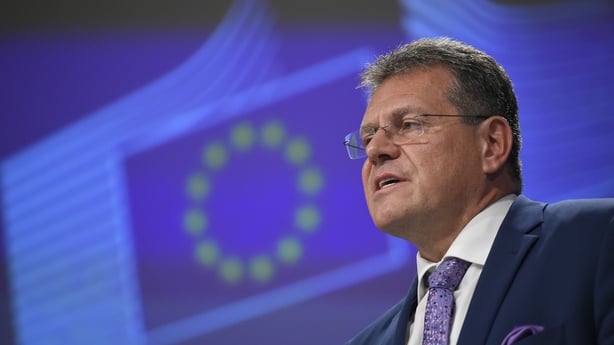 What Mr Frost and Mr Šefčovič agreed to during Thursday evening's dinner was that officials from both sides should look painstakingly at each sensitive area and apply a risk analysis.
In other words, instead of taking a legalistic interpretation of the Protocol and saying that food, animal products and plants moving from GB-Northern Ireland must simply comply with all EU rules, a clear-eyed assessment could be made of whether such goods pose a genuine risk to either the integrity of the single market or public health.
Britain will argue that its food safety and animal health standards are among the highest in the world (although member states remember BSE and foot and mouth) and that the UK was still in line with EU rules on 1 January.
Similarly, the UK is now outside the EU's framework for the prevention of rabies. UK sources say they have no intention of relaxing their own rules post-Brexit, nor will they in the future.
If the EU is applying a risk-based approach, say UK sources, those factors should surely be taken into account, rather than Brussels beginning every conversation by insisting that the UK must align with EU rules.
"You want a discussion which says - what are the risks, what action do we need to take to mitigate those risks, can we look at that and see if it make things easier," says one UK source.
"We genuinely need to get into a discussion, actually getting the experts into a room, to talk about how you might provide the sorts of reassurance the EU needs. A supermarket truck moving GB to NI is not the same as a container ship arriving into Rotterdam. The risk is clearly different."
Senior EU figures say the technical exercise mandated by Mr Frost and Mr Šefčovič will look precisely at this question. But they stop well short of offering any guarantees.
"We will be looking at every sensitive issue separately, and will look at what we can do," says one source. "If there are ways and means to find a more permanent solution we will do so, but we're talking about public health, animal health. It's not something where you can be very flexible, or where you say, we will see what we can do. You have to bear in mind that we have a strict legal framework, and it's not for nothing."
Officials are quick to point out that the EU has its own demands. Brussels wants the UK to deliver a timeline, with milestones, in parallel with the technical talks, showing how London is coming into full compliance with the Protocol.
Inevitably, there will be a tussle over whether concessions to London will be granted after they have come into full compliance, or during the technical talks. The EU believes that the UK was already supposed to be in compliance on 1 January.
It's understood Mr Šefčovič has also pressed upon David Frost the need to take a longer view.
After years of traumatic negotiations, setbacks and conflicts, the EU and the UK now stand before three legal foundations they have both negotiated and concluded: the Withdrawal Agreement, the Protocol and the Trade and Cooperation Agreement (TCA).
Now is the time to build on that, and to build trust, is the view in Brussels.
"We need to show we are in partnership, that we are both serious," says a senior EU figure. "We parted ways but we will be neighbours, allies, and economically we'll be forever very close."
Have the riots in Northern Ireland made any major difference to EU thinking?
They have certainly focused minds and added a sense of urgency. But officials in Brussels and national capitals - who are more tuned into the politics of Northern Ireland than you might think - will not abandon the Protocol, and London has accepted this.
"The rioters are against the Protocol," says a diplomat from one big member state. "Whatever we do won't change that. They won't stop till the Protocol is dead. That's the new No Surrender. Whatever tweak we introduce won't be the solution to the loyalist problem."
"Other factors are playing a part," says another diplomat. "There's a feeling within the unionist community that they've been betrayed by Johnson, and he sold them a different type of agreement that it appears to be. But there are other root causes which have nothing to do with the nitty gritty detail or the lack of an SPS agreement. We're not even at the marching season yet, so it could get worse."
Mr Frost and Mr Šefčovič, however, have an opportunity to keep the Protocol in the realm of detailed, technical discussions over everyday commodities, and for those discussions to run into the autumn.
If that process remains dull and out of sight, Orangemen and women marching throughout the summer might just be persuaded to look the other way.