"The summer is not lost" was the key phrase from Leo Varadkar's address to the nation last June. He was signalling the way out of the first lockdown at a time when the country tentatively dappled in the notion of hope that we soon learned mixed very badly with the coronavirus pandemic.
It was an identical theme that his successor Micheál Martin adopted tonight as he took to the same podium of Government Buildings.
His announcement of a cagey easing of restrictions was almost drowned out by his overall message of hope - his biggest offering of optimism yet.
While the easing of restrictions is extremely modest in the short term, the prospect of more medium-term freedoms was dangled in front of a tired nation in the hope of persuading it to stick the course. The overall message was that a summer of good things will come to those who wait.
This is, the Taoiseach said, the "final stretch of this terrible journey" with the forecast that "this summer our businesses and public services will safely open, we will finally be meeting and enjoying the company of friends and family, and we will be able to travel within and enjoy our beautiful country".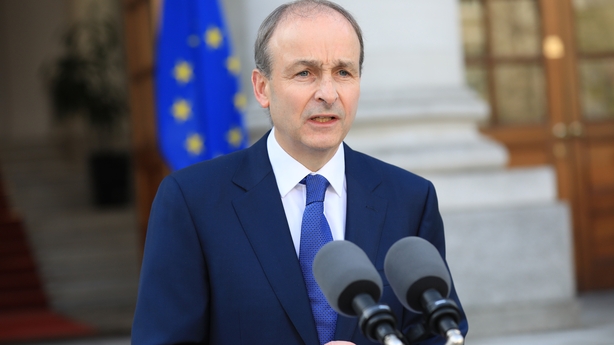 You could almost hear the collective sigh of relief coming from ministers who, a short time earlier, had formally signed off on the latest measures. They sold it as finally having something positive to say. There was, they said, a general sense that things are finally moving and the period from now until the next announcement will be shorter than before.
This was the first time there was anything akin to a 'pathway' out of restrictions and one with an end point in sight. This is something called for by both the Fine Gael and Fianna Fáil parties at their meetings of TDs and Senators last week, who told their leaders that people would simply not swallow another modest easing of restrictions, without knowing what comes next.
Very little will happen in the next phase of re-opening on 12 April - a lifting of the 5km limit, the return to some construction, and the limited meeting of others outdoors.
But there will be a bit more after that. From 26 April, children can go back to outdoor non-contact sport training, outdoor sports like golf and tennis will return, some outdoor amenities like zoos and pet farms will re-open, and funeral attendance can increase from ten to 25.
Beyond that, the Government will consider reopening retail, personal services such as hairdressers, museums galleries and libraries, and religious services from 4 May. We are all being brought on a long promise to freedom.
While many in Government would argue that this is a signpost towards the finishing line - something that is acknowledged was badly needed in order to ensure public buy-in - the longer-term aspects of the announcement are sufficiently vague to leave the Government open to criticism.
Many big questions remain unanswered. A key one is around hospitality and tourism - a sector that has been closed for the majority of the past year, leaving more than 250,000 workers on the Pandemic Unemployment Payment.
Tánaiste Leo Varadkar said at the press conference afterwards that if the reopening of retail, personal services and religious services - earmarked for May - goes well, then "we can consider hospitality in June".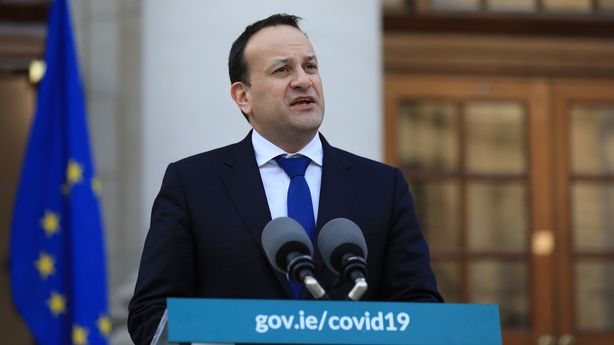 No decision has been made around inter-county travel or when people can budge out of their county or 20km zone. Suggestions from Cabinet sources are that this will be permitted by July.
But the closest we got to details around this was from the Green Party leader Eamon Ryan who said that: "We expect people to be able to [travel around] Ireland in the summer. But that is not for today."
The wider reopening of travel is not just significant for people who live in a different county to the one they are from, but for the domestic tourism sector that relies on people staycationing and spending time in Ireland this summer.
While the Irish Hotels Federation welcomed the indications that guesthouses, hotels and B&BS are likely to re-open in June, the Restaurants Association of Ireland said its members are none the wiser about when they will open their doors again, or the conditions that will allow them to do so.
While the theme of the summer of hope echoes what Mr Varadkar said last year, the backdrop could not be more different.
Now, the vaccine roll-out is under way and the Taoiseach has once again made big promises about what can be delivered. By the end of next week, one million doses will have been administered, he said, rising to three million by the end of May and five million by early July.
"As vaccinations ramp up, opportunities will arise," he said. If one goes wrong, then the other will too.
Micheál Martin has doubled down on his big gamble of building expectation around the vaccine roll-out. It is a strategy embarked upon when he announced the Resilience and Recovery plan last month.
At the moment, he has no message to sell other than hope, so in many ways he has little choice. But by staking so much and promising so big on the vaccine roll-out, it will be a nervous few weeks for a Government who will simply have to deliver.